Virginia GOP Caught Throwing Away Voter Registrations
Is anyone surprised? The Republican party has known for decades that the only way they have any chance of winning a Presidential election is through massive voter suppression. After all, they have not legitimately won a Presidential election since 1988 (and only twice since Dwight Eisenhower retired). But even to those of us who recognize the utter duplicity of the American Right Wing, the extent to which they have taken their efforts to prevent as many American Citizens as they can from exercising their fundamental right to vote this time around still shocks the conscience (at least, for those of us who actually have a conscience).
Article excerpt follows:
Virginia GOP Caught Throwing Away Voter Registrations
By Nicole Belle
October 18, 2012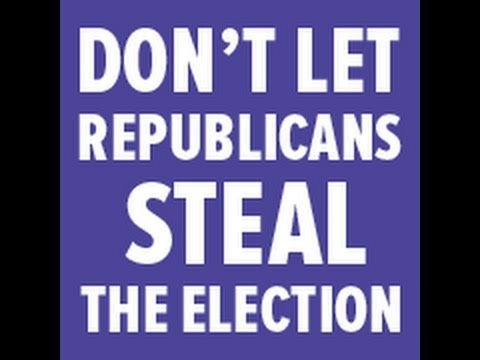 You know how every time they're in control, Republicans grow the government and run into the ground to prove that government is inefficient and bloated? Well, I think it's time to realize that the GOP is now determined to prove that their cries of voter fraud are true...because they're the ones committing it.
This is really maddening:
On Monday I saw a really interesting story coming out of Harrisonburg on Facebook:
"I just saw a guy throw a bag of trash in my cardboard dumpster and speed off. I went to get the bag and throw it in the trash dumpster. In the bag was a folder containing FILLED OUT VIRGINIA VOTER REGISTRATION FORMS!! I called the Harrisonburg Registrars office and they sent the police who said they really didn't know what to do in a case like this because its never happened before. The police took the forms and left. I'm really concerned because today is the last day in Virginia to register to vote and if these forms are tied up while trying to figure out what to do, will these people be allowed to vote??? I'm tagging you Lowell since I thought you might want to follow up on this. I spoke with Debbie at the Harrisonburg office and police spoke with Doug at the Rockingham county registrars office" Who would drive up to a dumpster on the registration deadline day to throw away completed voter registration forms and why?
The car that drove up was a black Toyota Camry with Pennsylvania license plates. Who would be in the Valley from Pennsylvania and have a bunch of completed voter registration forms that they wanted to destroy?
Once this story hit Facebook, a number of people pointed out to the person who witnessed this crime that the state GOP "Victory Office" was just a couple blocks away. Yesterday afternoon, guess what car was parked in front of the office?
Yep, a black Toyota Camry from Pennsylvania.
I guess when you've got so little to run on and you know you can't win legitimately, the only thing left is to commit a federal crime and cheat voters of their right to vote. That "ends justify the means" attitude perfectly sums up Republican logic.
But wait, there's more:
UPDATE: Sources close to the Rockingham County Sheriff's Office are telling me that Strategic Allied Consulting is involved in this. This is the same group that was in the national news two weeks ago for their "registration" drive in Florida that had forms with made up voters.
Even more interesting. Strategic Allied Consulting shares a Virginia headquarters with two other notables.
#1- American Crossroads- the superpac founded by Karl Rove and Ed Gillespie
#2- The office of Virginia State Senator Jill Holtzman Vogel.
Oh Karl...how unsurprising to find your name connected to this. I'm gonna go out on a limb right now and say that Virginia's wingnut Attorney General Ken Cuccinelli will do absolutely nothing about this kind of blatant crime, but he sure was at the forefront of making one of the more stringent voter ID laws in the nation.
Read More: http://crooksandliars.com/nicole-belle/virginia-go...