Pregnant Megan Fox Debuts Her Baby Bump!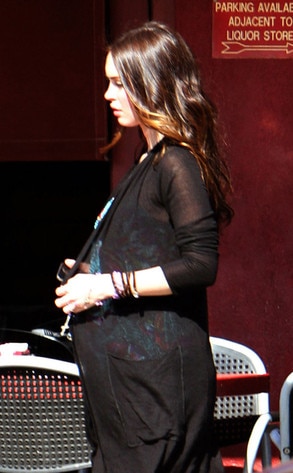 Armando/LRR/LIMELIGHTPICS.US
The Megan Fox pregnancy doubters just went belly up.
As E! News exclusively reported a month ago, the Transformers hottie is pregnant with her and husband Brian Austin Green's first child.
And while the couple hasn't commented on the good news, they could only keep things under wraps for so long.
MORE: Happy Birthday, Megan Fox! Preggers Babe Turns 26
Fox, 26, was spotted today's in L.A.'s Los Feliz neighborhood looking far bumpier than usual, hands resting on her tummy.
"I've always been maternal," Fox said in the April issue of Cosmopolitan—an interview that she was actually allowed to finish.
The actress's rep cut a chat with ET short earlier this month when correspondent Steve Jones
steered them into baby-talk territory. Fox didn't make a fuss, asking
in return, "What do you want to know?" but her camp shut Jones down.
Read more:
http://www.eonline.com/news/pregnant_megan_fox_debuts_her_bab...