likes & interests
About Me
I'm mostly on here to discuss politics but I like to mix it up with fun stuff, too. I guess I'm best described as a socially democratic libertarian, so my views are kinda across the place. I have friends of all political ideologies, but have a tendency to caucus in the arena of opinion somewhere in the realm of libertarians and critically-thinking liberals (not mindless Obama supporters and MSM watchers.) I have distain for liberals who don't practice what they preach and conservatives who'll cheer when a Republican does something while jeering at the same action when done by a Democrat. Please prove me wrong and show me you can think critically while maintaining allegiance to your ideals.
My Political Views
I am a left social libertarian
Left: 5.42, Libertarian: 5.62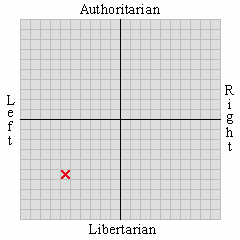 Political Spectrum Quiz
I'd like to meet
Anyone who wants to talk about politics and inspire me with their views.

Right: "I agree with you" or "I appreciate your opinions, but this is why I believe your views are inaccurate..."

Wrong: "Hahahaha youre anouther commiesocialistprogressivelib... becuz u dont fall in the republican party line hahahahaa." or "Hahaha repugnicans are retards hahaha."
Activities
Music, hockey, reading, going out, traveling/vacation, computing, discussing politics and faith.
Interests
- Tax increases are sometimes a necessary evil. However, before we look to raise taxes on earned income, we should close the loopholes that allow people to manipulate wealth and therefore the system. The current tax code was designed in an era where any dollar over $200,000 was taxed at an effective rate of 70%; the rates have lowered but the system hasn't. If capital gains earnings were subject to the same rules as earned income, a tax increase on earned income would be unnecessary. Job creation can be sustained through lowering corporate taxes and small business taxes; the govt. can earn tax revenues based on the success of the citizens.

- Government spending does need reform, as earmarks need to be eliminated and lawmakers should only answer to citizens; not just lawyers and lobbyists. In the era of computer technology, I wonder why we couldn't try direct democracy; even in a country of 310+ Million people.

- A national sales tax could be implemented if effective tax rates were lowered across the board, but would fail as a stand-alone method of taxation.

- We may not want to acknowledge this, but income inequality is the largest reason why recessions/depressions occur. In order to ensure economic stability at home, there needs to be a cap on how much percentage of the nation's wealth can be earned by the top 1% of the country before it ends up refunded to the general public in the form of an economic stimulus. Considering that economic collapse occurs when the 1% control 25% of the nation's wealth, I feel that it would be an appropriate safeguard to to set the percentage to be in the 15-20% range. This isn't meant to punish success or innovation, but rather to ensure that we don't end up in the situation we're in now.

- Technology should be used at all avenues possible to make government services more efficient and cost-effective.

- Capital punishment only reinforces the notion that killing someone is an effective way of solving a problem and condones murder as opposed to deterring it. Capital punishment should be abolished.

- Gun bans only prevent law-abiding citizens from obtaining firearms while criminals would still acquire them from the black market. However, there must be some standard in place to ensure that someone with a past history of criminal actions or mental instability doesn't get access to assault weapons. Gun control laws should be implemented in three different areas:
o Non-improvised single-shot rifles, shotguns, and handguns should be available for purchase for those 18 years or older without any waiting period.
o Non-improvised rifles, shotguns, or handguns that hold multiple rounds but aren't considered assault weapons should be subject to a criminal background check and a waiting period dependent upon how long it takes for the background check to clear.
o Assault weapons and improvised weapons need to be subject to both a criminal background check and mental screening to determine if the applicant isn't a danger to society through owning the weapon. Upon successfully completing both checks, the weapon would need to be registered with local law enforcement.

- School vouchers are nothing more but a way to circumvent our separation of Church and State so that public money can be used to teach children on the basis of opinion/tradition rather than actual fact. The best way to address the ailing school system is to create a regionalized talent and financial distribution program between districts, cities, counties, and the states to ensure children get the best education possible, with both federal involvement and mandatory testing kept to a minimum at best (we could learn a lot from the Finnish educational model.)

- The current drug war is nothing more but a prolonged version of what we went through during the prohibition era in the 1920s when alcohol was only available on the black market. Certain quantities of pharmaceutical medications should be sold without needing a prescription while "recreational" drugs should either be sold through a control board or administered based on the inherent danger of the substance. All nonviolent drug offenders should be released from prison, with prison/jail being acceptable only for violent drug offenses (driving while intoxicated, committing violent crimes to gain access to substances, etc.) Nonviolent drug offenders should be directed to medical diversion instead of prosecution. Education is critical in order to prevent addiction and the glorification of substance abuse.

- The government needs to get out of the health insurance game and instead divert that money into hospitals and other medical facilities that are already receiving government assistance in order to implement a true public option. Those without insurance can go to centrally-located heath centers for treatment while those with insurance can still go to private facilities to receive health care. Because the money is diverted from a product into a service, the cost would be tax-neutral. This, in tandem with regulating drugs instead of making them controlled or illegal, will drive health care costs down.

- Emissions standards should be implemented on factories and power plants instead of implementing a "cap-and-trade" system. Those designated as gross polluters should face sanctions up to (and including) having their business license revoked. Local governments should ensure that the cleanest forms of energy production are being utilized based on the geographical conditions of where they're located in the United States (while solar energy is viable in Arizona, it is not as viable in Michigan.)

- While I feel the war on life needs to end in this country, there's an inherent danger in permitting it only in the instance of "rape or incest" to the point where it can cause a multitude of unnecessary personal and legal complications in a woman's life. With that said, I feel that abortions should be permissible for the first trimester. Beyond that, abortion should be administered only when a woman's life is in danger or if the child is going to be born with serious health complications. I believe that in order to make our nation an adoption-oriented society instead of an abortion-oriented society, the following controls need to be in place:
o All sex education needs to be comprehensive; abstinence-only education only increases the rates of pregnancy and STDs amongst teenagers while creating a system of distrust between children and parents.
o Emergency contraceptives must be price controlled to ensure that they remain available across all income levels and not only for those who can afford it.
o Homosexuals should be able to freely marry while up to 4 people of any sexual orientation should be legally allowed to enter into a domestic partnership.
o Incentive programs should be in place to adopt American children before adopting children from other countries.

- Military actions should only take place either with an official declaration of war or with the cooperation of the international community. We are not the world's police force, nor should we use the American military to serve the interests of private companies affiliated with elected officials. Out of all the technological advances that we have in military weaponry, the soldiers are still the most valuable asset that the military has.

- The modern educational curriculum is severely lacking in comparison to the rest of the developed world. The school year needs to be increased to 210 days from 180, there should be 8 subjects taught in 45 minute increments (consisting of math, science, social studies, English, physical education, art, a business/technical trade class, and a foreign language.) Community colleges should also be completely public while public university officials should operate under a salary cap to ensure that tuition money is going toward education and facility management and not toward unnecessary luxury items given towards university administrators.

- Law enforcement, prisons, and fire departments should not be privatized. While privatization of such services will save people money through tax dollars, the privatization of these services ultimately leads to corruption and the poorest of people would either be unable to afford public services or would be forced into servitude to pay their debts.

- The goal of welfare and unemployment needs to exist in order to either help skilled workers gain employment or for unskilled people to develop technical skills necessary to be gainfully employed. "Welfare-to-work" does not provide technical skills but rather forces the working poor to work menial jobs that would be best served by employing teenagers and young adults with minimal employment experience. Social workers should receive performance-based incentives for getting the disadvantaged get off of government assistance and into gainful employment.

- Term limits should be held to 12 years across any public office (including the Presidency, which would require repealing the 22nd Amendment.) Judges should also be elected instead of appointed so that the voters can select a judge based on their nonpartisanship and fairness as opposed to having a judge appointed by a political figure who wishes to install someone who suits their political views. The path to recalling an elected official should be eased for any elected official accused of "lame ducking" their last term.

- Members of Congress should not grant themselves a pay increase as long as the unemployment rate is at or above 6%. Lobbyists are not elected officials and should be banned from the political process. There also needs to be significant limits placed on how much money can be donated into a political campaign from SuperPACs and corporations.

- Both mandatory minimum sentences and sentencing enhancements should be abolished. Judges should be allowed judicial discretion and should be elected out if they make continual errors in their decision making.

- If affirmative action is to exist, it should focus on supporting the economically disadvantaged as opposed to fulfilling blanket quotas based on race, gender, religion, orientation, nationality, or disability. Any business organization caught hiring a disproportionate member of any aforementioned group should be prosecuted to the fullest extent of the law, though the current EEO standards should be sufficient in ensuring that everyone has an equal chance of being hired.

- Any religious organization that participates (or creates puppet organizations to participate) in elections should be subject to the same tax regulations of any business which also participates in elections.

- The Federal Reserve either needs to be made into a public institution or we need to return to the gold standard.

- There needs to be a clear and consistent path to immigration in this country for all applicants; as the current immigration system only favors those who are educated or wealthy. Sanctuary cities are misguided because they coddle illegal immigrants instead of integrating them into the American fabric. All patsy laws that allow companies to escape prosecution by firing low-level managers for hiring illegals should be stricken from the books as those companies should be held accountable for engaging in the practice of hiring illegal immigrants. A border fence is an expensive and ineffective solution to the problem as it will not deter illegal immigrants crossing our borders from Europe, Far East Asia, or the Middle East.

- We need to make a transition from non-renewable fuel sources to renewable fuel sources before it's too late, with the development of either to be held to the environmental standards in line with those initially enacted with the clean air and water acts of the 1970's. Mediation may be the best way to assist the companies of the non-renewable fuel industry to make the transition to a company that provides renewable fuel without unnecessary tax breaks or frivolous spending toward either industry.
Favorite Music
Metal, jazz, classical, hip hop, and electronic music. The real stuff for all of the above, not the mass-produced nonsense for an American Idol generation.
Favorite TV Shows
For pleasure: NHL broadcasts, Family Guy, South Park, Archer, The Simpsons.

For knowledge: CSPAN, direct newsfeeds from AP and Reuters, PBS Newshour
Favorite Movies
The Network, They Live, Zeitgeist, American: The Bill Hicks Story, The Wrestler, Pulp Fiction, The Union. Halloween 3, Phantom of the Paradise.
Favorite Books
The New Jim Crow, Why Nations Fail, Bad News: The Decline of Reporting, the Business of News, and the Danger to Us All, Tough Guy: My Life On The Edge, Tao Te Ching
Favorite Quotes
"Not all those who wander are lost." - J. R. R. Tolkien

"If you're not part of the solution, you're part of the problem" - Common adage.

"Don't take it personal if someone blocked you after a debate. It means you won." - A Sodaheadie
Favorite Heroes
God.

After all my work in IT, I'm convinced God exists. I repair things that aren't capable of repairing themselves. I program things that aren't capable of learning themselves. I communicate using devices that only know to communicate with each other because I tell it to. A GPS only knows to tell you where to go once you've given it instructions. God made us into perfect machines that are all communicating, self-regenerating, and have our own GPS device known as a soul. We aren't obsolete after 10 years and if unhindered, can live well past any technology that man creates.

However, I'm absolutely convinced that religion is a sham to ensure we disassociate ourselves from God and instead worship men who stand upon altars. I'm convinced that churches have abandoned the purpose of inspiring discussion between members of the same congregation so they can share spiritual beliefs and have instead instructed people what to believe. You have direct access to God through prayer and meditation, so abandon anyone who tells you they are your path to salvation, albeit a person or an institution.

And to all who get the caustic side of me, I'm not perfect and I live in an era where I'm forced into self-defense instead of turning the other cheek. I still hope we see each other on the other side, though.
Areas of Interest
TheBadOne's activity, per category
info
TheBadOne

Male

Costa Mesa, CA, US

2011/09/22 02:01:58

4 hours ago

31

Single

Straight

Cancer

Expressing Myself

College Graduate

Full-Time

IT

$25k - $50k

No

Other

Someday

Other

White/Caucasian

Body Builder

5 feet 9 inches
photos & videos