So when the smoke clears, here I am!
likes & interests
About Me
I'm Whatsername!!
Add me on tumblr (:
http://whatsername-1039.tumbl...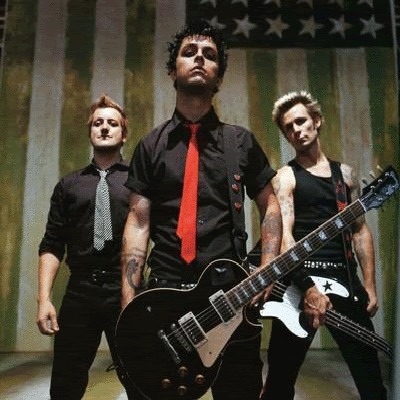 Billie Joe Armstrong killed Justin Bieber!!!!!! YAYYYYY! (: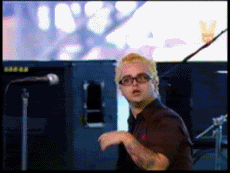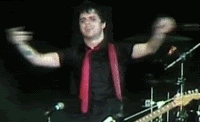 MTV REAL GREEN DAY FANS
1. KNOW MORE SONGS THAN JUST AMERICAN IDIOT, HOLIDAY, BOULEVARD OF BROKEN DREAMS, WAKE ME UP WHEN SEPTEMBER ENDS, 21 GUNS, 21ST CENTURY BREAKDOWN, KNOW YOUR ENEMY AND EAST JESUS NOWHERE.
2. KNOW THE NAMES OF EACH AND EVERY ONE OF THE BAND MEMBERS (INCLUDES CREW MEMBERS!).
3. KNOW THAT BILLIE IS SPELLED WITH 'IE', NOT 'Y'.
4. SHOUT YES OR GREEN DAY! WHEN THEY HEAR A GREEN DAY SONG PLAYING.
5. KNOW TRÉ'S REAL NAME.
6. KNOW WHAT THE BULLWINKLE CHEECH IS.
7. PUNCH COUSINS/BROTHERS/SISTERS/PARE... FOR DISSING GREEN DAY.
8. LIKE THE BAND NOT ONLY BECAUSE THEY THINK THAT BILLIE/MIKE/TRÉ ARE HOT.
9. KNOW WHAT BILLIE LOVES TO DO WHILE SINGING HITCHIN' A RIDE. *LOL*
10. POST THIS ON THEIR PROFILE.
11. CAN SING GREEN DAY SONGS IN THEIR SLEEP.
12. LIKE TO WATCH BULLET IN A BIBLE OVER AND OVER AGAIN (OF COURSE A REAL GREEN DAY FAN KNOWS WHAT BULLET IN A BIBLE IS).
13. GET PISSED OFF WHEN GREEN DAY DOESN'T WIN AN AWARD.
14. WILL WAIT FOR THE NEW GREEN DAY ALBUM NO MATTER HOW LONG IT'LL TAKE TO COME OUT.
15. HATE "FANS" THAT THINK THAT AMERICAN IDIOT IS GREEN DAY'S FIRST ALBUM.
16. OVERREACT WHEN THEY SEE STUFF RELATED WITH GREEN DAY.
17. KNOW ALL GREEN DAY'S OLD NAME.
18. WOULD DIE IF THEY SAW GREEN DAY IN CONCERT.
19. HATE IT WHEN PEOPLE SPELL GREEN DAY AS ONE WORD.
20. KNOW WHAT GREEN DAY MEANS.
21. DON'T MAKE A BIG DEAL ABOUT BILLIE'S/MIKE'S/TRÉ'S SEXUALITY.
22. KNOW THAT REPRISE IS NOT THE FIRST LABEL THAT THEY SIGNED TO.
23. KNOW THE NAME OF THE DRUMMER BEFORE TRÉ.
24. KNOW THAT DOOKIE IS NOT THEIR FIRST ALBUM.
25. KNOW THAT THE HIDDEN TRACK IN DOOKIE IS CALLED ALL BY MYSELF AND IS NOT JUST A RANDOM SONG ABOUT MASTURBATION.
26. LOVE THEM EVEN WHEN THEY DON'T WEAR GUYLINER.
27. WANT BILLIE/MIKE/TRÉ TO BE HAPPY (LIKE: NOT WANT THEIR FAMILIES TO SEPARATE, ALTHOUGH SOME ALREADY HAVE).
28. HAVE LISTENED TO GREEN DAY SONGS 24/7 AT LEAST ONCE!
29. KNOW ABOUT THE "AMERICAN EDIT" PROJECT.
30. HAVE ALL GREEN DAY ALBUMS.
31. LOVE GREEN DAY!
I'd like to meet
BILLIE JOE ARMSTRONG, TRE COOL, AND MIKE DIRNT!!! And Scott Stapp, and Mark Tremonti.
Green Day:
Billie Joe Armstrong:
Mike Dirnt: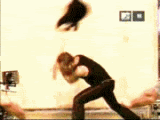 Tre Cool:

I Also want to meet Scott Stapp and Mark Tremonti from Creed
Scott Stapp:
Mark Tremonti:
Activities
Well, I watch awesome Green Day videos
Billie Joe falls off the go cart
Tre Puts microphone in the microwave
Mike putting on glasses
Billie Joe singing really weird but its still hot ;)
I'm guessing its Mike thats being wrapped up in plastic
Billie Joe saying, "Hello, how are you? Good, nice to meet you." haha
Tre Cool goes insane with toilet paper!!!!!
Billie Joe thinks you stinkkkkk!! haha
Tre doing the worm!!!!!
Billie Joe Drunk
Interests
Music, art, GREEN DAY :D
Favorite Music
Green Day, My Chemical Romance, Emily's Army, Simple Plan, Blink-182, Creed, Three Days Grace, AFI, All American Rejects, Audiovent, Box Car Racer, Breaking Benjamin, Buckcherry, Bush,Crossfade, Daughtry, A Day To Remember, Fall Out Boy, Five Finger Death Punch, Hinder, Like A Storm, Matchbook Romance, Midtown, My Darkest Days, Nickelback, Nirvana, Papa Roach, Pop Evil, Puddle Of Mudd, Red, Red Hot Chili Peppers, Rise Against, Seven Day Sonnet, Sick Puppies, Sixx:A.M., Skillet, Smile Empty Soul, Staind, Trapt, Weezer, The White Stripes, 10 Years
Online Photo Editor
Favorite TV Shows
Family Guy, The Simpsons, American Dad....
Favorite Books
Twilight Series, Traveling Pants Series...and a lot of others
Favorite Quotes
Billie Joe Armstrong Quotes:
"There's nothing wrong with being a loser, it just depends on how good you are at it."
"Get the fuck out of my fucking garden!"
"You wanna have sex and get married?"
"Honesty is the best part of any art form. If you don't have that, your kidding yourself and your listener."
"I'm the greatest guitar player in the world! I can play ****ing Heavy Metal god dammit!"
"I'm just the same idiot from Rodeo, CA that I was before Dookie came out. So if you see me in the street, come by and say hi. I guarantee you I'll say hi back."
"We [Green Day] can play anywhere at anytime."
"One day we'll [Green Day] either get kicked in the face, or get handed a big gold record. Either way it's going to be really shocking."
"There is not a band you can mention that we haven't kicked their ass at one time or another."
"History will tell if we were really a good band or just a one day fly."
"Do I want to change the world with music? Well heck yeah I want to change the world to a certain extent yeah. It needs to be changed....it needs a kick in the ass."
"Punk is always something that's going to be with us and to try and explain that would be stupid at this point."
"Attack your instruments. Don't let them attack you."
"I got body lice in Germany! I'd tell you they were crabs, but I wasn't getting laid."
"I'm still wearing the pants I had in the eleventh grade."
"I'm not as depressed as I used to be. The Prozac's working!"
"Never run in the rain with your socks on."
"I ****ing hate Lynyrd Skynyrd, I've always hated Lynard Skynard. ****in' backwards ass hillbilly s***."
"B-I-L-L-I-E J-O-E. My real name is Billie Joe. And it's southern, my moms from Oklahoma and that's how I got the name. It's not William Joseph it's just Billie Joe. "
"I sound like an Englishman impersonating an American impersonating an Englishman."
"Minority is about being an individual. It's like you have to sift through the darkness to find your place and be that individual you want to be your entire life."
"It's fun until someone gets hurt... then it's hilarious."
"I'm not gonna say anything inspirational; I'm just gonna ****ing swear a lot."
"Circle massage... we like to massage each other."
"With the video for "Boulevard of Broken Dreams" we were going for something a bit like Ladykillers, you know? Pretty and demented at the same time... like me!"
"What do you mean we walked around dressed like girls? They were our own clothes, they just happened to be dresses."
"If I'm into something I have to make sure it gets done. If I do drugs, I make sure that pile of ****ing speed is done before the night is over."
" Tre [Cool] reads the dirty ones. I've read a few. It's flattering and sort of weird at the same time. I don't really know what to think about young girls thinking about old men like that. But the ones I have read were very well-written and as long as kids these days are still being creative and writing, then I think it's cool."
"I'm going to point a gun at Tre. Tre is going to point a gun at Mike. Mike is going to point a gun at me. We're gonna count to three and pull the trigger."
"School is practice for the future, and practice makes perfect, and nobodies perfect, so why practice?"
"Well, you know, I look at myself in the morning and yes, yeah I am a God."
"I want someone to rob a bank in the name of Green Day. I want them to make masks of our faces and rob a freaken' bank."
Areas of Interest
Whatsername's activity, per category
info
Whatsername

Female

Fenton, MI, US

2011/02/22 04:54:26

2015/02/06 21:56:26

18

In a relationship

Straight

Expressing Myself

High School (Current)

No

No

Christian

Someday

5 feet 5 inches
photos & videos