likes & interests
About Me
My Liberal Identity
You are a New Left Hipster, also known as a MoveOn.org liberal, a Netroots activist, or a Daily Show fanatic. You believe that if we really want to defend American values, conservative hatriots must be exposed and mocked for every fanatical, puritanical, paranoid, fact-allergic, reality-challenged, obstructionist ideal for which they stand.
Take the quiz at
About.com Political Humor
My Political Views
I am a left social libertarian
Left: 6.2, Libertarian: 3.99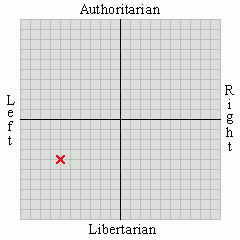 Political Spectrum Quiz
My Foreign Policy Views
Score: -6.06

Political Spectrum Quiz
My Culture War Stance
Score: -4.05

Political Spectrum Quiz
I'd like to meet
Activities
Interests
Favorite Music
Favorite TV Shows
Favorite Movies
Favorite Books
Favorite Quotes
The path of the righteous man is beset on all sides by the inequities of the selfish and the tyranny of evil men.
Favorite Heroes
Areas of Interest
Met's activity, per category
info
Met

Male

United States

2011/01/17 20:35:11

2012/05/22 20:49:58

31

Engaged

Straight

Gemini

Expressing Myself

Post Graduate School

Full-Time

Advertising/Graphic Design

$100k+

Yes

Agnostic

Undecided

Progressive

White/Caucasian

Love Handles

6 feet 4 inches
photos & videos