likes & interests
About Me
My Political Views
I am a centrist social moderate
Left: 0.75, Libertarian: 0.11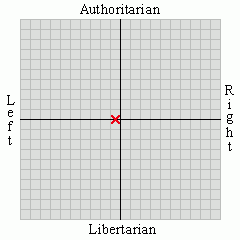 Political Spectrum Quiz
Activities
Various. Love hanging out with friends,going to movies, getting away whenever possible.
Interests
Several, to many to list.
Favorite Music
Classic Rock, Top 40
Favorite TV Shows
To many to list. Like all the CSI and the Law n Order shows, Paranormal shows, Amazing Race, could go on and on,..but I won't.
Favorite Movies
One of my fav was The Notebook. Also like horror, comedy.
Favorite Books
Not much of a reader
Favorite Quotes
The best way to get to the top....Get off your bottom!

Fear Controls Knowledge, Knowledge Controls Fear.
Favorite Heroes
Anyone battling cancer
Areas of Interest
☠ Cheryl ☮'s activity, per category
info
☠ Cheryl ☮

Female

CA, US

2010/09/07 16:47:35

2 days ago

March 14

Single

Straight

Pisces

Friendship

Some College

Full-Time

Clerical

Agnostic

Proud Parent

Other

White/Caucasian

5 feet 5 inches
photos & videos