Oh life, you're so funny.
Does SodaHead need a downvote button?
So, I frequent an image site online and am elated over the ability to both upvote and downvote both images and commen...
14 opinions
What does your name mean?!
Check this out the funny link to a "name meaning" quiz - pretty ridiculous. Try either your real name or SodaHead name!
15 opinions
Can't we all just get along?
I'm new to this site and have generally found most people to be open, kind, genuine, and considerate. But recently, ...
30 opinions
likes & interests
About Me
Ask if you're interested. Mostly, I think laughing is the key to long life and everyone here, no matter how lost they seem, is truly on a journey of discovery - we agreed to inhabit a body to better learn from the limitations of physical reality.

Life certainly is an interesting thing.
I'd like to meet
Everyone! But just so you're forewarned - this is me:
My Political Views
I am a center-left social libertarian
Left: 2.73, Libertarian: 7.47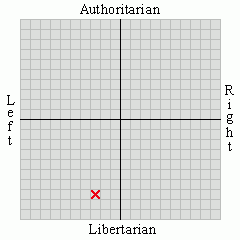 Political Spectrum Quiz
My Foreign Policy Views
Score: -7.25

Political Spectrum Quiz
My Culture War Stance
Score: -8.94

Political Spectrum Quiz
Activities
Meditation. Reading. Horseback Riding. Hiking. Going to the beach - perhaps braving a swim! Climbing trees. Star-gazing.
Interests
Learning new things. Space exploration - both inner and outer. Talking with people about their experiences. Laughing.
Favorite Music
Beethoven, Incubus, Red Hot Chili Peppers, The Doors, The Beatles, Alanis Morrissette, Adele, Sara Bareilles, Outkast, TLC, CCR, Simon and Garfunkle - basically anything that has a rhythm and interesting lyrics.
Favorite TV Shows
Don't own a tv
Favorite Movies
Eternal Sunshine of the Spotless Mind
The Fountain
Up!
Inception
Stranger Than Fiction
Gladiator
Empire Records
Favorite Books
Walking, or anything written by Henry David Thoreau
House of Leaves
Cat's Cradle
Far Journeys/Ultimate Journey
The Fountainhead
Jane Eyre
Illusions & Jonathan Livingston Seagull
Favorite Quotes
"Thousands of candles can be lit from a single candle, and the life of the candle will not be shortened. Happiness never decreases by being shared." -Buddhist teaching

"Actions speak louder than words, but not nearly as often" - Mark Twain

"The best way to prepare for life is to begin to live." - Elbert Hubbard

"As if you could kill Time without injuring Eternity." -Henry David Thoreau

"Could a greater miracle take place than for us to look through each other's eyes for an instant?" -again, HDT
Favorite Heroes
Bill Hicks
Henry David Thoreau
Ralph Waldo Emerson
Walt Whitman
Richard Bach
Bill Watson
...basically anyone who has the courage of conviction and the strength of character to live life based on their own moral compass, so long as it does not impede another's innate right to life (i.e., Hitler, Stalin, etc.)
Areas of Interest
ScatterJoy!'s activity, per category
info
ScatterJoy!

Female

CA, US

2012/07/02 23:58:32

2013/08/23 23:41:31

29

Single

Straight

Capricorn

Discovering Opinions

College Graduate

Full-Time

Arts and Entertainment

$75k - $100k

No

No

Agnostic

No thank you

Apathetic

White/Caucasian

Athletic

5 feet 8 inches
photos & videos