jesse
Ron Paul and no Bank aka The Fed.
likes & interests
About Me
Christ only put his boot in one groups butt! the money exchangers!Today we recognize them as Rothschilds,The Fed. ,World Bank, and the Military Industrial Complex. Here is where we find the
anti Christ!
My mind cannot phantom the Kingdom of Heaven,but I am sure it will have none of these things
Inflation, Deflation,Taxation ,Starvation,Intimidation and Inhalation, all greed will be rooted out!
":Peace is more Profitable for the poor than War"
I'd like to meet
First and formost GOD!
All the Republicans and Democrats who voted against Obama s
takeover of our country!
Activities
My Political Views
I am a center-right moderate social libertarian
Right: 1.44, Libertarian: 1.56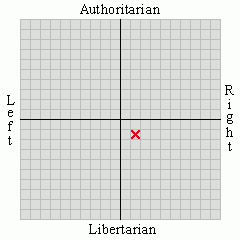 Political Spectrum Quiz
My Foreign Policy Views
Score: -5.27

Political Spectrum Quiz
My Culture War Stance
Score: 3.37

Political Spectrum Quiz
Interests
I am mostly interested in saving my country , preserving the Constitution , And stoping the Federal Reserve !


Scholars continue to debate whether the U.S. Constitution adopted a particular interpretation of the "rule of law", and if so, which one. For example, Law Professor John Harrison asserts that the word "law" in the Constitution is simply defined as that which is legally binding, rather than being "defined by formal or substantive criteria", and therefore judges do not have discretion to decide that laws fail to satisfy such unwritten and vague criteria.[24] Law Professor Frederick Mark Gedicks disagrees, writing that Cicero, Augustine, Thomas Aquinas, and the framers of the U.S. Constitution believed that an unjust law was not really a law at all.[25]

James Wilson said during the Philadelphia Convention in 1787 that, "Laws may be unjust, may be unwise, may be dangerous, may be destructive; and yet not be so unconstitutional as to justify the Judges in refusing to give them effect." George Mason agreed that judges "could declare an unconstitutional law void. But with regard to every law, however unjust, oppressive or pernicious, which did not come plainly under this description, they would be under the necessity as judges to give it a free course."[26]

Word of the Year-- Debasing
Favorite Quotes
Ask not what your country can do for you , but what you can do for your country! put that in your crackpipe and smoke it OBAMA.
Favorite Heroes
Jesus Christ , Napolion ,G. Washington,Thomas Jefferson ,Andrew Jackson , Abe Lincoln, William Mckinley , Eisenhower, JFK, RFK, R W Reagan , Ron Paul , Sarah Palin
Areas of Interest
jesse's activity, per category
info
jesse

Male

TN, US

2008/11/06 09:39:24

2013/04/13 19:11:10

46

Single

Straight

Capricorn

Expressing Myself

No

No

Christian

Proud Parent

Conservative

White/Caucasian

Body Builder

6 feet 1 inches
photos & videos