I will keep them in perfect peace.--God
likes & interests
About Me
1. Mother of 5, grandmother to 8 beautiful grandbabies
My Political Views
I am a left moderate social authoritarian
Left: 6.52, Authoritarian: 1.83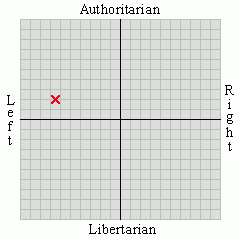 Political Spectrum Quiz
My Foreign Policy Views
Score: -2.86

Political Spectrum Quiz
My Culture War Stance
Score: -0.5

Political Spectrum Quiz
I Could Be President
Yes 61%   
No 28%   
Change Google Name - Change Google Logo
My Liberal Identity
You are a Working Class Warrior, also known as a blue-collar Democrat. You believe that the little guy is getting screwed by conservative greed-mongers and corporate criminals, and you're not going to take it anymore.
Take the quiz at
About.com Political Humor
Where are you on the political spectrum
Your Result: Liberal
Your political and policy decisions are influenced by the principles of liberty, equality, peace and justice. You have an altruistic concern for your fellow men and women. You are likely to be a Democrat, but not all Democrats are liberals.
Result Breakdown:
86% Liberal
78% Lefty
54% Moderate
21% Libertarian
6% Conservative
0% Wingnut
Quiz URL:
http://www.gotoquiz.com/where...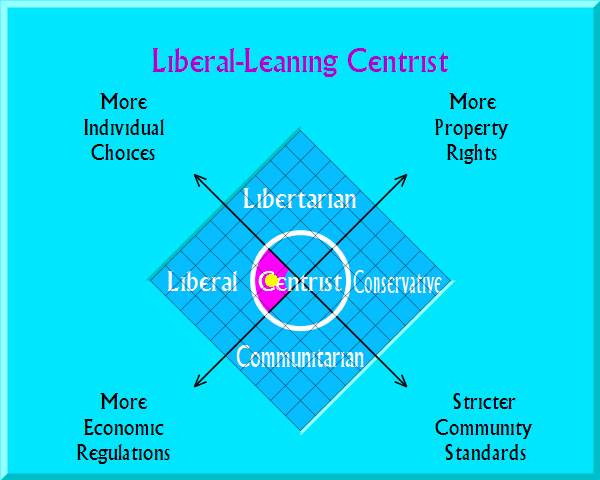 I'd like to meet
1. Forward thinking people
2. Folk who aren't consumed with hate
Interests
1. Computer art
2. Gospel music
3. Writing poetry
Favorite Music
Gospel music--Donnie McClurkin, Donald Lawrence & the Tri-City Singers, Byron Cage, Shirley Caesar, Yolanda Adams, Georgia Mass Choir, Florida Mass Choir, Mississippi Mass Choir (to name a few).
Favorite TV Shows
NCIS, CSI-all of them, Criminal Minds, Countdown with Keith Olbermann, TRMS, Hardball with Chris Matthews, the Ed Show
Favorite Movies
Shawshank Redemption, John Q, Safe House, Amistad, Coach Carter, Akillah & the Bee, Color Purple (to name a few)
Favorite Books
Eternal Victim-Eternal Victor, The Holy Bible (KJV)
Favorite Quotes
If God can't do it, it can't be done.
Areas of Interest
GuruA2J~#IOKIYAR~612 BLOCKT's activity, per category
info
GuruA2J~#IOKIYAR~612 BLOCKT

Female

NY, US

2008/11/06 06:46:43

1 hour ago

(60) April 19, 1953

Divorced

Straight

Expressing Myself

Some College

No

No

Christian

Proud Parent

Moderate
photos & videos