likes & interests
About Me
If you want the truth, you're in the right place............
My Political Views
I am a right moderate social authoritarian
Right: 6.9, Authoritarian: 1.69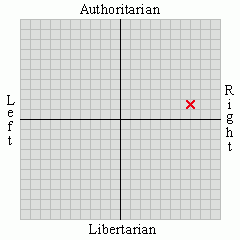 Political Spectrum Quiz
My Foreign Policy Views
Score: 5.06

Political Spectrum Quiz
I'd like to meet
Like-minded conservatives.
Activities
I love stamping and scrapbooking.
Interests
I love to read, listen to music, listen to talk radio, did I say I love to read? I love to sing and I'm crazy about my teenage kids oh and my husband, of course.
Favorite TV Shows
Caprica, Flash Forward, Law & Order, any crime drama.
Favorite Movies
When Harry met Sally, My big fat Greek wedding, the Pacifier,
Favorite Heroes
The good Samaritan, Glenn Beck,
Areas of Interest
CraftyMom's activity, per category
info
CraftyMom

Female

NJ, US

2008/10/15 03:11:30

2013/03/09 06:28:37

57

Married

Straight

Sagittarius

Discovering Opinions

College Graduate

Not-Employed

Small Business Owner

No

No

Christian

Proud Parent

Conservative
photos & videos