likes & interests
About Me
- Atheist
- Animal Lover
- Wine Drinker
- Pole Dancer
I am engaged to a wonderful American man and love travelling to the States.
If you want to talk, feel free to add me or send me a message any time. If you wish to contact me outside Sodahead, you just have to message and ask, and if you're legit we can sort something out.
If you add to me to stalk, spam, creep on me, troll or I have a reason to think you are a fake/sock, you will be blocked and reported.
My Political Views
I am a centrist social libertarian
Right: 0.34, Libertarian: 4.1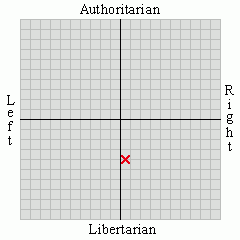 Political Spectrum Quiz
Activities
Horse-riding, pole-dancing, travelling
Interests
Debating, rock music, fantasy and sci-fi, films and television, animals.
Favorite Music
Avenged Sevenfold, Cradle of Filth, Metallica, The Doors, The Kinks, Rolling Stones, Herman's Hermits, Chiodos, Placebo, Eminem, Rihanna, The Beatles, Hollywood Undead, Muse, Arctic Monkeys, Gorillaz, The Zombies, Papa Roach, Slipknot, Stone Sour, KISS, The Yardbirds, Marilyn Manson, Blink 182
Favorite TV Shows
True Blood, Walking Dead, Big Bang Theory, Friends, Misfits, The Inbetweeners, American Horror Story, Dexter, Game of Thrones, Firefly, Mighty Boosh, Family Guy, American Dad, Scrubs, Russell Howard's Good News, Scooby Doo
Favorite Movies
Lord of the Rings, The Hobbit, A Few Good Men, Full Metal Jacket, The Lost Boys, Donnie Darko, The Devil Wears Prada, An American Werewolf In London, Role Models, Harry Potter, Insidious, Detroit Rock City, Jersey Girl, The Strangers, Cruel Intentions, Stand By Me, Nightmare Before Christmas, Avatar, Seabiscuit
Favorite Books
LOTR, The Hobbit, The Silmarillion, Black Beauty
Favorite Quotes
Stand for something, or you will fall for anything.

"Anger is an acid that can do more harm to the vessel in which it is stored than to anything on which it is poured." Mark Twain.
Areas of Interest
MissLeviathan's activity, per category
info
MissLeviathan

United Kingdom

2013/01/02 20:18:25

2 days ago

21

Engaged

Straight

Aquarius

Discovering Opinions

Some College

Part-Time

Yes

Yes

Atheist

Someday

Moderate

White/Caucasian

Slim/Slender

5 feet 4 inches
photos & videos