In my mind Im just a blind man doingtime
likes & interests
About Me
Hello, I'm Steve. I am a 19 year old Guy from the Midwest who is still creating his place in the world. I enjoy play Euchre and most games. Most of my interests are listed below, so if you want to know either scroll down or ask. Peace Inshalla.
My Political Views
I am a center-left moderate social libertarian
Left: 1.3, Libertarian: 3.18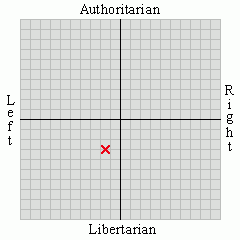 Political Spectrum Quiz
I'd like to meet
Quentin Tarantino, Nelson Mandela, Flea, Bill Gates, Roger Waters, Eminem, George Lucas, Christopher Paolini, Bob Dylan, Michael Jordan.
Activities
Reading writing, arithmetic, basketball, school, hanging out, spontaneous activity, paint ball, fireworks, ect.
My Foreign Policy Views
Score: -6.91

Political Spectrum Quiz
Interests
Sports, Euchre and other card games, Chicago Bears/Bulls/Cubs/Blackhawks, hanging out, listening to music, watching movies, occasionally lifting/running, reading, walking, thinking,
My Culture War Stance
Score: -4.48

Political Spectrum Quiz
Favorite Music
Pink Floyd, The Beatles, Led Zeppelin, Flaming Lips, MGMT, Jimi Hendrix, Eric Clapton, Radiohead, Tupac, Notorious B.I.G, Red Hot Chili peppers, ELO, Coldplay, The Smashing Pumpkins, Talking Heads, Rush, Wu Tang Clan, Bob Dylan, Vampire Weekend, Spoon, Arcade Fire, Band of Horses, Simon & Garfunkel,Killers, Cure, Smiths, Nirvana, and Eminem are the bands/artists that come to mind.
Favorite TV Shows
Big Bang Theory, The Office, Parks and Rec, Entourage, Arrested Development, South Park, HIMYM, Simpsons. Family Guy, Freaks and Geeks, Rescue Me, Loony Toons.
Favorite Movies
Star Wars, Godfather I ⅈ, Shawshank Redemption, Pulp Fiction, Departed, Goodfellas, Usual Suspects, one Flew Over the Cuckoo's Nest, Back to the Future, Silence of the Lambs, Fargo, Amelia, The Great Escape, Clerks, Thank You For Smoking, Blues Brothers, Ghost Busters,
Favorite Books
Inheritance Cycle, Lord of the Rings & Hobbit, Chronicles of Narnia, Kingkiller Chronicles, Harry Potter, Kafka, Of Mice and Men, Shakespeare, Crime and Punishment, ect.
Favorite Quotes
"In my mind I'm a blind man doin' time."- Tupac
"When I was 5 years old, my Mother always told me happiness was the key to life.When I went to school they asked me what I wanted to be when I grew up, I wrote down happy. They told me I didn't understand the assignment and I told them they didn't understand life." John Lennon
"Here is all you have to know about men and women: women are crazy and men are stupid. And the main reason women are crazy is because men are stupid." George Carlin
"The key to immortality is first living a life worth remembering." Bruce Lee
Favorite Heroes
JFK, Martin Luther King Jr., Gandhi, J.R Tolkien, Roger Waters, Tupac, Jim Morrison, Buddha, John Lennon, Eminem, Bob Dylan, Inventor of Spell check, and Michael Jordan.
Areas of Interest
Steve's activity, per category
info
Steve

Male

IN, US

2012/03/11 22:24:12

2013/11/08 02:45:57

Single

Straight

Expressing Myself

College (Current)

Student

Other

$0 - $25k

No

Yes

Christian

Someday

Liberal

White/Caucasian

Athletic

5 feet 11 inches
photos & videos