likes & interests
About Me
My basic personality type is Introvert iNtuitive Thinker Perceiver.
I'm a libertarian.
http://www.youtube.com/watch?...
My Political Views
I am a far-right social libertarian
Right: 10, Libertarian: 9.34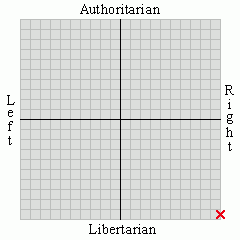 Political Spectrum Quiz
My Foreign Policy Views
Score: -8.8
Political Spectrum Quiz
My Culture War Stance
Score: -5.08

Political Spectrum Quiz
Before you call me a liberal, please take time to learn what that really is. I consider my self liberal but I don't consider leftist truly liberal. The right is not truly conservative.
http://www.youtube.com/watch?...
Any religion which insists on the need for "faith" has no business trying to make itself out to be superior on the basis of empirical evidence. I don't like religion. I think there is no right religion, only wrong ones. I don't like talking about religion.
I am a nudist. Don't think for a moment that that means I am a exhibitionism. I'd only be naked among other people if it was socially acceptable and it can be in many family friendly circumstances. I just do what anyone else does every day, but I do it naked as nature intended. I like to be naked because I find clothing uncomfortable, because it is easier to sleep naked, because it allows my skin to stay clean, because I don't want tan lines, because it builds my self esteem, and I like being free. I don't even need reasons. I highly recommend giving nudism two weeks, otherwise don't go commenting on my post saying it's all about seeing boobs. I like guys more anyway.
I really like Firefly, Star Trek, and Stargate. They don't seem to make my kind of sci-fi these days. (explorers)
-----///\\\----Please
----///--\\\----Put This
---|||----|||---On Your
---|||----|||---Account If
---|||---|||---You Know
----\\\-///----Some1
-----\\///-----Who Died
------///\-----Of Cancer
-----///\\\----Or is
----///--\\\---Fighting it
I really miss my friend Bill.
I'd like to meet
I want to meet sweet fun intelligent cute guys.

Sex and dating isn't all I'm into. Besides you I'd like to meet some well known libertarian theorist like Ron Paul, Robert Murphy, Adam Kokesh, Stefan Molyneux, Thomas Woods, Lew Rockwell, Walter Block, Doug Stanhope and Penn Jillette. I would like to meet scientist too. I'd like Michio Kaku, Stephen Hawkings, and Neil deGrasse Tyson to help me understand all we know about quantum physics, string theory, and the big bang theory and then I'd like to meet Jacob Barnett and understand his questioning of the big bang theory.
Activities
Gardening, hiking, internet, libertarian activism, dating
Interests
libertarianism, gardening, guns, intactivism, science, guys
Favorite Music
Country.
Favorite TV Shows
Anime, sitcoms, sci-fi,
Favorite Movies
The Patriot, Equilibrium, V for Vendetta, Stargate, Return of the Jedi, Amazing Grace, The Wrath of Khan,
Favorite Books
End the Fed, The Art of War, Liberty Defined
Favorite Quotes
Find some quotes from Murray Rothbard and Lysander Spooner. I like them.
Areas of Interest
T. James H's activity, per category
info
T. James H

Male

ME, US

2011/05/22 20:44:50

5 days ago

26

In a relationship

Gay/Lesbian

Scorpio

Expressing Myself

High School Graduate

Part-Time

Other

$0 - $25k

No

No

Agnostic

Someday

Libertarian

White/Caucasian

Slim/Slender

6 feet 0 inches
photos & videos