There is no friend as loyal as a book.
likes & interests
About Me
~Elizabeth (Lizzy)~

I will not share exactly how old I am or exactly where I live, but I will share my opinions, and I believe that is what this site is about. I like to think I have a rather open mind.

I am an award winning vocalist and pianist, an avid advocate for equality for ALL, and an admirer of change and innovation.


Moving on.
I'd like to meet
Henry David Thoreau, Emily Dickenson
Activities
Singing, piano, musical theater.
Interests
Fascinating ideas, sociology, action and drama movies. Listening to music and making music. Satire. Science fiction.
My Political Views
I am a center-left social libertarian
Left: 2.33, Libertarian: 4.71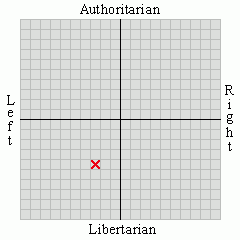 Political Spectrum Quiz
My Culture War Stance
Score: -4.29

Political Spectrum Quiz
My Foreign Policy Views
Score: -4.97

Political Spectrum Quiz
Favorite Music
Ramin Karimloo, Alfie Boe, Josh Groban, Tame Impala, Annie Lennox, Ratatat, Bearfoot Beware, The Drums, Active Child, Hurts, Panda Su, Mac Demarco, The Arctic Monkeys, The Kooks, Bon Iver, Nirvana, Lady Gaga, City and Colour, Kasabian, Gold Panda, Florence + the Machine, Bob Marley, Bassnectar, Arcade Fire,The Tallest Man on Earth, Yuck, M83, Excision, Bon Iver, Gotye, Vampire Weekend, Modest Mouse, Pendulum, Geographer, King Charles, Oasis, Fleet Foxes, Skrillex, Daft Punk, Deadmau5, Coldplay, The Avett Brothers, Benny Benassi, Animal Collective, Borgore, Passion Pit, Elliott Smith, Two Door Cinema Club, Tokyo Police Club, Smog, Glenn Miller Orchestra, Muse, and The Mae Shi
Favorite TV Shows
Sherlock, Doctor Who, Merlin, Heroes, American Horror Story, The Walking Dead, Doc Martin, Criminal Minds, The Mentalist, Perception, SNL, Person of Interest, Nurse Jackie, Invader Zim, Touch, Friends, Forever, Bates Hotel.
Favorite Movies
Big Fish, Lord of the Rings, Forrest Gump, Sherlock Holmes, Dr. Horrible's Sing Along Blog, Across the Universe.
Favorite Books
The Count of Monte Cristo
Favorite Quotes
"The two most important days of your life are the day you were born and the day you realize why."
Favorite Heroes
Misha Collins, John Green, Hank Green, Leonard Nimoy.
Areas of Interest
✩Batman's✩Epic✩Understudy✩'s activity, per category
info
✩Batman's✩Epic✩Understudy✩

Female

IL, US

2011/04/30 19:32:33

2015/06/02 17:58:40

Single

Taurus

Expressing Myself

Arts and Entertainment

Someday

Progressive

White/Caucasian

Slim/Slender

5 feet 6 inches
photos & videos