likes & interests
About Me
I'm an young student from Northern Portugal, who is culturally inclusive of elements from other cultures. I am a very curious person.
I am an anime fan and as such, in order to understand anime better, I have a particularly strong interest for Japanese culture. One that is basically that of what we call in the West an otaku, but not limited to that, as my interests include Japanese traditions. As such, learning the Japanese Language and writing is part of my plans. Also, Japan is the country I most want to visit.
Also, up until recently, I was learning the Turkish Language, something I still want to finish. I also learned parts of the Turkish Culture, something I also want to finish learning. I would also like to visit Turkey, no matter how tense things get in there.
I also have love for the West, obviously. There are many countries here in Europe that I'd like to visit, as well as outside of Europe, like the USA, Canada or Brazil. Indeed one of my dreams involves a whole lot of traveling.
Apart from the Otaku aspects and the desire for travel, I am also a person fascinated by the Cyberpunk movement. From Blade Runner and Neuromancer to Cyberpunk Anime and Manga, it is by far my favorite genre and my favorite fiction (for how long?) topic. But overall, not only am I into Science Fiction in general, but also, I like things of any genre as long as it appeals to me. In the case of shows, they have to either amuse me, surprise me, or bring any useful thought.
I am also, apart from a self-declared Otaku, a self-declared Metalhead. I love metal, on it's most varied forms. As long as it has something of its own, I may like it. from Heavy Metal to Glam Metal to Thrash Metal to Death Metal to Black Metal to Symphonic Metal to... You get the picture. I don't discriminate against Nu Metal or Alternative Metal or Glam Metal like many Metal fans like to do (by claiming that these genres are not Metal). But unlike what it may sound, I am more open minded than just liking metal. I am overall a rocker, and even some pop artists (that are original and use their voice rather than abusive amounts of auto-tune and repetitive beats) may slide in my list of favorites.
Also, on the side of politics and society (since good part of SH is all about these topics), I am a strongly convicted Socially Liberal person. I don't know what I am when it comes to Economics or Finances, because I honestly know too little about these issues to actually take a stance. I at least know of concepts such as Gross Domestic Product, but still... Either way, here are the essentials on my stances:
-I am strongly Pro-LGBT rights, believing in the right of homosexuals, bisexuals and transgenders to marry, be able to adopt, and in the transgenders' case, to change legally and physically their sex.
-I feel that abortions must be legal for a certain number of weeks (Late-Term Abortion, unless it is to save a mother's life, disgusts me).
-I believe in the legalization and regulation of prostitution, for the prostitute's sake more than anything. Let me explain why: Every year, thousands of prostitutes are spanked to death, physically assaulted and raped. Also, whilst countries that legalize prostitution also face human trafficking, in average, those countries that legalize prostitution are more efficient at fighting human trafficking. Also, every year, thousands of prostitutes catch STD's due to a lack of a health check, and by consequence, many people who have sex with prostitutes, and the people who sleep with the people who had sex with prostitutes, are contaminated. All this to say: For humane reasons, and for the sake of Public Health, it must be legalized.
-I believe in gender equality. A society that doesn't comply with this still has a lot of work ahead.
-I don't believe in censorship in its general concept, but I do believe you must take responsibility for the things you say.
-A nation should be able to defend itself, but never be a nationalist, militaristic nation.
-I believe both the Israeli and the Palestinian sides of the conflict (meaning, their respective governments) to be guilty of crimes, hate speech (via their educational system), and to not actually doing anything for regional peace (i.g. doing what's best for their respective peoples). I believe this to be the result of a lack of a Secular Society, Religious Fundamentalism (both Jewish and Muslim, and Christian via American Influence), and Nationalist policies (Zionism on the Israeli side, Arab Socialism on the Palestinian side).
-I believe the environment in the Far East (China, Japan and South Korea, in particular) to be extremely nationalist, and thus worrying. Japan's case is actually the lightest of these three. But it still has too much of a Nationalist Ambient.
-I couldn't mention Nationalism without mentioning American Nationalist trains of thought as being dangerous in my opinion.
-I believe in treating drug addicts as human beings victims of wrong choices, rather than criminals practicing a ''victimless crime'' (such concept is abhorrent in my opinion). I believe in a just treatment. As such I believe in rehabilitation rather than criminal penalties for drug addicts.
-Voluntary Euthanasia, in cases of people that are already dying, should be available. Because, like I said, they are already dying, a painful death. I don't defend it in any other case though.
-I believe in an open society, open to its coming immigrants. I believe in Multiple Citizenship. I to not defend societies being flooded with too much immigration though, to the point where the original population becomes a minority.
-Hate Speech is not Free Speech. Free Speech involves an idea, backed by something that isn't mere insults, but rather concrete ideas. Insults or ideas based on blatant lies are not free speech. If they're meant to offend a particular group, that's hate speech. Now of course, you should be allowed to say what you want without having state-sponsored persecution. But expect criticism from other people.
-I am a Secularist. I believe in Equality before the Law, and I believe in the freedom to worship or to criticize.
-I do not believe in Death Penalty. I don't personally feel like mass murderers or rapists are people worthy of life. But I do have a principle of acting in a superior way than the way the criminal has acted. I do not believe in this Old Testament ''An Eye for an Eye'' thing. And another thing: Thousands of innocent people throughout history have been sentenced to death. Since the Judicial System is ruled by people, Human Error, as well as Corruption, will prevail, and as such, giving a power as big as terminating life is too dangerous. Also, I don't believe anyone is to say who's to live and who's to die. I do believe in killing for self-defense or in defense of someone, though.
There are other things in my mind. You can disagree with me. But then you have to explain why you disagree, and not simply insult me. I wish to debate if I have to. And a debate is about concrete ideas, and not cheap insults, ignorance or blatant lies.
Last but not least: I am Agnostic. I like to know about beliefs, by I am essentially Agnostic. Curious about Buddhist and other oriental trains of thought, as well as interested in Deistic trains of thought, but it stays there. I do not believe in Organized Religion, but I'm not going to attack anyone for belonging to any. I will attack someone who imposes their religion upon someone else though (specially if that someone else is me).
On a lighter note, I'd like to learn how to play several instruments: Drums, Guitar, Bass Guitar, Synthesizers and Piano.
So summed up: I am a Portuguese student who is an Otaku, a Metalhead, Socially Liberal, Feminist and Anti-Nationalist.
My Political Views
I am a left social libertarian
Left: 4.05, Libertarian: 3.9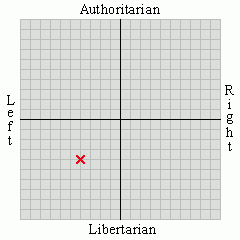 Political Spectrum Quiz
My Foreign Policy Views
Score: -3.73

Political Spectrum Quiz
My Culture War Stance
Score: -7.93

Political Spectrum Quiz
I'd like to meet
Too many to site out of fin air.
Activities
Videogames, Friends, reading, music, computer, SodaHead.
Interests
Social-Political issues, Divisive issues, Geography, Philosophy, Music, Drumming, Friends, Videogames, Culture, literature.
Favorite Music
-2wo
-30 Seconds to Mars
-Accept
-AC/DC
-Aerosmith
-ALI Project
-Alice Cooper
-Alice In Chains
-Amorphis
-Angra
-Annihilator
-Anthrax
-Arch Enemy
-Area51
-Artillery
-At the Gates
-Autograph
-Barclay James Harvest
-Bathory
-Black Sabbath
-BoA
-Bon Jovi
-Bruce Springsteen
-Cacophony
-Candlebox
-Candlemass
-Carcass
-Cavalera Conspiracy
-Celtic Frost
-Chelsea Grin
-Children of Bodom
-Cinderella
-Coroner
-Cradle of Filth
-Daft Punk
-Dark Angel
-David Lee Roth
-Dead by Sunrise
-Death
-Death Angel
-Deep Purple
-Def Leppard
-Deftones
-Deicide
-Delain
-Depeche Mode
-Destruction
-Dido
-Dio
-Dir En Grey
-Dire Straits
-Disturbed
-Dokken
-Don Dokken
-Dream Theater
-Epica
-Eric Clapton
-Europe
-Evanescence
-Extreme
-EZO
-Faith No More
-Fear Factory
-Foo Fighters
-Fort Minor
-Galneryus
-Gamma Ray
-Green Day
-Gojira
-Guns N' Roses
-Halford
-Heathen
-Heaven & Hell
-Heavenly
-Hellion
-Helloween
-Helmet
-HIBRIA
-Hikaru Utada
-Iced Earth
-Ichiko Hashimoto
-Iron Maiden
-James LaBrie
-Jane's Addiction
-Joe Satriani
-Jon & Vangelis
-Judas Priest
-Kalafina
-KISS
-King Crimson
-King Diamond
-KoRn
-Kreator
-Krokus
-Lacuna Coil
-Led Zeppelin
-Linkin Park
-Liquid Tension Experiment
-Living Colour
-Lordi
-Loudness
-Luna Sea
-Lynch Mob
-Maaya Sakamoto
-Machine Head
-Marilyn Manson
-Maximum the Hormone
-Megadeth
-Mekong Delta
-Mercyful Fate
-Mezarkabul (Known as Pentagram in Turkey)
-Meshuggah
-Metal Church
-Metallica
-Midnight Oil
-Ministry
-Moonspell
-Mötley Crüe
-Muse
-Nailbomb
-Nana Mizuki
-Night Ranger
-Nightmare
-Nightwish
-Nine Inch Nails
-Nirvana
-Nocturnus
-Opeth
-Overkill
-Ozzy Osbourne
-Pantera
-Pentagram
-Pink Floyd
-Poison
-Possessed
-Queen
-Queensrÿche
-Quiet Riot
-Racer X
-Radiohead
-Rage Against The Machine
-Rainbow
-Ratt
-Reichi "Chabo" Nakaido
-Rhapsody of Fire
-Rise Against
-Sabaton
-Sarcófago
-Savatage
-Scars of Life
-Scorpions
-Sepultura
-Sevendust
-Sigh
-Sinergy
-Skid Row
-Slash
-Slaughter
-Slayer
-Slipknot
-Sodom
-Soulfly
-Soundgarden
-Strapping Young Lad
-Steve Vai
-Tesla
-ThanatoSchizO
-Theatres des Vampires
-The Chemical Brothers
-The Cult
-The Jimi Hendrix Experience
-Tiamat
-Tool
-Trans-Siberian Orchestra
-Twisted Sister
-Type O Negative
-U2
-U.D.O.
-Vangelis
-Van Halen
-Versailles
-W.A.S.P.
-White Lion
-Whitesnake
-Winger
-Within Temptation
-X Japan
-Yngwie Malmsteen
-Yoko Kanno
-Yuki Kajiura
-Zonaria

I also tend to be fan of Anime Soundtracks:

-Azumanga Daioh
-Battle Angel OVA
-Bubblegum Crisis
-Code Geass: Lelouch of the Rebellion
-Cowboy Bebop
-Death Note
-Elfen Lied
-Ghost in the Shell: Stand Alone Complex
-K-On!
-Magical Girl Lyrical Nanoha
-Megazone 23
-Mnemosyne
-NANA
-Neon Genesis Evangelion & End of Evangelion
-Psycho-Pass
-Puella Magi Madoka Magica
-Oniisama e...
-RahXephon
-Rosario+Vampire
-Seraphim Call
-Serial Experiments Lain
-Silent Möbius (Both Anime series and films)
-Tokyo Magnitude 8.0
Favorite TV Shows
Anime

-A.D. Police Files
-Armitage III
-Azumanga Daioh
-Battle Angel OVA
-Bubblegum Crisis
-Bubblegum Crisis Tokyo 2040
-Bubblegum Crash!
-Cardcaptor Sakura
-Code Geass: Lelouch of the Rebelion
-Cowboy Bebop
-Death Note
-Elfen Lied
-Ghost in the Shell: Stand Alone Complex
-Kaito Saint Tail
-K
-K-On!
-Kurau Phantom Memory
-Magical Girl Lyrical Nanoha
-Megazone 23
-Mnemosyne
-NANA
-Neon Genesis Evangelion
-Parasite Dolls
-Princess Resurrection
-Psycho-Pass
-Puella Magi Madoka Magica
-Oniisama e...
-RahXephon
-Real Drive
-Rosario+Vampire
-Seraphim Call
-Serial Experiments Lain
-Silent Möbius
-Time of Eve
-Tokyo Magnitude 8.0
-Un-Go
-YuruYuri

Live-Action Series

-All in the Family
-Babylon 5
-Bones
-Burn Notice
-Caprica
-CSI
-CSI Miami
-CSI New York
-Dexter
-House
-Law and Order
-Law and Order Special Units
-Lie to Me
-Murder She Wrote
-NCIS
-NCIS: Los Angeles
-Perry Mason
-True Blood
Favorite Movies
Anime Films

-Akira
-Armitage: Dual-Matrix
-Evangelion: 1.0 You Are (Not) Alone
-Evangelion: 2.0 You Can (Not) Advance
-Evangelion: 3.0 You Can (Not) Redo
-Ghost in the Shell
-Ghost in the Shell 2: Innocence
-Ghost in the Shell: Stand Alone Complex: Solid State Society
-Neon Genesis Evangelion: Death & Rebirth
-Neo Tokyo
-Silent Möbius: The Motion Picture
-Silent Möbius: The Motion Picture 2
-The Animatrix
-The End of Evangelion

Live-Action Films

-12 Monkeys
-Agora
-Angels & Demons
-An Inconvenient Truth
-Apollo 13
-Armageddon
-Avatar
-Babylon 5: The Gathering
-Bad Boys
-Bad Boys 2
-Batman Begins
-Black Swan
-Blade Runner
-Bringing Down The House
-Chronicle
-Crash
-City of God (Cidade de Deus)
-City of Joy
-Demolition Man
-Die Hard 4.0
-Dirty Harry
-Django Unchained
-En Soap
-GATTACA
-Ghost Rider
.Ghost Ship
-Gladiator
-G.O.R.A.
-Horrible Bosses
-Freedom Writers
-Harry Potter and the Philosopher's Stone
-Harry Potter and the Chamber of Secrets
-Harry Potter and the Prisoner of Azkaban
-Harry Potter and the Goblet of Fire
-Harry Potter and the Order of the Phoenix
-Harold & Kumar Go to White Castle
-Harold & Kumar Escape From Guantanamo Bay
-Inception
-Indiana Jones: Raiders of the Lost Ark
-Indiana Jones and the Temple of Doom
-Indiana Jones and the Last Crusade
-Indiana Jones and the Kingdom of the Crystal Skull
-I, Robot
-Juno
-Kinsey
-Life is Beautiful (La vita è bella)
-Limitless
-Lord of the Rings: The Fellowship of the Ring
-Lord of the Rings: The Two Towers
-Lord of the Rings: The Return of the King
-Matilda
-Mercury Rising
-Minority Report
-National Treasure
-Nell
-New Police Story
-Nothing to Declare
-Notting Hill
-Persepolis
-Philadelphia
-Resurrection of the Little Match Girl
-Robocop
-Rush Hour
-Rush Hour 2
-Rush Hour 3
-RV
-Shutter Island
-Star Wars I: Phantom Menace
-Star Wars II: Attack of the Clones
-Star Wars III: Revenge of the Sith
-Star Wars IV: A New Hope
-Star Wars V: The Empire Strikes Back
-Star Wars IV: Return of the Jedi
-Slumdog Millionaire
-Taxi
-Taxi 3
-Terminal Error
-The Amazing Spider-Man
-The Blind Side
-The Dark Knight
-The Da Vinci Code
-The Day After Tommorow
-The Dead Pool
-The Edukators
-The Hangover
-The Hangover Part 2
-The Hobbit
-The Interpreter
-The Island
-The Island of Dr. Moreau
-The Last Samurai
-The Matrix
-The Matrix Reloaded
-The Matrix Revolutions
-The Money Pit
-The Myth
-The Principal
-The Proposal
-The Pursuit of Happyness
-The Shinning
-The Sorcerer's Aprentice
-The Untouchables
-Wild Hogs
-You Don't Mess With the Zohan
-Zombieland

Western Animation Films

-Ice Age
-Ice Age: The Meltdown
-Ice Age: Dawn of the Dinosaurs
-Ice Age: Continental Drift
Favorite Quotes
"Being an agnostic means all things are possible, even God, even the Holy Trinity. This world is so strange that anything may happen, or may not happen. Being an agnostic makes me live in a larger, a more fantastic kind of world, almost uncanny. It makes me more tolerant."
Jorge Luis Borges (1899–1986), Argentine writer.

''All men are equal; it is not their birth,
But virtue itself that makes the difference.''

-Voltaire (Eriphile, act II, scene I; 1732)

''It is better to risk sparing a guilty person than to condemn an innocent one.''

-Voltaire (Zadig; 1747)

''It is dangerous to be right in matters where established men are wrong.''

-Voltaire (Catalogue pour la plupart des écrivains français qui ont paru dans Le Siècle de Louis XIV, pour servir à l'histoire littéraire de ce temps," Le Siècle de Louis XIV; 1752)

''Doubt is not a pleasant condition, but certainty is an absurd one.''

-Voltaire (Letter to Frederick II of Prussia; 6 April 1767).

''Let the punishments of criminals be useful. A hanged man is good for nothing; a man condemned to public works still serves the country, and is a living lesson.''

-Voltaire ("Civil and Ecclesiastical Laws," Dictionnaire philosophique; 1785-1789)

''Use, do not abuse; neither abstinence nor excess ever renders man happy.''

-Voltaire
"My dear, I don't care what they do, so long as they don't do it in the street and frighten the horses"
Mrs. Patrick Campbell - British Actress (1865-1940) This sentence was a reply to comments about some ''indiscreet relationship''.

´´When a man lies he murders
Some part of the world
These are the pale deaths which
Men miscall their lives
All this i cannot bear
To witness any longer
Cannot the kingdom of salvation
Take me home``

Metallica- ´´To Live Is to Die`` from ...And Justice For All.
Favorite Heroes
Only one comes to mind right now: Hypatia. Regardless of the dominion of the Roman Catholic Church, she didn't change a word of what she said or what she believed in. The price was her life.
Areas of Interest
««zamboni»»Hellsoldier-BN0's activity, per category
info
««zamboni»»Hellsoldier-BN0

Male

Portugal

2010/11/26 15:42:33

2013/09/27 00:17:43

20

Single

Straight

Libra

Expressing Myself

High School (Current)

Student

Student

$0 - $25k

No

No

Agnostic

Undecided

Liberal

White/Caucasian

Average

5 feet 11 inches
photos & videos