We got no time for feeling sorry
likes & interests
About Me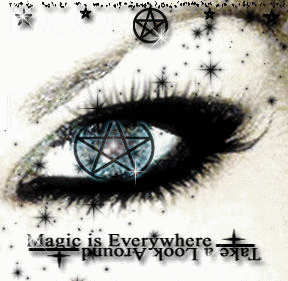 ....I'm Undecided...About Everything...My opinions may have changed but not the fact that I'm right..If you don't like the way I drive stay off the sidewalk..(*Caution*I drive like you do..)...I can handle pain until it hurts..
I'm not clumsy,gravity just hates me..I am addicted to the ass-slap dance move. →Sometimes I don't even notice I'm doing it.←I once sent a teacher into early retirement by pretending to be a cheetah and swiping at her from under a desk.•Used to be schizophrenic. But now both of us are fine.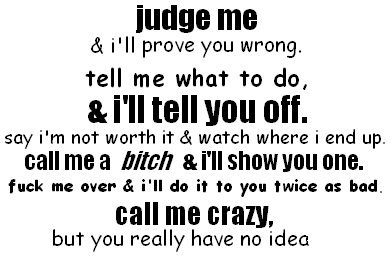 FATAL ERROR:Size of thought exceeds available memory.
I'd like to meet
Patti Smith,Johnny Depp,Bob Dylan,Joan Jett...the person who made this site?There would be more persons who I'd like to meet but they're dead so..kind of impossible
Activities
Interests
Favorite Music
♫Alternative,♫Rock n Roll,♫Punk,About everything..♫
Music
Playlist
at
MixPod.com
Favorite TV Shows
I don't watch that much tv so I don't have favourite tv shows but I really like South Park,Family Guy and The Simpsons..
MySpace Widgets
Favorite Movies
My Name Is Nobody,Rain Man,Green Mile,Dog Day Afternoon,The Legend of 1900,Cinema Paradiso,Life Is Beautiful,They Call Me Trinity,My Name Is Still Trinity,The Uninvited,The Runaways,The Motorcycle Diaries,The Titanic,Remember Me,Into The Wild,Platoon,The Basketball Diaries,Marvin's Room,Girl Interrupted,Speak,Pretty Persuasion,Pappilon,Houndog,D... Dancing 2,Changeling,The Boy In The Striped Pyjamas,My Sister's Keeper,The Pianist,Sweet Sixteen,Juno,Driving Miss Daisy,One Flew Over The Cuckoo's Nest,August Rush,Beyond Borders ,Thirteen,The Simpsons Movie,Broken Fences,fFight Club,The Silence of the Lambs,A Clockwork Orange,Mrs Doubtfire,Meet The Parents,Meet The Fockers,Hard Candy,The Notebook,Pirates Of The Caribbean,The Shawshank Redemption,Schindler's List,Unforgiven,Million Dollar Baby,A Beautiful Mind,Sleuth,The Lion King etc [list under construction]
Favorite Books
East Of Eden,Great Expectations,The Picture Of Dorian Gray,The Wicked Girls,Twilight,Who's Elliot?,Red Riding Hood,They Do It With Mirrors,A Pocket Full of Rye,And Then They Were None,Grapes Of Wrath,Of Mice And Men,Beautiful Disaster,The Psychopathology of Everyday Life,Wuthering Heights[list under construction]
Favorite Quotes
▼Life's too short..eat dessert first▼Life's a trip,not a guided tour▼I "Hello,daddy,hello mum,i'm your ch-ch-ch cherry bomb!▼"Time is a great teacher..unfortunately it kills all it's pupils..▼◙Homer Simpson◙:→"Press any key to continue" "Where's the any key?"←--"Oh my God we killed Mr.Burns!Mr Burns is gonna be so mad!"-"Pff who needs English?I'm never going to England!"•*Groucho Marx*•Look at me. I worked my way up from nothing to a state of extreme poverty. ○Yogi Berra ○I knew I was going to take the wrong train, so I left early. !The only reason people get lost in thought is because it's unfamiliar territory.! !Everyone is entitled to their own opinion. It's just that yours is stupid. !Whatever You Do In Life Will Be Unsignificant..But It's Very Important That You Do It Because Nobody Else Will..I Tend To Agree With The First Part..!Everyone has photographic memory; some just don't have the film. ! Never go to a doctor whose office plants have died. Erma Bombeck* If you obey all the rules you miss all the fun.
Katharine Hepburn*
[list under construction]
Favorite Heroes
Areas of Interest
Blonde Rebellion's activity, per category
info
Blonde Rebellion

Female

Greece

2009/11/19 17:40:01

2014/11/27 14:01:04

April 30

It's complicated

Straight

Taurus

Discovering Opinions

High School Graduate

Not-Employed

Yes

Agnostic

Undecided

Other

White/Caucasian

Slim/Slender

5 feet 5 inches
photos & videos