likes & interests
About Me
Crazy people are perceived to be mentally impaired because they see life through a different perspective. A person is coined as 'crazy' if they do things that normal people would think is utterly ridiculous. Nonetheless what we do not see in them is the sheer genius they exhibit by thoughts that would otherwise never enter the mind of a taught and completely sane person. In reality, a person who is perceived as crazy by conventional people is more of a genius than a person who has a good education. Conventional or habituated people who have had a good education often take on the perspectives of the people who have taught them. This perspective would engulf morals, what is appropriate to be said, what is not and even the difference between good and evil. A traditional person would share the same morals and the same view on what is good and bad. However, a crazy person is not taught how to think therefore he is more free than the typical being. He is not taught what is good and bad and consequently is not made to think in a way followed by the conventional human. Ergo completely making the phrase non compos mentis completely ill-founded.
I'm Shivani and I'm from India. I'm a brunette with brown eyes, the color of my hair. I'm friendly unless you piss me off or are fake. If you need someone to talk to don't hesitiate to talk to me. I will not encourage imposters on sodahead, so if you are fake I will not reply back to your messages and comments. I am not easily taken in or influenced by people. I do not (have not except my close friends) open up to people very easily. That doesn't mean I'm not friendly though; I love talking to people. I'm crazy as fuck and can be a little blunt or brash at times. I may ask you the weirdest questions (not dirty- I'm not that kind of person) but you don't have to answer them if you don't want to. I won't judge you. I have a rather optimistic view of life.
I love talking about philosophy and in the years to come, I hope to become a successful clinical psychologist. I like talking to people who are receptive towards other people's views and do not have bigoted beliefs of their own. The number of idiots who try to impose upon these beliefs on others does not fail to baffle me.
My favorite color is pink and some shades of blue and no, pink does not make me one of those stupid girls. Just because I like pink it doesnt mean I'm a girly girl. The color a person likes most certainly does not determine what kind of a person they are.
I'm excessively chilled out and can't stand it when people try to act uptight and mature. I mean seriously? Get a fucking life! Life is too short to please other people, it is only when you spend half your life pleasing others that you realize contentment is found in being satisfied with oneself.
I am open to others' beliefs and views and support the freedom of all individuals. I believe in peace and love and most of the time religion breaks up society. If there was a God, there wouldn't have been so much hatred on the topic of God himself. Instead of hating people based on religion, why not love everyone just because we're all humans? What makes us different from the rest? Nothing.
The rest I leave for you to judge. If you want to know more feel free to message or comment :)
Based on events that took place over the last few months, I have learned not to underestimate anyone just because of their age. I have seen that many on this site do not consider some people's comments relevant because of their age. It has happened with me too. If that is the case, please don't bother to add or talk to me.



My Political Views
I am a centrist social libertarian
Left: 0.53, Libertarian: 5.13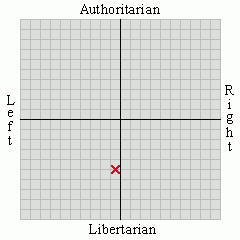 Political Spectrum Quiz
My Foreign Policy Views
Score: -5.52

Political Spectrum Quiz
My Culture War Stance
Score: -4.98

Political Spectrum Quiz
I'd like to meet
Activities
I like watching movies, TV and sometimes YouTube videos. But lately I'm into reading. It's really become my thing.
Interests
I love Movies, music, reading (sometimes) and writing. I enjoy spending a lot of my time reading up on various topics to enrich my knowledge. I love taking to people and making new friends
Favorite Music
Favorite TV Shows
Favorite Movies
Favorite Books
Girl with the Dragon Tattoo,
Girl who Played with Fire.
Favorite Quotes
All you need is love- John Lennon

When I was 5 years old, my mother always told me that happiness was the key to life. When I went to school, they asked me what I wanted to be when I grew up. I wrote down 'happy'. They told me I didn't understand the assignment, and I told them they didn't understand life. - John Lennon

The time you enjoyed wasting was not wasted- John Lennon


It matters not who you love, where you love, when you love or how you love, it matters only that you love-
John Lennon

You don't need anybody to tell you who you are or what you are, because you are what you are! -John
Lennon

'Love sees not with the eyes but with the mind, therefore was winged Cupid was made blind' - William Shakespeare
Favorite Heroes
Usually, I do not idolize but I consider John Lennon and Steve Jobs, great people.
Areas of Interest
Booッ's activity, per category
info
Booッ

Female

India

2011/05/24 15:00:17

2 hours ago

15

Single

Straight

Virgo

Friendship

High School (Current)

Student

Student

$0 - $25k

No

No

Atheist

Someday

Liberal

East Indian

Slim/Slender

5 feet 6 inches
photos & videos