What fun is there in making sense?
SodaHead Groupies is a forum group dedicated to all things SodaHead. Whether you have a question about the site, wan...
likes & interests
About Me
Firstly Thank you Ves so very much for helping me and tolerating me.
Who am I? I'm a guy... strictly speaking I'm a freaking unicorn. Yes unicorns exist, just read the bible...there are countless verses about us.
My name is Scott, just Scott...anything else and I will impale you, and not in the nice way. My age is unimportant as being a unicorn I can live for an age so time passes me by and I stopped bothering with recognising birthdays a long time ago, around the time the earth was flat, life was far more simpler then. back then. Good times, good times.
My political stand point is of no concern to you, as to why anyone cares for such trivial matters I am unaware of. Must we demonise each other simply for our political perspectives? Of course not, that only leads to a closed mind and a closed minds often stray into an idle mindset. No, one must be able to see the bigger picture, that means one must understand and learn all standpoints and ideas currently available, or at least try ones best.
There is only one God and she is the Invisible Pink Unicorn, bow down and praise her horny goodness!
I currently reside in the UK, where sadly a lot of my mystical friends have disappeared...out of the blue, Dragons, Giants, Cockatrice etc (again bible) all gone. I feel so very lonely at times, but between you and me, there is this hot filly down the road in this stable so who knows, might do something there.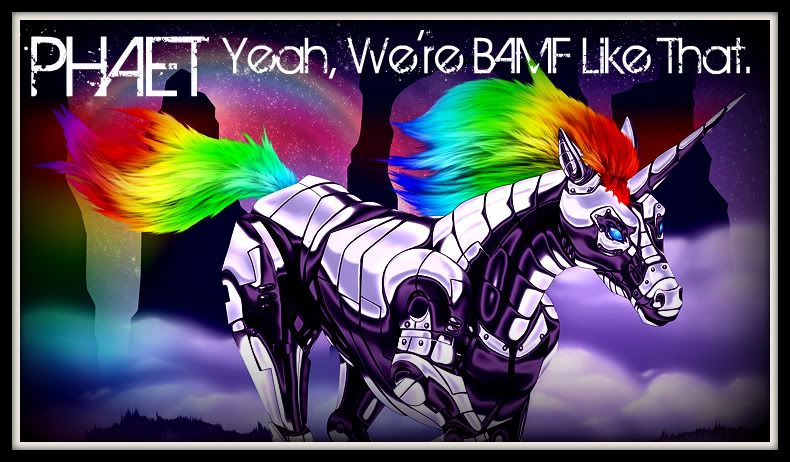 I think that is enough of me, if you need to know anything else, then tough. Bugger off. Now to get on with my life:
I'd like to meet
Activities
Interests
Gaming, Reading, Films... you know, the normal stuff.
Favorite Music
I hate you...
Favorite TV Shows
Not big on TV but BBC: News, Night at the Apollo, Top gear, 8 out of 10 cats, QI...etc, etc
Favorite Quotes
"Whining? I am not "whining". I am complaining. Do you want to hear "whining"? (whines obnoxiously) This is whining! Ooohhhh! This harness is too tight! It's going to chafe! Can't you loosen it?! OH! It hurts and it's so rusty! Why didn't you clean it first?! It's gonna leave a stain, and the wagon's getting heavy! Why do I have to pull it?! "
- Rarity

"The shape's fine, just make the whole thing... you know, cooler. It needs to be about 20% cooler. "
- Rainbow Dash

"And then I said, "Oatmeal are you crazy?""
- Pinkie Pie

"That big.... dumb... MEANIE!!!! "
- Fluttershy

"Don't you use your fancy mathematics to muddle the issue! "
- Applejack

"I like your Christ, I do not like your Christians. Your Christians are so unlike your Christ."
– Mahatma Gandhi


"The fact that a believer is happier than a sceptic is no more to the point than the fact that a drunken man is happier than a sober one. The happiness of credulity is a cheap and dangerous quality."
– George Bernard Shaw

"Man had always assumed that he was more intelligent than dolphins because he had achieved so much... the wheel, New York, wars, and so on, whilst all the dolphins had ever done was muck about in the water having a good time. But conversely the dolphins believed themselves to be more intelligent than man for precisely the same reasons."
– Hitchhiker's Guide

"The God of the Old Testament is arguably the most unpleasant character in all fiction: jealous and proud of it; a petty, unjust, unforgiving control-freak; a vindictive, bloodthirsty ethnic cleanser; a misogynistic, homophobic, racist, infanticidal, genocidal, filicidal, pestilential, megalomaniacal, sadomasochistic, capriciously malevolent bully."
– Richard Dawkins

"You can always count on Americans to do the right thing - after they've tried everything else."
– Winston Churchill
Favorite Heroes
Discord
Areas of Interest
Scott ヶBrony Of PHAETヶ's activity, per category
info
Scott ヶBrony Of PHAETヶ

United Kingdom

2009/05/07 11:34:19

2013/09/13 15:41:21
photos & videos