YESTERDAY WAS MY BDAY!!!!!!!!!!!!!!!! YAY!!!!!
likes & interests
About Me
Hey There,
My name is Angel. As you can see by my profile, I really like my name. Don't ask why, I just liked the pics. My nickname is psycho from my friends as I am the craziest, most bewildering, semi-insufferable girl you will ever meet. Please take a look at my profile and leave me a comment if you'd like. It is a pleasure to have you here and I hope you enjoy the music I've put up.
Your True Angel
I'd like to meet
Activities
You Should Try Zorbing


A crazy but low(er) key extreme sport
<br/>>>>>>>...
Just get in the big ball and start rolling
Interests
Soccer
Reading
SH
Typing
Swimming
Sewing
Cooking
Painting
Making Pottery
Drawing
Measuring
but most of all I LOVE doing my Math homework.
I also like helping animals in need. To help donate food to animals that need your support, please click the code below. This takes about twenty seconds. Please. Help those who cant help themselves.
http://www.theanimalrescuesit...
Favorite Music
I like all types of music. Just give me a song and I'll listen to it so many times, the next thing I say will be a quote from that song.
Favorite TV Shows
House
Grey's Anatomy
Private Practice
The Mentalist
CSI: Crime Scene Investigation
CSI': Miami
CSI: New York
Lie To Me
Cold Case
Without a Trace

I hate Law and Order though because of the ding noise between times or whatever. The "da-da" when it says below "3 hours later" or whatever.
Favorite Movies
Matrix 1, 2, and 3
Hancock
I Am Legend
A Cinderella Story
Another Cinderella Story
Picture This
Step Up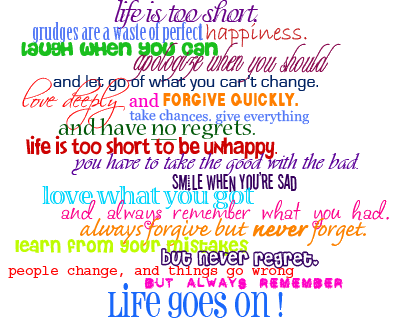 Favorite Books
I love all books. Please...if you have any good book suggestions go ahead and leave me a comment. I really appreciate it.
When It Happens by Susane Colasanti
Fake Boyfriend by Kate Brian
The Virginity Club by Kate Brian
The Princess and the Pauper by Kate Brian
The Harry Potter's by J. K. Rowling
The In or Out's by Claudia Gable
Chasing Yesterday #1-3 by Robin Wasserman
Molly Moon, Micky Minus, and the Mind Machine by Georgie Byng
Just Listen by Sarah Dessen
Favorite Quotes
I'm glad God invented dogs because dogs made possible the greatest invention ever: the pooper-scooper!!!

Home is where the heart is.

If you can read this, thank a teacher. If this is in English, thank a soldier.

The Perfect Description:
"A recession is when your neighbor's out of work.
A depression is when you're out of work.
A recovery is when Obama is out of work."
Favorite Heroes
My parents. And all the troops that have fought, died, went missing, and are still training to fight. You gave me my freedom. If you can read this, thank a teacher. If this is English, thank a soldier. So to all you soldiers, navy, army, military, marines...Thank you sooooo much. It really does mean the world to me.
info
Alexandrite

Female

CA, US

2008/11/26 19:15:31

2010/01/17 04:55:49

Straight

Virgo

Expressing Myself

High School (Current)

No

No

Christian

Someday

White/Caucasian

Athletic

5 feet 8 inches
photos & videos