likes & interests
About Me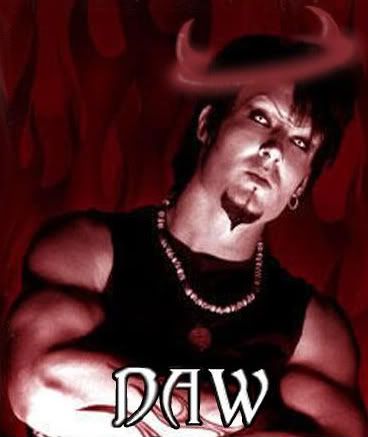 Well, what can I say..I'm Edward or Eddie Most people Call me Daw you like, I am into All natural Organic healthy Eating I love learning new Recipes and Sharing them.
I also Love do it yourself Projects I am a very Crafty kinda Guy
I blog Recipes and do it yourself Projects and Share ideas on Recyling and upcycling.
I love learning about history and Science , I am a Pagan Minister of Lady Gaia Mother Earth and Father Cerrunnos I know Alot of Pagan Religions and enjoy sharing what I know with others.
I must admit i am addicted to Comic books and I have a Wonderful Girlfriend Darla who I love more than Life it's Self I also Write Poetry and Teaching the Wisdom of the Elders of all the Levels of Love knowledge and Truth.
Well hopefully we will get to know each other and be Friends
I just Want to Warn you if you are Reading this I am VERY Opinionated and I will not back if you are Offended Easily then i am not the person you want to Friend its just Who I am
I'd like to meet
Gaea/Earth Mother - Goddess of earth
She is represented by plants and flowers to idenify her
Gaia is the begining of all she is the source of life for she is the earth
the ocean and rain are her tears and life blood
the soil is her skin
the rock is her flesh
the plants and animals and even we live on her and in her for she is mother of life its self
Gaia protects her children.
but grows angry at what we children do to each other and to her
wars , hate, racism, Religious Fantatics who hide behind God to harm others and justify thier actions.
we the children of Gaea are energy beings trapped in physcal form we live and die and are reborn with Reincarnation to grow spiritually
Pagans believe in reincarnation which to Wiccans is a human's soul reincarnates into the same species over many lives in order to learn lessons and advance spiritually
in other words life is a journey of exploration in a physcal Form thru time and space
The Presence of Gaia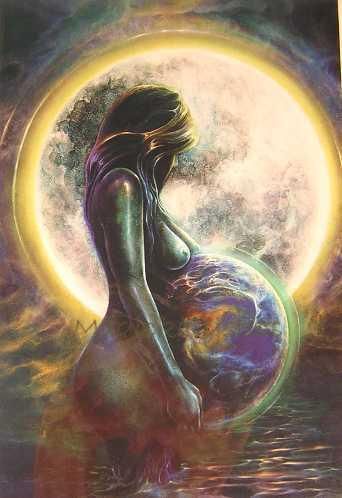 As a new dawn approaches Gaia emerges from our sleeping planet. The radiance of her aura lights up the heavens and her 'presence' gives confidence to the birds and animals to venture forth, secure in the knowledge that she will protect them. A river of life flows out to all corners of the earth, renewing and restoring. What greater 'present' could she give us!
-----------------------------
Sadness of Gaia
The Earth Goddess looks on sadly, aware that our human weaknesses will mean many years of education to prevent the ruin of our precious world.
The contents of her wings symbolise all the creatures that need protection. As always "Gaia" will be there to listen and to comfort, bringing with her the rainbow of hope.
The clouds are gathering around our world but she knows she must be strong and work to rectify mans errors, in the belief that he will one day understand that our precious earth deserves our protection.
Let us hope that one day soon "Gaia" will look upon the earth and be satisfied that her lessons have been learnt!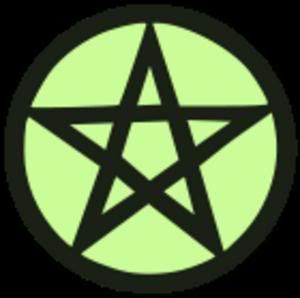 In order the understand the nature of the All-Mother, we must first understand our own origins. Each of began our individual life as a single, fertilized cell or zygote. In the process of its innumerable divisions and multiplications, that cell kept dividing up and redistributing the very same protoplasm. That protoplasm which now courses through all of the several trillion cells of your adult body is the very same substance which once coursed through the body of that original zygote. For when a cell reproduces, the mother cell does not remain intact, but actually becomes the two new daughter cells. And this is why, no matter how many times a cell fissions in the process of embryological development, all the daughter cells collectively continue to comprise but one single organism. We may imagine that, should our cells have consciousness akin to our own, they may very well fancy themselves to be independent entities living and dying in a world that to them would seem to be merely an inanimate environment. But we know them to be in fact minute components of the far vaster living beings that we ourselves are.
Over four billion years ago, life on Earth began, as do we all, with a single living cell containing a replicating molecule of DNA. From that point on that original cell, the first to develop the awesome capacity for reproduction, divided and re-divided and subdivided its protoplasm into the myriad of plants and animals, including ourselves, which now inhabit this third planet from the Sun.
But no matter how many times a cell fissions in the process of embryological development, all the daughter cells collectively continue to comprise but one single organism. All life on Earth comprises the body of single vast living being - Mother Earth Herself. The Moon is Her radiant heart, and in the tides beat the pulse of Her blood. That protoplasm which coursed through the body of that first primeval ancestral cell is the very protoplasm which now courses through every cell of every living organism, plant or animal, of our planet. And the soul of our planetary biosphere is She whom we call Goddess/
and live a healthy lifestyle and long life Worship of Gaea Has been recorded as far back as 30,000 years -40,000 years ago
Cerrunnos also called the Oak King, Green man and the Horned God
He is connected with male animals, particularly the stag in rut, and this has led him to be associated with fertility and produce. Depictions of Cernunnos are found in many parts of the British Isles and western Europe. He is often portrayed with a beard and wild, shaggy hair -- he is, after all, the lord of the forest.
With his mighty antlers, Cernunnos is a protector of the forest and master of the hunt. He is a god of vegetation and trees in his aspect as the Green Man, and a god of lust and fertility when connected with Pan, the Greek satyr. In some traditions, he is seen as a god of death and dying, and takes time to comfort the dead by singing to them on their way to the spirit world.
Cernnunos, a nature and fertility god, has appeared in a multitude of forms and made himself known by many names to nearly every culture throughout time. He is perhaps best known to us now in his Celtic aspects of the untamed Horned God of the Animals and the leaf-covered Green Man, Guardian of the Green World, but He is much older. Cernnunos worked his magic when the first humans were becoming. Our prehistoric ancestors knew him as a shape-shifting, shamanic god of the Hunt. He is painted in caves and carved everywhere, on cliffs, stones, even in the Earth Herself. Humans sought to commune with Him and receive his power and that of his animal children by dressing themselves in skins and skulls, adorning themselves with feathers and bones, by dancing His dance. Yet He is older still. In the time of the dinosaurs, the great swamps and subtropical forests of cycads, seed ferns and conifers, and later in the time of the deciduous plants and flowers, when the pollinators came and the first tiny mammals were creeping up from beneath the ground, Cernnunos was the difference and diversity of life, the frenzy and ferment of evolution. But, He is much older still. He is oldest of the Ancient Ones, first born of the Goddess. At the time of First Earth, Cernnunos grew in the womb of the All Mother, Anu, waiting to be born, to come forth to initiate the everlasting, unbroken Circle of Life.
, the cycle of seasons follows the relationship between the Horned God -- Cernunnos -- and the Goddess. During the fall, the Horned God dies, as the vegetation and land goes dormant, and in the spring, at Imbolc, he is resurrected to impregnate the fertile goddess of the land. However, this relationship is a relatively new Neopagan concept, and there is no scholarly evidence to indicate that ancient peoples might have celebrated this "marriage" of the Horned God and a mother goddess.
Because of his horns (and the occasional depiction of a large, erect phallus) Cernunnos has often been misinterpreted by fundamentalists as a symbol of Satan. Certainly, at times, the Christian church has pointed to the Pagan following of Cernunnos as "devil worship." This is in part due to nineteenth century paintings of Satan which included large, ram-like horns much like those of Cernunnos.
Today, many Pagan and Wiccan traditions honor Cernunnos as an aspect of the God, the embodiment of masculine energy and fertility and power.
The Song of Amergin
I am a stag of seven tines,
I am a wide flood on a plain,
I am a wind on the deep waters,
I am a shining tear of the sun,
I am a hawk on a cliff,
I am fair among flowers,
I am a god who sets the head afire with smoke.
I am a battle waging spear,
I am a salmon in the pool,
I am a hill of poetry,
I am a ruthless boar,
I am a threatening noise of the sea,
I am a wave of the sea,
Who but I knows the secrets of the unhewn dolmen ?
Activities
Thor, Norse God of Thunder
Ages ago, Odin, lord of the Asgardian gods, desired a child who would one day exceed him in power. Odin wooed Gaea, the earth goddess, and from their union Thor was born in a small cave in Norway on Earth. Odin took him to be raised in Asgard by his wife, Frigga.
The young Thor grew up alongside his adopted brother Loki, the trickster, who was always jealous of his more favored sibling. Thor grew in power and popularity and on his eighth birthday, Odin had the hammer Mjolnir created for him, enchanting it with powerful magic. Odin decreed that Mjolnir would be presented to Thor when his son had been proven a worthy warrior. After spending the next eight years training and performing heroic deeds, Thor was given the hammer and declared the greatest warrior in Asgard.
Thor is the god of thunder. He is typically portrayed as red-headed and bearded, and carrying Mjolnir, a magical hammer. Depictions of Mjolnir became popular adornment for warriors during the age of the Vikings
While Thor continued to engage in many heroic battles and adventures through the years, he grew headstrong and proud. On one occasion, Thor broke a truce between the Asgardians and their enemies, the brutal Frost Giants, nearly starting a war. To teach his son a lesson in humility, Odin sent Thor to Earth in the mortal Form
When Thor learned his lesson as mortal he preformed many deeds and became a legend as a warrior after learning his lesson in humility After 10 years on Earth , he was welcome back to Asgard and Odin gave him back his powers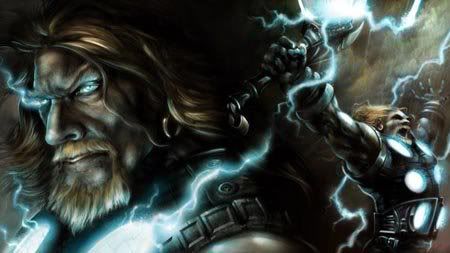 As the Norse god of Thunder, Thor can summon the elements of the storm (lightning; rain; wind; snow) and uses Mjolnir as a tool to focus this ability, although the hammer cannot command artificial weather, only natural. He can cause these weather effects all over the world and destroy entire buildings; by whirling his hammer he can also lift entire buildings with the wind.As the son of the Earth goddess Gaea, Thor has shown some control over the Earth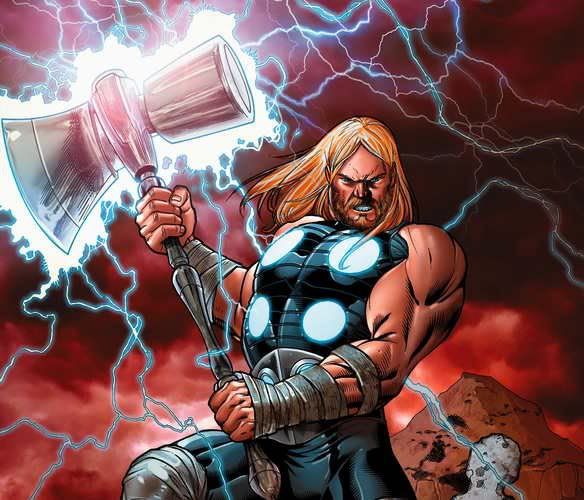 Thor is a superb hand-to-hand combatant, and also skilled in armed combat, excelling in the use of the war hammer, sword and mace. Thor possesses two items which assist him in combat: the enchanted Belt of Strength, and his mystical hammer Mjolnir,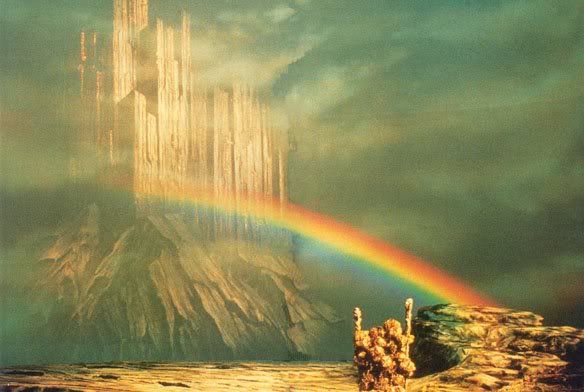 Thor can also travel at supersonic speeds in Earth's atmosphere
Thor also uses a chariot drawn by two huge mystical goats called Toothgnasher and Toothgrinder
A son of Odin, Thor was married to a fertility goddess named Sif, although he also had a mistress, Jarnsaxa. Thor was known for protecting both gods and mortals from the powers of evil. As keeper of thunder and lightning, he was also considered integral to the agricultural cycle. If there was a drought, it wouldn't hurt to offer a libation to Thor in hopes that the rains would come.
During a thunderstorm, Thor rode through the heavens on his great chariot, pulled by two magical goats. Whenever he swung Mjolnir, lightning flashed across the sky. After it was thrown, the hammer always returned home to Thor.
Thor's influence has carried over into modern times. A day of the week is named for him (Thor's day or Thursday ) and there are a number of references to him in pop culture. He appears as a Marvel comic book character
The poet Henry Wadsworth Longfellow wrote of Thor:
I am the God Thor,
I am the War God,
I am the Thunderer!
Here in my Northland,
my fastness and fortress,
reign I forever!
Here amid icebergs
rule I the nations;
This is my hammer,
Miölner the mighty;
Giants and sorcerers
cannot withstand it!
-----------------------------
In darkness you paint us but we will not hide. We're the light of the country in which you abide, we're fearless and strong, the protectors of life, hidden in the shadows, we conquer all strife. We come from the old ones, our lineage secure. We rise from the ashes, we always indure. It's time you remember we we're here first. We healed your sick and suffered your worst. From time immeorial we've woven our lore cunning folks, healers, benandanti--there's more. We're black and we're white, we're brown and we're yellow. We're wemon and children and mighty fine fellows. We're Her hidden children, the angles of light, our task is to teach and to help set things right. We conjure and cast and whisper and pray so you can enjoy your freedom each day. We've long been your army protecting your back. When you are in trouble in secret we act. The Mother is watching, she hasn't missed much. She's gathered Her magick and given the touch to Witches and Pagans and Druids and such! The times are a'changing and one thing is clear the Lord and the Lady have now reappeared. Two pillars, three points, four quarters extend, five is the number of magickal blend. By moon and by sun, by earth and by stars realize this day that the power is ours! Author unknown
Interests
Hecate
The Goddess Hecate is also known as the liberator of women, as she sets women free from the bonds created by man. That is why the Christian Church put Hecate down and created her as the Goddess of evil and destruction.
During Medieval times, pagans were being tortured based on their belief in the Goddess. Patriarchy reigned and the fear of feminine power caused the Church to demonize Hecate.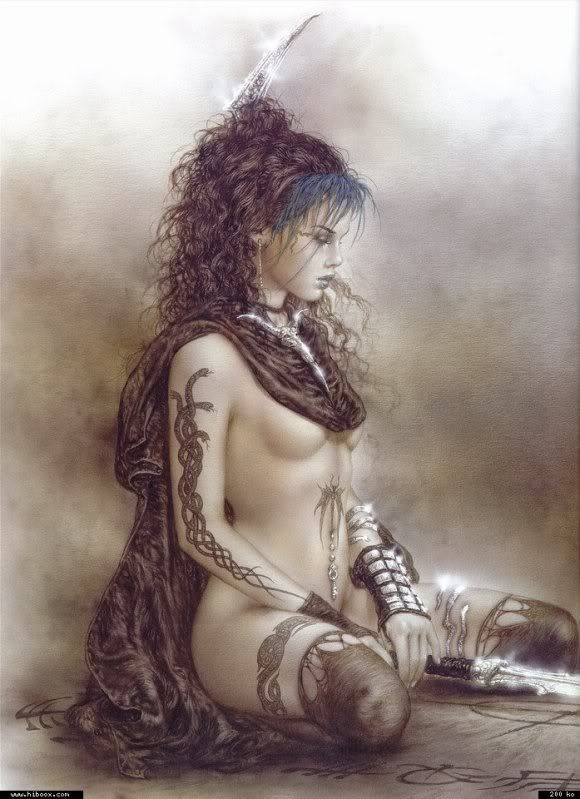 She was made infamous as the crone; old, wrinkled, ugly, warts protruding from her nose and chin, mysterious, dark and loathsome. Many mistakenly call Her the destroyer, but She is not for if you destroy something, that something is forever gone.
You cannot bring something back that has been destroyed. It has been said that the Goddess's service is perfect freedom. She is the liberator because She is manifest in our deepest drives and emotions, which always and inevitably threaten the systems designed to contain them. She is love and anger, which refuse to fit comfortably into the social order. To be "free from slavery" once meant that, within the ritual circle, all were equal, whether they were peasant, serf, or noble in the outside world. Slavery today could be mental and emotional as well as physical: the slavery of fixed perceptions, of conditioned ideas, of blind beliefs, of fear. Witchcraft demands intellectual freedom and the courage to confront our own assumptions.
It is not a belief system: it is a constantly self-renewed attitude of joy and wonder to the world. Hecate enforces feminine independence from masculine influences and this deals in all things including the religion known as Wicca. Wicca is heavily influenced by the male God. The Sabbats are centered around the male God. The word Wicca is a male term....a term connected to the Goddess religion.
In today's society, we hide our elderly (or look right through them as if they do not exist) our sick, and our poor so e can pretend to be immune to such human conditions. But Hecate reminds us of the truth. She sees through the facade of societal amenities. She is not deceived by social standing, education or titles and wealth. Instead, She is impressed only by what is in the heart! She is patroness to those of the heart.
Hecate originally was a Thracian and pre-Olympian Goddess. Zeus bowed down to her antiquity by granting to Hecate alone a power shared by Zeus, that of withholding from humanity anything she wished. He also "granted" her the powers of the heavens, on Earth and the underworld......as if She did not have these powers already! He gave her nothing of that which She did not already have. Of all the Goddesses, she was the most markedly triple and the most complex. She was Goddess of the Wild Hunt. She was to Greeks and Romans, especially the Goddess of the crossroads. Statutes of Her stood there, and food offerings –"Hecate's Supper" – were taken there at dead of night, on the eve of the full Moon. Her annual festival on August 13 was a propitiatory one, to avert the harvest-destroying storms which the Moon is apt to send at around that time. She also haunted graveyards and the scenes of crimes–as a goddess of expiration and purification.
Hecate is the Darksome Mother, in both the positive and in the negative sense. To those that dare to welcome Her, she brings creative inspiration. She is Hecate Antea, the Sender of Nocturnal Vision, and, typically of a Moon Goddess. She is Hecate Trivia, Goddess of the Crossroads.
One of her symbols is the torch, for the Dark Mother also holds the light which illuminates the Unconscious and reveals its treasures. With Her torches she guides those who are seeking the mysteries. The light from these torches will lead those wishing to understand the mysteries.
In the Tarot, She is the Threes and the High Priestess; Her gems are star sapphire, pearl, moonstone, and crystal; Plants are the yew tree, cypress, opium, poppy, almond, mugwort, hazel, moonwort, civet, menstrual blood, camphor, garlic, aloes, all sweet virginal odors; Tools are the cauldron, the besom, knives, the key; animals are the dogs and horses, black cats. The owl is Her messenger. Her chariot is pulled by dragons. Hecate's colors are silver and black.
Through Hecate's Cauldron, we must look at our true self, the nature of our motives and the results of our actions, because only through Her cauldron can we truly be reborn in becoming a better person than we were before. Only when we look into Her dark cauldron can we see the light.
Hecate, and none but She, is Queen of all living things. It is through Her that all things live or die. She is the laughing maiden, the living mother, and the black hag of death. She is the three and the one. She smiles and the radiance of the moon, whether it be full or dark, is everywhere for there is no power like Her power and no living thing can withstand Her power. For She is anticipation. She is the fulfillment. She is death. Hear her words, children, worship and be glad for if you seek Her, She is with you always. She was with you in the beginning and shall be with you at the end.
Days of Hecate are August 13 which She is honored and prayed to in order to not send fearce thunderstorms and ruin and the crops. November 16 is the Night of Hecate which begins at sunset. This is the night of Hecate's supper and animals Oxen Pigs etc were sacrificed in honor of Her.( Animal sacrifice is no longer done ) November 30 is Hecate-Trivia--the day of the Crossroads. The 29th of each month is the Moon of Hecate.
Lilith who was a pagan goddess had her entire history changed
the truth about Lilith
Lilith dates back to the bird-serpent goddess of antiquity. In Sumeria, she was portrayed as having the wings of a bird.
is it just me or does she look like an angel?
here are many possibilities as to her early goddess names: Belil-ili, Belili, Lillake , or Ninlil
She was a goddess of agriculture as well as the "hand of Inanna
She was said to live in the Huluppu-tree
Her symbols are the crossroad, owl, serpent, tree, and dark moon
Lilith the goddess of female sexuality
she is also the Goddess of female independance
The goddess who once protected mothers and infants
Goddess of womans rights to be equals to men
She Taught women to want sex for sex's sake and not for the sake of perpetuating the species
and to be sexually Aggressive
however the Christians changed her story to this
Lilith was just one of many things the Christian's removed from the old myths when creating the bible....they couldn't have women having those kind of examples after all.
Lilith was made the first wife of Adam. Some sources say that Lilith was Adam's spirit wife. Other sources claim that Lilith was fashioned from the earth at either the same time as Adam or before Adam. This made Lilith Adam's equal.
As Adam's equal, Lilith refused to lie on her back while Adam took the dominant position in sex (missionary style). Lilith believed that they should make love as equals (the beast with two backs). Adam was adamantly against this, wanting his wife to be submissive, and Lilith left the Garden of Eden.
So then Adam whined to god, and he made a second woman from Adams rib, so that she would obey him.
God then supposedly gave Adam Eve, a docile woman of the flesh.
Eventually, Lilith was portrayed as the foe of Eve. It was Lilith in serpent form who seduced Eve to eat the fruit of knowledge. No doubt the first wife wanted the second wife to see what a jerk Adam was and that Lilith also wanted Eve to open her eyes and come into the fulness of herself, her womanhood.
When both Adam and Eve were expelled from the Garden of Eden, Adam endured a period of celibacy as penance. During this time, Lilith was said to have caused nocturnal emissions from Adam (night hag). She collected his semen and impreganted herself with it, giving birth to demons.
These children of Lilith were called Lilin or Lilim, "night-demons.
They made her into a demon who kills Children and babies
shes a demoness who sucks the life out unborn children while in the womb
The goddess who once protected mothers and infants was now portrayed as a demoness who caused abortions and murdered infants in their sleep. The Christian church believed that when a baby laughed or smiled in its sleep, it was being entertained by Lilith, and the parents would quickly bop the infant on the nose to distract the infant from the goddess. It was also believed that she came to children in the form of an owl and drank their blood.
also shes a vampire according to them
Lilith as Vampire
As the mother of all demons, Lilith has recently been linked to either giving birth to the first vampires or being the first vampire
again she was changed to a succubus
succubus is a female demon that drains a male of life energy by having sex with him
they totally destroyed a sacred goddess
Men fear Lilith because she knows the power of her sexuality and she knows that her sexuality has power over men. Like Circe, she turns men into beasts or pigs by opening the doorways to their deep and primal sexual desires
Such desires were forbidden back then
Women, who are like the submissive Eve, also fear Lilith because of the power she holds. But, as has been shown in the myth of the garden of Eden, Lilith is not an enemy of womankind. She holds the ancient fruit of knowledge, the secrets of our deepest sexual nature, and she is willing to offer this fruit to us.
In a frenzy to drive Lilith's worshippers away from the goddess, they made up lies such as this which contradicted her earlier functions as a protectress and helper of birthing mothers and infants.
Favorite Music
The Four Core Beliefs of Paganism
At the core of Paganism, there are four beliefs that Pagans share.
1) The Divine has made Itself manifest through many Deities in different
places and at different times. No one Deity can express the totality of the
Divine. This is called polytheism -- the Gods are many..
2) The Divine is present in Nature and in each one of us. This is called
pantheism -- the Divine is everywhere.
3) The Divine is represented as both female and male. The two major aspects
of the Divine are the Goddess and God, although the Divine is beyond
limitations of gender.
4) The Pagan Ethic (also called the Wiccan Rede) is followed: If it harm
none, do what you will. This means a Pagan cannot cause harm to anyone or
anything, including themselves.
The Pagan way is not the only "right" way. Because of this, Pagans do not
preach to others or try to convert people, since there is no need. Pagans
believe that there are many paths to the Divine. Pagans also believe that
there is more to be learned from meditation and contemplation than anything
we can learn from an external source. A Norse priestess called Sigrid the
Proud explained to the Christian missionaries who tried to convert her:
I must not depart from the faith which I have held
and my ancestors before me;
on the other hand, I shall make no objection
to your believing in the God that pleases you best.
The various Pagan religions are religions of tolerance. However, that does
not mean Pagans will tolerate oppression, suppression, or other
human-conceived evils.
The purpose of Paganism is to remind us all that we are not alone -- that
we are important, integral parts of the universe. The Divine is within all
living things, including ourselves. Paganism celebrates the joy of life and
all living things. Paganism teaches we are each plants from a common root,
and that hurting others ultimately hurts ourselves.
Pagans are very concerned about the state of the planet, because the Divine
should be protected. Most Pagans are environmentalists, and recognize that
the very existence of the human race is a threat to the rest of the planet.
We must honor the life forms which have lived on our planet for millennia.
We are to tread lightly on the Earth, take what we need, leave what we do
not, and honor the Gods for providing for us by giving back to the Earth.
Many Pagans are also vegetarian, not only for spiritual reasons, but also
to protest large-scale factory farming and meat production that is harmful
to the planet and cruel to other species.
The newer religions of the past 2,000 years are based on what Pagans see as
a fundamental error -- that the Divine is male and only male. This is a
strange belief to Pagans. The Divine has manifested Itself over the ages as
both Goddess and God to help us understand the complexity of the Divine. If
we worship only one half of the Divine, understanding is lost. We say that
God is made in our image, and not in yours, that one sex is Divinely
ordained over the other for certain privileges. Paganism teaches that both
sexes are equally valuable and necessary, for life cannot exist without
male and female.
Pagans believe strongly in balance and harmony. No quality to excess is
good. We much learn to use qualities skillfully, but inevitably we fail at
times. Pagans accept that we are much less than perfect, and all of us will
get things wrong. To start again and make amends, Pagans must address the
imbalance and counter it -- they must give back in some way to counteract
something taken or abused. This may not happen immediately, or even not for
days or years later...but eventually, balance will prevail.
Most Pagans also believe in reincarnation -- our life on Earth is one of
many and the purpose of life is to learn and evolve. Reincarnation was an
idea taught by the Druids as well as the more well-known Eastern religions.
Not all Pagans believe in reincarnation, and some come to it later along
their paths. But it is important to remember that the doctrine of
reincarnation was widely accepted prior to Christianity.
Because Pagans believe the Divine is everywhere and in each of us, we can
be in union with the Divine in both this life and the next. Pagans do not
focus on what the neighbors do or don't have. Rather, Pagans celebrate and
enjoy life and the gift of consciousness, which is a major miracle in
itself. There is no need to flee Earth to find non-material bliss. We
should celebrate our Earthly incarnation, and enjoy life to the fullest.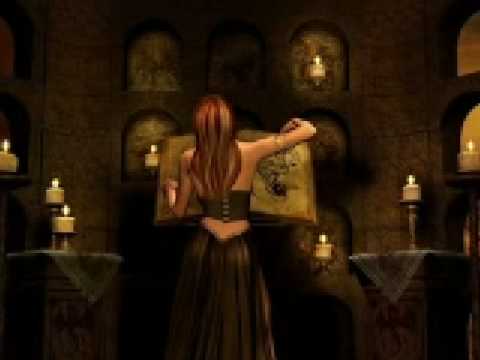 Paganism the largest of the Neopagan religions. Pagan/Wiccans have great reverence for the Earth and for their Goddess and her consort, the horned God. Their main rule of behavior is the Wiccan Rede which forbids them from harming people, including themselves, except in some cases of self-defense.
Many, perhaps most, are solitary practitioners. Others form small groups of believers, called covens, groves, etc. Because of centuries of religious propaganda and misinformation, many conservative Christians, and others, associate Pagans/Wiccans with Satanists even though the two belief systems are as different as Christianity and Atheism.
Neopagan religion, as are Asatru (Norse Neopaganism), Druidism, Shamanism, and ancient Egyptian, Roman, Greek and other religions.
Much of Christianity was derived from Pagan sources; this includes the sites of many cathedrals, the lives of many Christian saints (who were really recycled pagan Goddesses and Gods), many Christian holy days, and many cultural celebrations. There are many vestiges of Paganism which remain a part of our culture; e.g. Groundhog Day, Christmas, May Day 5, Halloween, the names of the days of the weeks and months of the year, common sayings, numerous traditions associated with holidays, etc.
Since ca 395 AD, with the Codex Theodosius, Pagans have been persecuted by the Roman Catholic Church as it became the dominant religion.
Forced conversions to Christianity, torture and death of resisters, destruction of Pagan property, sacred sites, symbols, wealth, literature, etc. - as well as Christianizations (Christian claiming of Pagan property, symbols, celebrations) -- are some of the persecutions that Pagans have suffered at the hands of the Church.
The Inquisition in particular targeted Witches and those accused of Witchcraft with such vehemence that the term "Witch Hunt" has become synonymous with both religious and political persecution.
Anti-Pagan and anti-Witchcraft propaganda produced by the Inquisition continues to negatively influence how Pagans and Witches are perceived by the public today.
Although Witches, Wiccans, and others who are part of contemporary Paganism do not worship the devil and do not engage in malevolent spiritual activities, false stereotypes about this, which are rooted in Inquisition anti-Witch propaganda persist.
Currently, modern Paganism is one of the fastest-growing religious movements in the United States, Australia and Great Britain.
In a spirit of great humility and contrition, Pope John Paul II has been reaching out to former religious enemies -- Jews, Muslims, Protestants, etc. -- to establish agreements and accommodation; but he has so far failed to include Pagans in any way.
When one defines oneself as Pagan, it means she or he follows an earth or nature religion, one that sees the divine manifest in all creation. The cycles of nature are our holy days, the earth is our temple, its plants and creatures our partners and teachers. We worship a deity that is both male and female, a mother Goddess and father God, who together created all that is, was, or will be. We respect life, cherish the free will of sentient beings, and accept the sacredness of all creation
The Fates
The Fates are old and predate the gods. It is not entirely clear how far their power extends. It is possible that they determine the fate of the gods as well. In any case, not even the most powerful is willing to triffle with them
The Fates have the subtle but awesome power of deciding a man/woman's destiny. They assign a man and women to good or evil.depending on the souls choices in past lives and parents and which day month and hour child is born Their most obvious choice is choosing how long a man/woman lives. There are three Fates. Clotho, the spinner, who spins the thread of life. Lachesis, the measurer, who choses the lot in life one will have and measures off how long it is to be. Atropos, she who cannot be turned, who at death with her shears cuts the thread of life.
The image of a triple goddess may be linked to very ancient worship of a moon goddess in three forms: a maiden (the new moon), a mature woman (the full moon), and a crone (the old moon).
Favorite TV Shows
Helios the Sun God
HELIOS (or Helius) was the Titan god of the sun. He was also the guardian of oaths and the god of gift of sight. Helios dwelt in a golden palace located in the River Okeanos at the eastern ends of the earth. From there he emerged each dawn driving a chariot drawn by four, fiery winged steeds and crowned with the aureole of the sun. When he reached the the land of the Hesperides (Evenings) in the West he descended into a golden cup which carried him around the northern streams of Okeanos back to his rising place in the East. Once his son Phaethon attempted to drive the chariot of the sun, but losing control, set the earth on fire. Zeus then struck him down with a thunderbolt.
Helios was depicted as a handsome, and usually beardless, man clothed in purple robes and crowned with the shining aureole of the sun. His sun-chariot was drawn by four steeds, sometimes winged. Helios was identified with several gods including fiery Hephaistos and light-bringing Apollon.
Colossus of Rhodes: a colossus of Helios the sun-god, erected by the Greek
In antiquity, the sun-god was represented as the driver of a fiery chariot who wore a crown of thorns or fiery rays. The chariot was the sun which was pulled through the sky above the clouds by four horses that represented the four seasons.
The sun was the most powerful astrological body in the ancient world and was worshipped as the image of God in almost every nation, especially in ancient Greece. The Neo-Pythagorean philosophers believed that God, called "The One," whose image was the Sun, talked to Man through the divine medium of geometry, arithmetic, words, signs, symbols and even the letters of their alphabet through the power of gematria! In ancient Egypt, the astrological symbol consecrated to the sun god Ra was a circle with a dot in the middle, which was also the symbol for the number "1," named "Divine Unity."
In Greek mythology, Hyperion was the Titan of light, the father of the sun, the moon, and the dawn, and Helios was his son. Each morning at dawn, Helios rose from the ocean in the east and rode his chariot, pulled by four horses, across the sky to descend in the west. He was called upon by witnesses because he saw and knew everything that happened on earth.
Helios was depicted as a youth with a halo wearing a billowing white cloak. His daughters were Phaethusa ("radiant") and Lampetia ("shining").
He was later depicted as a key figure in the Mithraic mystery religion that was a key competitor with early Christianity. He is shown on a relief in the Mithraeum under St. Prisca in Rome. In early Christian art, Jesus was sometimes represented as an incarnation of Helios such as in a fresco in the necropolis beneath St. Peter's in Rome.
Metaphors of Helios, the Sun
Many different cultures had Sun-Gods. For the Greeks he was named Apollo, Zeus, or Helios, for the Egyptians he was Horus, for the Romans he was Sol Invicus, for the Phonecians he was Baal, for the Persians he was Mithra, for the first Christians he was personified as Jesus, the Christ. The following metaphors are characteristics and attributes of the "Sun" of God:
The sun is the "Light of the World."
The sun is "the image that shines on them" 2Cor 4:4.
The sun "comes with the clouds, and every eye shall see him." Rev 1
The sun is from "the beginning and the end"
The sun is their Lord which comes as a "Thief in the Night"
The Sun causes the end where "the elements will be dissolved with fire and the earth and everything done on it will be burned up." (2 Peter 3:10)
The sun (like the above drawing) wears a crown of thorns or a halo.
The sun "walks on water" when it rises or sets on a body of water
The sun has "eyes that are like fire"
The sun is "a consuming fire"
The sun "brings fire down from heaven"
The sun helps to make seeds grow
The sun's "followers" or "disciples" are the 12 months and the 12 signs of the Zodiac, through which the sun passes.
The sun is "crucified," when it passes through the spring and fall equinoxes, the vernal equinox being Easter, at which time it is resurrected.
The long stem cross represented the staff of Apollo long before the time of Jesus
Dec 25th is the winter solstice and birth of the sun.
The early Christian Church eagerly promoted Jesus-Helios-Sol sun symbolism to appease the Roman emperor Constantine who was the high priest of Sol Invictus all through his reign. The sun symbolism continues to the present day on robes, banners, icons, behind the cross in a ray of light, flames coming from the heart of Jesus, etc. Priests even bow and kiss a monstrance which is a gold statue of the sun on a pedestal during processions.
The Sunflower
The Latin name for sunflowers is Helianthus, which derives from the name Helios who was the Greek god of the sun. The suffix –anthos mean flower. It rarely happens that the Latin name for a plant and the vernacular name for a plant come together as it does in the case of a sunflower. Clearly, there is no better name for a brilliant yellow flower that seems to worship the sun.
Pagan deities ARE more loving than the christian god BECAUSE there are less rules... the most important, underlying law of paganism is "Harm none". And it's understood that whatever you do, for good or for ill, will come back upon you threefold, so if you are rewarded or punished, you have only yourself to credit or blame.
The christian god, on the other hand, has a laundry list of things you are or aren't suppsed to think/say/feel/eat/do, and if you screw up on any of them, he will send you to suffer and scream in torment, unceasingly, until the very end of time. He loves you, though.
Which one sounds more loving to you?
Brighid
Brighid is the Daughter of the Dagda, one of the more universal deities of the pagan Gaelic world. She is known as the Goddess of Healers, Poets, Smiths, Childbirth and Inspiration; Goddess of Fire and Hearth and a patron of warfare or Briga. Her soldiers were called Brigands. Her name means "Exalted One." She is also known as Brigantia, Brid, Bride, Briginda, Brigdu, and Brigit. She is said to lean over every cradle. The lore and customs have continued to this day regarding Brighid, more vividly than all the other Gaelic deities combined.
the Flame of Ireland, Fiery Arrow. She was a Goddess of the forge as well, reflecting on her fire aspect. Legend says that when She was born, a tower of flame reaching from the top of her head to the heavens. Her birth, which took place at sunrise, is rumored to have given the family house the appearance of being on fire
the infant goddess was fed with milk from a sacred cow from the Otherworld. Brigid owned an apple orchard in the Otherworld and her bees would bring their magical nectar back to earth.
It is said that wherever she walked, small flowers and shamrocks would appear. As a sun goddess her gifts are light (knowledge), inspiration, and the vital and healing energy of the sun.
In the middle ages, Brighid is in many stories. In one she is the wife of Bres, the half-Fomorian ruler of the Children of Danu. Their son, Ruadan, wounded the smith god Giobhniu at the second battle of Magh Tuireadh but he himself was slain in the combat. Brigid then went to the battlefield to mourn her son. This was said to be the first caoine (keening), or lament, heard in Ireland. Until recent time, it was a tradition to hire women to caoine at every graveside. In another story, Brighid was the wife of Tuireann and had three sons: Brian, Iuchar and Ircharba. In the tale, The Sons of Tuirean, these three killed the god Cian, father of Lugh Lámhfhada when he was in the form of a pig.
She was transformed by the Church of St. Brigid into St. Brigid about 453 C.E. Saint Brighid is known as the patroness of farm work and cattle, and protector of the household from fire and calamity. To this day, one of her most common names in Gaelic is Muime Chriosd, "Foster-Mother of Christ." St. Brighid was said to be the daughter of Dubthach, a Druid who brought her from Ireland to be raised on the Isle of Iona, sometimes called "The Druid's Isle."
"A fascinating link to the traditions of the saint Brigid is the fact that a woman called Darlughdacha appears in St. Brigid's community in Kildare as her close companion, sharing Brigid's bed. Darlughdacha, who became abbess of Kildare on Brigid's death, means 'daughter of Lugh' and the 'saints' lists' also give her feastday as 1st February...Mary Condren thinks that Darlughdacha might even be the original name for the goddess Brighid, presumably as Brigid (Exalted One) is a title rather than a name."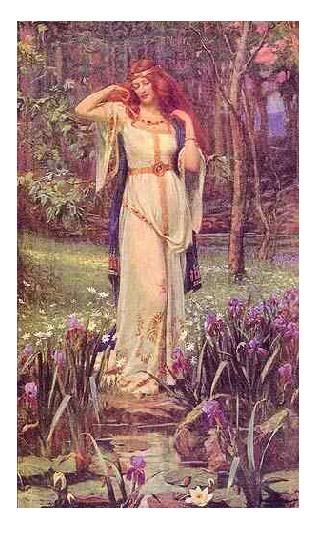 It is said that by repeating the genealogy of Brighid,
you will always be protected.
Brighid is known in the Hebrides as the foster mother of Christ, and this clearly shows the mixing of Christian and pagan influence that is so common here. As foster mother she is of course exceptionally honoured, since in Celtic society the foster parents had special place, they ranked higher than the natural parents, the relationship being considered extremely sacred
She is also credited with the invention of whistling, which she used to summon her friends to her side.
Eventually the love and respect for the goddess Brigid brought unity to the Celts who were spread throughout Europe. Regardless of their differences, they all agreed upon her goodness and compassion.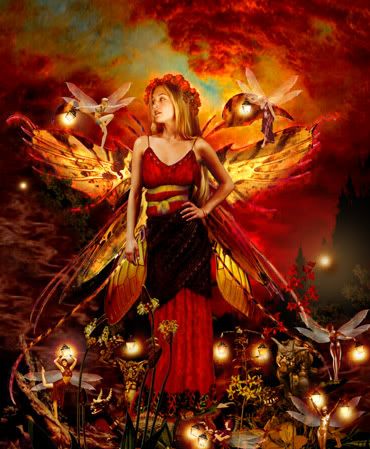 One of the most popular tales of the goddess Brigid involved two lepers who appeared at her sacred well at Kildare and asked to be healed. She told them that they were to bathe each other until the skin healed.
After the first one was healed, he felt only revulsion for the other and would not touch him to bathe him. Angered, Brigid caused his leprosy to return. Then she gently placed her mantle (cloak) around the other leper who was immediately healed.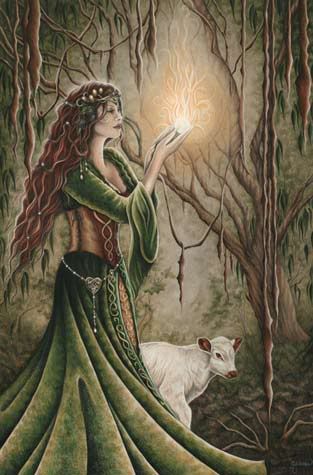 Ireland is full of springs and wells named after the goddess Brigid. Symbolically, water is seen as a portal to the Otherworld and as a source of wisdom and healing.
There is a saying that Brigid rewards any offering to her, so offerings of coins were often tossed into her wells...the forerunner of the modern custom of throwing a penny into a fountain while you make a wish.
At her most famous shrine Brigid taught humans how to gather and use herbs for their healing properties, how to care for their livestock, and how to forge iron into tools. As a goddess of childbirth and protector of all children, she is the patroness of midwifery.
This shrine, near Kildare, was located near an ancient Oak that was considered to be sacred by the Druids, so sacred in fact that no one was allowed to bring a weapon there.
The shrine is believed to have been an ancient college of priestesses who were committed to thirty years of service, after which they were free to leave and marry
.
During their first ten years they received training, the next ten were spent tending the sacred wells, groves and hills of the goddess Brigid, and the last decade was spent in teaching others.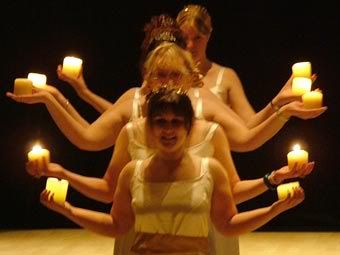 Nineteen priestesses were assigned to tend the perpetual flame of the sacred fire of Brigid. Each was assigned to keep the flames alive for one day. On the twentieth day, the goddess Brigid herself kept the fire burning brightly.
The goddess Brigid was also revered as the Irish goddess of poetry and song. Known for her hospitality to poets, musicians, and scholars, she is known as the Irish muse of poetry
The Feast Day of Brigid, known as Imbolc, is celebrated at the start of February, midway through the winter. Like the goddess herself, it is meant to give us hope, to remind us that spring is on its way.
The lessons of this complex and widely beloved goddess are many.
The Celtic goddess Brigid lends us her creativity and inspiration, but also reminds us to keep our traditions alive and whole. These are gifts that can sustain us through any circumstance.
Her fire is the spark of life.
Favorite Movies
Many people go through the week without realizing what the names of the days truly mean. Sunday being the day of the Sun, and was the very day the pagans such as Constantine the Great worshipped their Sun god.Monday is really Moons day, or the day of the Moon, Tuesday is Tiu's day, or the god of the sky and war. Wednesday is Woden's day, god of the wild hunt, and day of Mercury, and identified with the Scandinavian god Odin. Thursday is Thor's day, the Scandinavian god of thunder or war. Friday is Freya's day, the goddess of love and fertility, or frig day to make love or to fool around. Saturday is Saturn's day, an ancient Roman god of agriculture, and identified with the Greek god Cronus. Our months up to June are from pagan origins as well, and the rest are names of Roman Emperors, and from September to December the months names are in fact a number. God numbered all days except the Holy seventh day Sabbath
Meanings of our Months:
The word "Month" comes from the word "Moon" so our "Months" should be from New Moon to New Moon which is the way our Creator Goddess designed it.
JANUARY-Named for the Roman god Janus,' god of doorways' and beginnings. (Remember the Pope opened the 'Holy Door' on Jan. 1 2000?) January is man's beginnings not God's. The holy bible reveals that God's new year is around March 21 when the spring equinox occurs.
FEBRUARY- Named for the Roman festival of purification 'Februa'. The first day of the Carnival season is always January 6th (which is twelve days after Christmas). This is called the Twelfth Night (Kings Night) and marks the beginning of the private masked balls that are held until Mardi Gras Day. Mardi Gras Day (Which is always Fat Tuesday.) is the last and greatest day of the carnival season before their 40 days of lent.
MARCH- Named for the Roman God Mars, who was the god of war and guardian of the state. Mars was the father of Romulus and Remus
APRIL- From the Roman calendar month of Aprilis. Considered a scared month for the goddess Venus. April also comes from the Latin word aperire meaning "to open" refering to a spring season, opening of the flowers and leaves.
MAY- Named for the goddess Maia, the daughter of Atlas and one of the Pleiades.
JUNE- Named for the goddess Juno, wife of Jupiter and queen of the heavens and gods.
JULY- Named for Julius Caesar in 44 BC. The month originally had the Roman name of Quintilis (meaning five).
AUGUST- Named for the Roman Emperor Augustus in 8 BC. The month was formerly known as Sextilis ( meaning six).
SEPTEMBER- From the Latin word "septem" meaning seven, which was the seventh month of the calendar. (Yet we use it as the ninth month?)
OCTOBER- From the Latin word "octo" meaning eight, which was the eight month of the calendar. (Yet we use it as the tenth month?)
NOVEMBER- From the Latin word "novem" meaning nine, which was the nineth month of the calendar. (Yet we use it as the eleventh month?)
DECEMBER- From the Latin word decem meaning ten, which was the tenth month of the calendar. (Yet we use it as the twelfth month?)
The Goddess Morrigan
The Goddess Morrigan is a goddess of battle, strife, and fertility. Her name translates as either "Great Queen" or "Phantom Queen," and both epithets are entirely appropriate for her. Morrigan appears as both a single goddess and a trio of goddesses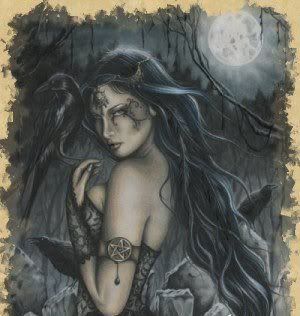 Morrigan is the shape-shifting Celtic Goddess of War, Fate and Death. She also presided over rivers, lakes and fresh water, in addition to being the patroness of revenge
She is also, in secret, the goddess of incarnation. People do not like to believe that incarnations are guided. They prefer to believe that souls are generated at birth, or that some great god has chosen their fate. That the dark death goddess carries the soul in her black wings to rebirth is a frightening idea. Perhaps if the soul were brought by the stork, it would be more acceptable to the modern imagination
As a Triple Goddess, The Morrigan's three aspects were Neaim, Macha, and Badb which, when translated, mean "frenzy," "crow" and "crow." She has also appeared in other, different cultures as Fates/Moriae/Parcae, Tres Matres, and the Three Marys of the Sea, and when she appeared under those names, or under such other names as the Fe, or The Washer at the Ford, those aspects were frequently associated with teaching, sorcery, prophecy and motherhood.
She has been known by many names throughout Ireland, Britain and Wales, such as Morrigu, Morgain, Morgan and The Morrigan. She has also been given many titles, including the Lady of the Lake and the Goddess of Water and Magick. They have called her the Phantom Queen, the Goddess of War, Fate and Death and the Goddess of Battle, Strife, and Fertility, as well as a Moon Goddess, the Queen of the Fairies, the Goddess of Rivers, Lakes and Fresh Water, and the Patroness of Priestesses and Witches. There are people who both fear her and admire her, and it is only right and proper that they do, because this amazingly powerful goddess is The Morrigan, the Celtic Goddess of War.
She was also known as a protectress, having the unique ability to draw upon a person's inner strength, and then empower that person to confront his or her own challenges; frequently causing them to use every bit of that strength to face insurmountable odds. also known as War Cries .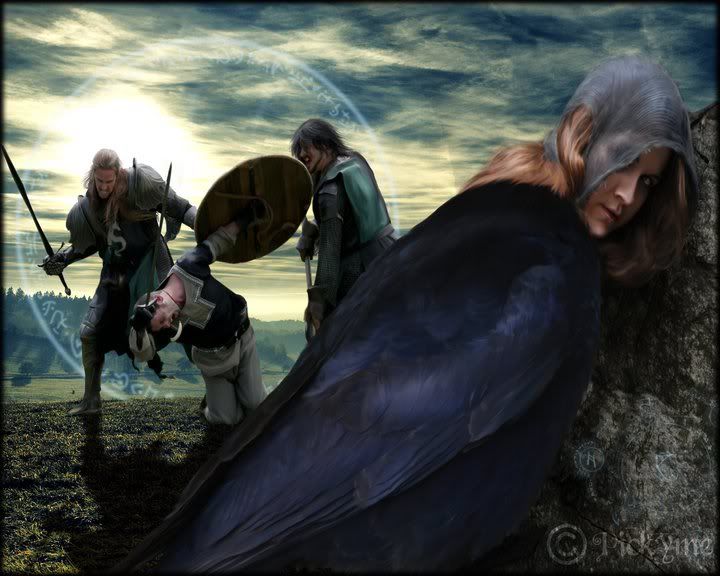 Morrighan, the Goddess, filling light, teaches us that life and death are more closely aligned than we might wish to know. She is the prophet of the gods, the swift-killing stroke that slices the breath from our bodies. Yet she heralds from the womb of a fertile mother goddess and is linked to the sovereign land of Ireland. Morrighan is an enigma, dancing along the knife edge of life and death, choosing which she wishes to bring. Herald her death mask as a part of the process of life, for she births us all anew.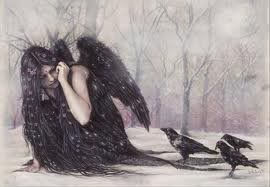 Morrighan challenges our perceptions of right and wrong, good and bad, life and death. She forces us to look beyond our narrow viewpoint in order to see things from point of view. As a goddess who lives in the shifting gray areas of the Otherworld, Morrighan can teach us to be flexible and malleable in difficult and trying circumstances. She shows us that there are not definitions in life, but only possibilities and opportunities. The fact that she is able to shift her outward appearance supports her role as a goddess of adjustment and variation.
Finding wisdom is hard. Sometimes one must suffer unjustly, and sometimes one must deal with ugliness. But the Black Goddess has wisdom of the pathways of life and death, and from the dark cauldron of human need and desire, and from the process of incarnation itself, comes the bright drop of wisdom.
As Black Goddess of initiation, some choose to enter her cauldron, to gain the wisdom that is there. It is a dangerous path, for there is a chance of destruction, and also a chance of losing the wisdom that is sought. Such was the case in the tales of Talieson and Kerridwen. Though she made the wisdom for one who was dull and needed it, nevertheless one who was clever gained it. Wisdom will not always go where we wish
She is also, in secret, the goddess of incarnation. People do not like to believe that incarnations are guided. They prefer to believe that souls are generated at birth, or that some great god has chosen their fate. That the dark death goddess carries the soul in her black wings to rebirth is a frightening idea. Perhaps if the soul were brought by the stork, it would be more acceptable to the modern imagination
She needs only to change the pathways. Usually she is a subtle mist, but on the battlefield, she is storm clouds and thunder, and the black death-horse which gallops through the sky carrying its newly deceased rider.
The Morrigan's mythic body is a woman or a bird, but her cosmic form is a cloud with pathways leading from it. People are pulled down these pathways by the force of their desires and sins, and by their striving and seeking after goals. It is as if they are magnetized, and the soul is pulled from one magnet to the next. The death-coach brings the soul to the mountaintop or the cave, and she is the dark cloud it must pierce to arrive at its destination. She also opens the most powerful of the magnetized pathways - the birthing child pulling down a soul into a body and a new incarnation.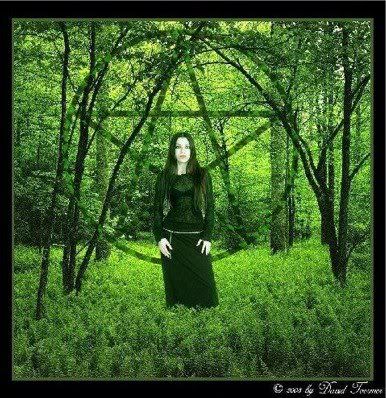 Another role of the Morrigan is associated with the hunting falcon, or lady hawke which is a rare and special role for her. Instead of a raven who guides the soul at birth or death, she becomes that falcon that guides the healer or mage in initiation.
she is the falcon who guides the hunter to his goal. Falcons and hawks too have been used as a way to send messages. In all cases, the message that she sends is that another world awaits.
it is believed that, as man engaged in warfare, the Morrigan flew shrieking overhead in the form of a raven or carrion crow looking for a past lover who is cursed to battle forever on the battle field she finds him just before she can get to him , he is killed in combat and she cries tears of sorrow and looks for him once more
Cu Chulainn, the greatest warrior that Ireland has ever had.
One day The Morrigan approached Cu Chulainn, the son of the God Lugh, and told him of her love for him. Cu, however, did not recognize The Morrigan, so he sent her away, telling her that she would only hinder him while he was busy fighting in the war.
Like so many other men frequently tend to do, Cu simply looked at The Morrigan as though she was simply another woman, never once taking the time to recognize the feminine power of Soverignty within. The Morrigan, however, continued in her attempts to let Cu see the power within her, and she approached him, on at least four separate occasions, each time stating her love for him. Cu, however, in typically masculine fashion, never recognized her, not even once, and each and every time that she went to him, he would always send her away.
Cu's constant rejection of The Morrigan hurt her deeply, and it was only after a long period of time had passed that she appeared before him once more time, although this time, she appeared in the guise of an old hag. It was only then that Cu finally recognized The Morrigan for exactly who she was, and it was then that he offered her his blessing. It took a very long time, however, before The Morrigan's emotional wounds would begin to heal.
One day, while Cu was on his way to what would be his final battle, he happened to pass by the Washer at the Ford. It was then that The Morrigan told him that she was washing the clothes of Cu Chulainn who was soon going to die. Exactly as The Washer at the Ford had predicted, Cu was killed in battle on that very same day. It was then that The Morrigan went down to see him, in the form of a crow settling lightly upon his shoulder
Cúchulainn attracted the attention of the Morrigan (Celtic Goddess of Birth, Death and War), because of his exploits. While sleeping deeply after an exhausting day of single combats, Cúchulainn was startled awake by a great shout coming from the north, which in Celtic legend is the realm of the dead, justice and the element of Earth. He ordered his charioteer Laeg to get the chariot ready for them to seek out the source of this strange cry.
(the Eternal One) who had fallen in love with him after hearing about his deeds. Cúchulainn did not recognise the woman as an incarnation of the goddess and brusquely replied that he had better things to do than concern himself with a woman's love. The Morrigan replied that she had been helping him throughout his combats and that she would continue to do so in return for his love. Cúchulainn arrogantly replied that he did not need the help of any woman in battle. "If you will not have my love and help, then you shall have my hatred and enmity" she said. "When you are in combat with an enemy as good as yourself, I shall come against you in many shapes and hinder you, until your opponent has the advantage."They travelled north and met a woman riding towards them in another chariot, she wore a red dress, a long red cloak, had red hair and eyebrows and carried a long grey spear. Cúchulainn greeted this woman and asked her who she was, and she replied that she was daughter of a king called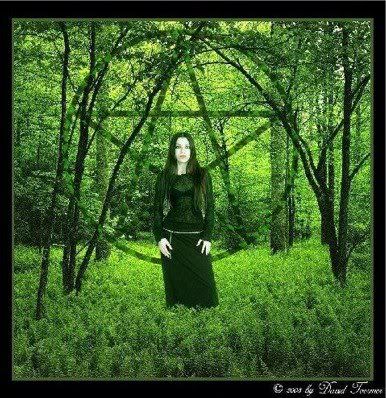 Cúchulainn drew his sword to attack this threatening woman, but saw only a crow sitting on a branch. The crow was the totem bird of the goddess and Cúchulainn finally realised that he had rejected the help of the fearsome Morrigan.
with its thirty barbs.On the following day Cúchulainn met a great warrior called Loch in battle. Loch scorned him as a beardless youth and refused to fight him, so Cúchulainn rubbed blackberry juice into his chin until it appeared darkened with a growing beard he also said an incantation over some grasses and they adhered to his chin. Then he found out what it was like to be on the wrong side of the Morrigan. While he was in combat with Loch, she came against him three times. The first was in the shape of a red-eared heifer who tried to knock him over; the second was in the shape of an eel that wrapped itself about his legs as he stood in the stream; and the third time she came against him as a grey wolf that grabbed his sword arm. Each time his opponent gained an advantage and managed to strike Cúchulainn, however he also managed to strike back at the goddess in her forms, he broke the heifer's leg, he trampled on the eel and poked out the eye of the wolf. In spite of his worsening odds against Loch, he finally managed to kill him with his magical spear - the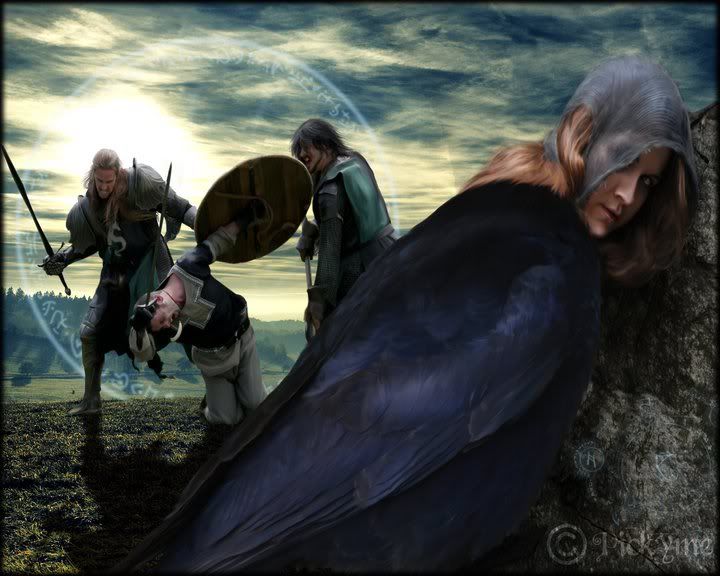 After he had killed Loch, the Morrigan appeared to him again in the form of an old crone who was milking a cow with three teats. Cúchulainn requested a drink of milk from her, she gave him a drink from the first teat but that did not quench his thirst, so she gave him a drink from the second teat but still his thirst was unquenched and then she gave him a drink from the third teat and finally his thirst was quenched and he was grateful to the old woman and asked what reward she wanted. She requested that he heal the wounds that he had inflicted on her while she was in animal guises as only Cúchulainn could heal the wounds which he caused, which he graciously did
She appeared to him after that on the day of his death asking him to join her as her Eternal mate
he rejected her and spat at her and said I curse myself to walk the earth forever Fighting and Dying in battle rather than be with you Cu was then Cursed to Eternally Battle in all wars of man Till the End of time he is in every battle and Morrigan searches for him looking for her lost love.
Favorite Books
On May 20, 2012, for the first time in 26,000 years, the Sun and Moon, and the constellation responsible for our spiritual evolution and ascension, the mystic Pleiades, will align in a spectacular, full Annular Solar Eclipse and a rare solar eclipse alignment will happen between the Earth, the Sun and, our central Sun, Alcyone in the Pleiades Constellation
When one defines oneself as Pagan, it means she or he follows an earth or nature religion, one that sees the divine manifest in all creation. The cycles of nature are our holy days, the earth is our temple, its plants and creatures our partners and teachers. We worship a deity that is both male and female, a mother Goddess and father God, who together created all that is, was, or will be. We respect life, cherish the free will of sentient beings, and accept the sacredness of all creation
-----------------------------
Favorite Quotes
We are not evil. We don't harm or seduce people. We are not dangerous. We are ordinary people like you. We have families, jobs, hopes, and dreams. We are not a cult. This religion is not a joke. We are not what you think we are from looking at T.V. We are real. We laugh, we cry. We are serious. We have a sense of humor. You don't have to be afraid of us. We don't want to convert you. And please don't try to convert us. Just give us the same right we give you--to live in peace. We are much more similar to you than you think

No human race is superior; no religious faith is inferior. All collective judgments are wrong. Only racists make them.


I Once Got Fired for laughing on the job . unfortually I was Driving a Hearse at the Time...

Don't any of you understand? I'm not locked in here with you...YOU'RE locked in here with ME!


Vegetarians if GOD didnt want us to eat animals then why make them so Tasty For every animal you dont eat I will eat 3 including monkeys, bears and baby seals..

Evil is a point of view. God kills indiscriminately and so shall we. For no creatures under God are as we are, none so like him as ourselves.


I like to tell people I have the heart of a small boy. Then I say it's in a jar on my desk

God created the idea of Religion , the Evil of man took it twisted it and corrupted it so he could rule over his fellow man as a God with it
-Edward Menten-
-
SEPARATION OF CHURCH AND STATE

"Believing with you that religion is a matter which lies solely between man and his God, that he owes account to none other for his faith or his worship, that the legislative powers of government reach actions only, and not opinions, I contemplate with sovereign reverence that act of the whole American people which declared that their legislature should 'make no law respecting an establishment of religion, or prohibiting the free exercise thereof,' thus building a wall of separation between church and State."

Source: Letter of Thomas Jefferson to the Danbury Baptist Association, Connecticut, January 1, 1802
-
Christianity neither is, nor ever was a part of the common law.
-Thomas Jefferson, letter to Dr. Thomas Cooper, February 10, 1814

The Government of the United States of America is not, in any sense, founded on the Christian religion." -John Adams, Treaty of Tripoli

-


A Nation Of Sheep Will Beget A Government Of Wolves - Edward R. Murrow

No one can terrorize a whole nation, unless we are all his accomplices - Edward R. Murrow

One of the penalties for refusing to participate in politics is that you end up being governed by your inferiors. - Plato

I'm sorry, I forgot, my opinion means nothing. I'm just some brain-dead, fluoridated, prescription-drugged and debt-strapped moo whose only reason for an IRS and Social Security tracked existence is to be out working to produce a revenue stream for the aristocrats and the rest of the world. - One Rather Upset Monster

When you understand why you dismiss all the other possible gods, you will understand why I dismiss yours." Stephen F. Roberts


The tree of liberty must be refreshed from time to time with the blood of patriots and tyrants.
-Thomas Jefferson-


All tyranny needs to gain a foothold is for people of good conscience to remain silent.
Thomas Jefferson

A good man will always do good things; an evil man will do evil things, only religion has the power to make a good man do evil things.

Most religions prophecy the end of the world and then consistently work together to ensure that these prophecies come true.

Give a man a fish and he will eat for a day. Teach a man religion and he will starve praying for a fish.

Religion is a fairytale and its practice is a cult! -

All religions are look like a cult from the outside. No religion looks like a cult from the inside. -


Paganism is unrelated to Satanism. It is a group of religious traditions: some are highly structured, while most are eclectic. Many, perhaps most, Pagans/Wiccans are solitary practitioners. They are, in many ways, directly opposite to Satanists:

Pagans/Wiccans worship a Goddess and her consort, a God.
They do not recognize Satan or any other all-evil supernatural entity.
Their prime symbol is the exact opposite to the symbol used by Satanists. It is the upright pentagram -- a 5-pointed star with two points downward and one up. Sometimes it is enclosed by a circle to form a pentacle.
Their groups are called covens, not grottos or temples.
Their rule of behavior is called the Pagan Rede: "An it harm none, do what thou wilt." i.e. do whatever you wish, as long as it harms no one, including yourself. Unlike Satanists, Pagans/ Wiccans are not allowed do dominate, manipulate, control, or harm others.
They believe that they worship neither the Christian God nor the Christian devil. They worship a Goddess and a God. Neither is at all similar to Satan. Wicca, and other forms of Neopaganism, are as different from Satanism as Hinduism is from Christianity

When one defines oneself as Pagan, it means she or he follows an earth or nature religion, one that sees the divine manifest in all creation. The cycles of nature are our holy days, the earth is our temple, its plants and creatures our partners and teachers. We worship a deity that is both male and female, a mother Goddess and father God, who together created all that is, was, or will be. We respect life, cherish the free will of sentient beings, and accept the sacredness of all creation
-----------------------------...

Devil Worshippers or Satanists are the dark side of Christanity
Christians invented satan
and they can have him

Satanism, as viewed by Satanists,

Satanism consists of many religious traditions, comprising two main faith groups and many smaller religious groups:

The Church of Satan is the largest organization of religious Satanists. They regard Satan as a pre-Christian concept, representing pleasure, virility, and strength; he is not viewed as a living entity. Their prime symbol is the Sigil of Baphomet. This is a goat's head, drawn within an inverted pentagram (5-pointed star with one point downward and two up). It is surrounded by a circle. Satanists conduct rituals by themselves, and/or meet together in grottos.
. Their prime symbol is a simple inverted pentagram in a circle. They meet in temples.
The behavioral code followed by almost all Satanists was written by Aleister Crowley: "Do what thou wilt shall be the whole of the Law." It permits Satanists great freedom of action. Some engage in black magic rituals with the goal of harming those who have hurt them. Turning the other cheek is not their style
Favorite Heroes
................................
I LOVE MY GIRLFRIEND DARLA
she has read my card it is the Card of LOVE
She is all i want in this life and more
she is my light in the dark
she took a broken man and made him whole again
and i promise to love her forever till the end of time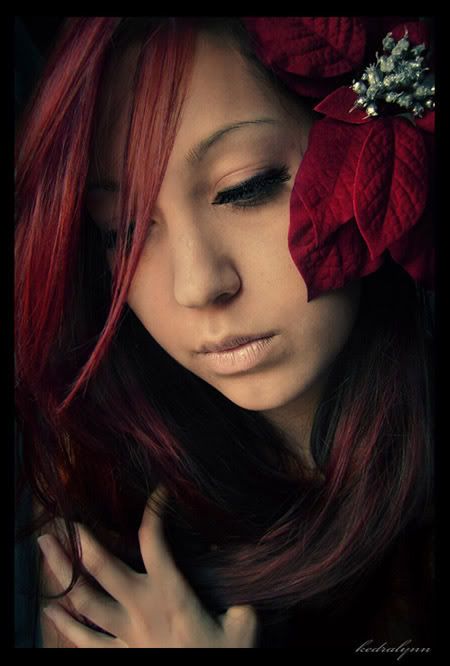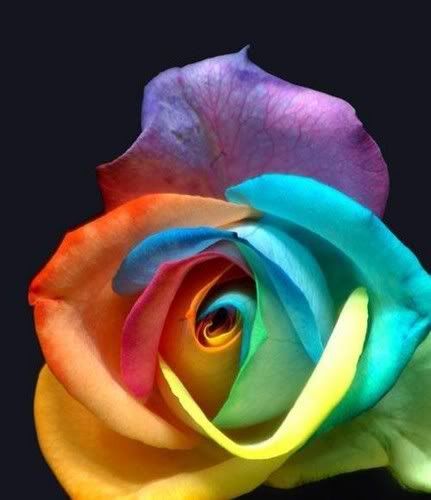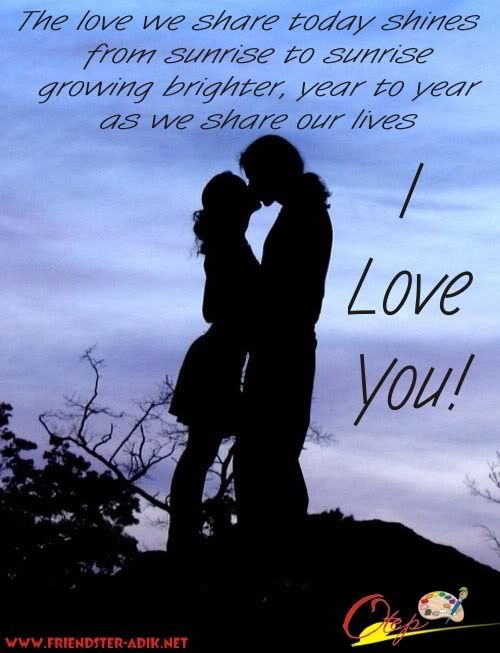 ------------
I make this solemn promise to you:
To be your lover when you need to be loved,
your doctor when you are ill,
your army when you go to war,
your umbrella when life rains down on you,
your rock when you get weary,
your shield when you need defense,
your spirit when you are drained,
your pillow when you need to rest,
your voice when no one can hear you,
your ear when no one will listen,
your comfort when you feel pain,
your hero when you are under duress,
your sunshine when darkness falls,
your answer when questions arise,
your inspiration to overcome obstacles,
your hand to hold when you are frightened,
your kiss that wakes you everyday,
and your "I love you" each and every night.
I am yours... all of me
Edward Menten
For Darla
------------------------------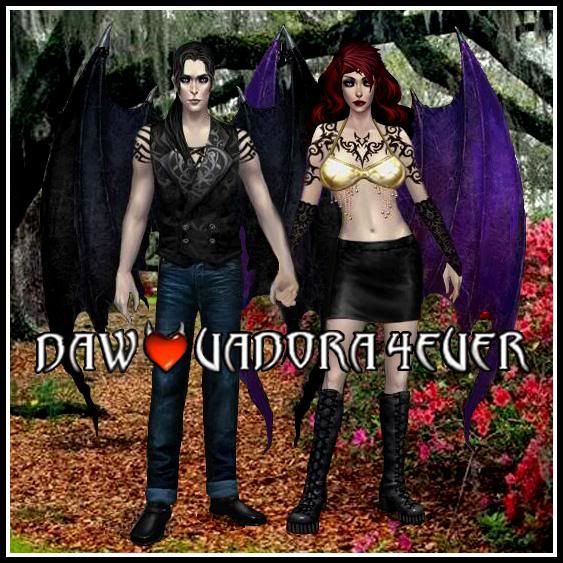 ----------------------
I lay here thinking
about you all the time.
You're the only thing
that
sticks inside my mind.
Through thick and thin
You're there by my side.
You promise to be there.
You keep me alive.
I love you so much.
You can never understand.
I'll be with you forever.
Just promise to
hold my hand.
Edward menten
For Darla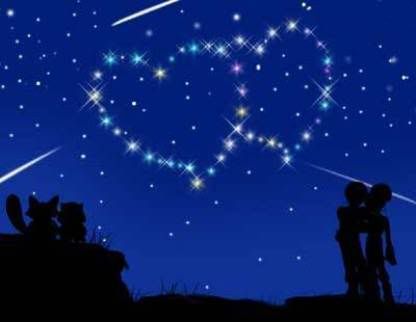 ---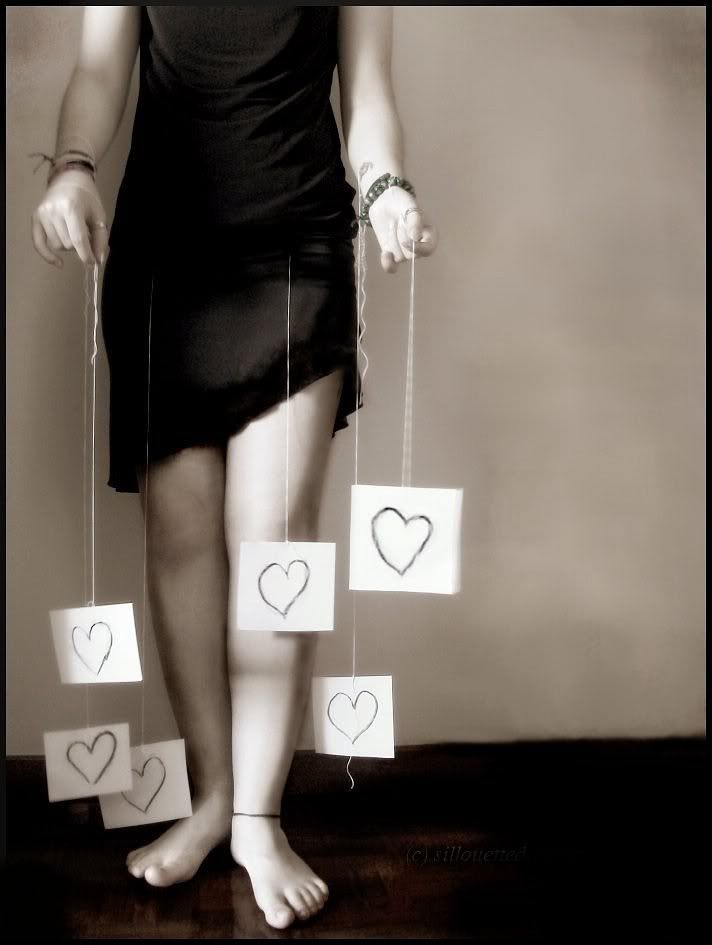 --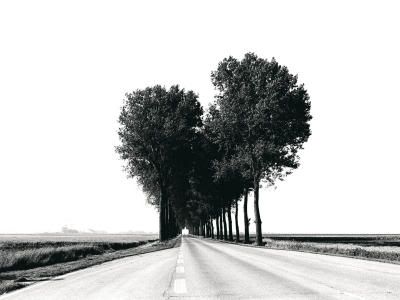 Always in my heart
you make me feel more loved
than I've ever felt
and happier than I've ever dreamed.
The love and understanding you have
is something I have searched for
my entire life.
Always in my
happiest
and saddest moments,
you are my best friend and confidante.
I come to you for everything,
and you listen to me without judgment.
Always, deep within my soul,
I know we have a love like no other.
What we share is something others
only hope for and dream of,
but
few ever experience.
Our love is magical beyond belief.
Always, without
hesitation,
you give of yourself completely.
You have reached the very
depths of my soul,
bringing out emotions I never knew I had
and
unveiling an ability to love
I never thought possible.
Always and forever
you will be my dream come true,
the one I have
waited for all these years.
From now until the end of time,
I will love
only you.
We will be together always
Edward Menten
For Darla
---
----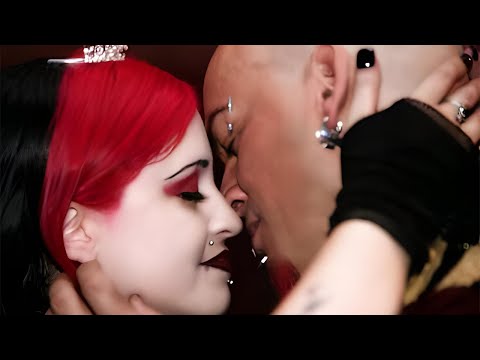 ===========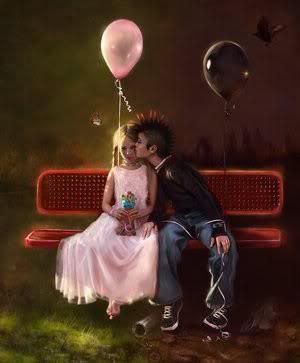 =====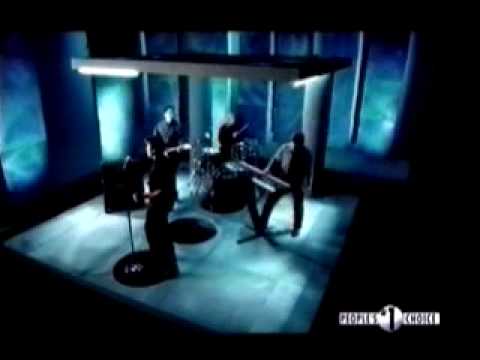 -----------------------------
-------------------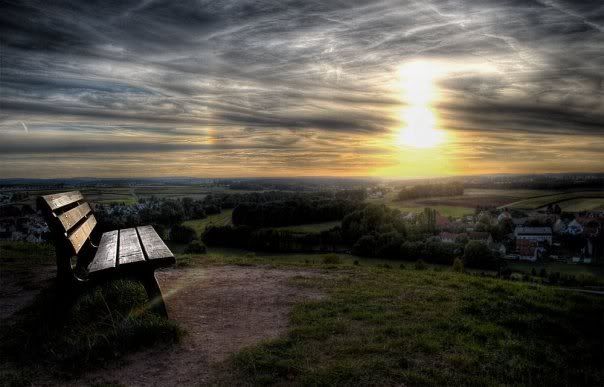 ------------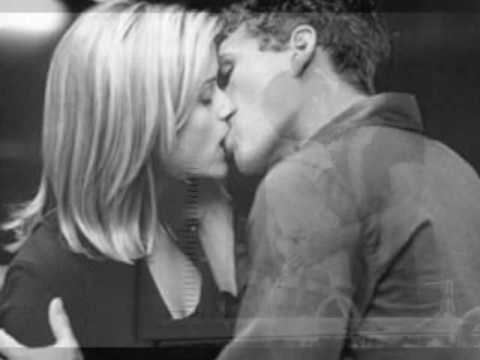 -----------
----------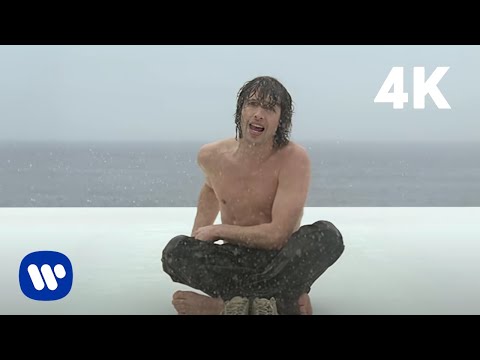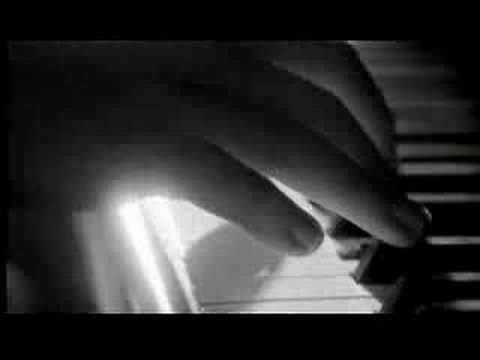 Pagan deities ARE more loving than the christian god BECAUSE there are less rules... the most important, underlying law of paganism is "Harm none". And it's understood that whatever you do, for good or for ill, will come back upon you threefold, so if you are rewarded or punished, you have only yourself to credit or blame.
The christian god, on the other hand, has a laundry list of things you are or aren't suppsed to think/say/feel/eat/do, and if you screw up on any of them, he will send you to suffer and scream in torment, unceasingly, until the very end of time. He loves you, though.
Which one sounds more loving to you?
Areas of Interest
☥☽✪☾DAW ☽✪☾'s activity, per category
info
☥☽✪☾DAW ☽✪☾

Male

MA, US

2010/05/27 15:56:11

2013/01/07 16:46:28

34

Engaged

Straight

Gemini

Expressing Myself

College Graduate

Full-Time

Arts and Entertainment

$50k - $75k

No

No

Pagan

No thank you

Other

White/Caucasian

Athletic

6 feet 1 inches
photos & videos