likes & interests
About Me
I'm going to update this at some point
Tumblr:
http://browncoat-in-the-tardi...
A badass human rights organization:
http://www.linkglobal.org/
Large Visitor Globe
Activities
Homework, Internet, wallowing in self-loathing, jumping around for no reason, daydreaming
Interests
the universe, human rights, good music, the future
Favorite Music
Okkervil River
Arcade Fire
The National
The Decemberists
Mumford and Sons
Bright Eyes
Favorite TV Shows
Doctor Who (obviously) South Park, The Daily Show with Jon Stewart, The Universe, Into the Universe with Stephan Hawking, Being Human, Futurama, Firefly, Game of Thrones, Buffy the Vampire Slayer, Torchwood: Miracle Day, Axis Powers Hetalia, [C] - The Money and Soul of Possibility, Homeland, Welcome to the NHK, How I Met Your Mother, Fullmetal Alchemist
Favorite Movies
Pleasentville, Accepted, Avatar, Crossing, Billy Madison, Hotel Rwanda, Serenity, Hot Fuzz, Scott Pilgram vs. The World, Bridesmaids, Doctor Horrible's Sing Along Blog, Les Miserables, The Hunger Games, Captain American: The First Avenger
Favorite Books
The Inheritance Cycle, Ender's Game, Contact, Harry Potter and the Deathly Hallows, 1984, A Short History of Nearly Everything, Hunger Games trilogy, Nothing to Envy, Cosmos, Pale Blue Dot, God is Not Great, The Time Machine, Young Wizards series, Mistborn Trilogy, Physics of the Future, A Song of Ice and Fire, The Magicians and The Magician King
Favorite Quotes
"Half the world's to fat, half the worlds too skinny and the rest just watch T.V"-Doctor Who
"The universe is trapped inside a tear"-Muse (that just sounds awesome)
"Real men don't sparkle"-dunno
Sanity is not statistical-George Orwell
Could the end of everything be the beginning of everything else?- Universe announcer guy
The Doctor: You need to get yourself a better dictionary. When you do, look up "genocide". You'll find a little picture of me there, and the caption'll read "Over my dead body".
Yes I'm desecrating a flag but to protect the freedom it represents!-Futurama
That's here. That's home. That's us. On it everyone you love, everyone you know, everyone you ever heard of, every human being who ever was, lived out their lives. The aggregate of our joy and suffering, thousands of confident religions, ideologies, and economic doctrines, every hunter and forager, every hero and coward, every creator and destroyer of civilization, every king and peasant, every young couple in love, every mother and father, hopeful child, inventor and explorer, every teacher of morals, every corrupt politician, every "superstar," every "supreme leader," every saint and sinner in the history of our species lived there — on a mote of dust suspended in a sunbeam.
The Earth is a very small stage in a vast cosmic arena. Think of the rivers of blood spilled by all those generals and emperors, so that, in glory and triumph, they could become the momentary masters of a fraction of a dot. Think of the endless cruelties visited by the inhabitants of one corner of this pixel on the scarcely distinguishable inhabitants of some other corner, how frequent their misunderstandings, how eager they are to kill one another, how fervent their hatreds. Our posturings, our imagined self-importance, the delusion that we have some privileged position in the Universe, are challenged by this point of pale light.
Our planet is a lonely speck in the great enveloping cosmic dark. In our obscurity, in all this vastness, there is no hint that help will come from elsewhere to save us from ourselves. The Earth is the only world known so far to harbor life. There is nowhere else, at least in the near future, to which our species could migrate. Visit, yes. Settle, not yet. Like it or not, for the moment the Earth is where we make our stand. It has been said that astronomy is a humbling and character building experience. There is perhaps no better demonstration of the folly of human conceits than this distant image of our tiny world. To me, it underscores our responsibility to deal more kindly with one another, and to preserve and cherish the pale blue dot, the only home we've ever known. -Carl Sagan
Rose Tyler: It was a better life. I don't mean all the traveling, seeing aliens and spaceships and things, that don't matter. The Doctor showed me a better way of living your life. You know he showed you too. That you don't just give up. You don't just let things happen. You make a stand, you say no! You have the guts to do what's right when everyone else just runs away!
Any sufficiently advanced technology is indistinguishable from magic-Arthur C Clarke
"Suppose after all that should prove to be right, and it all ends in your butterflies and morlocks. That doesn't matter now. The effort's real. It's worth going on with. It's worth it-even then" - Teddy Roosevelt in a meeting with HG Wells
When fascism comes to America it will be wrapped in a flag and carrying a cross
When will people realize an afterlife is nothing to live for, nothing to kill for, nothing to fight for? If you think God is more important than your neighbor, you are capable of terrible evil. If you think the words of some prophet are more important than your brother, or your sister, you're ill and you're wrong-Of Montreal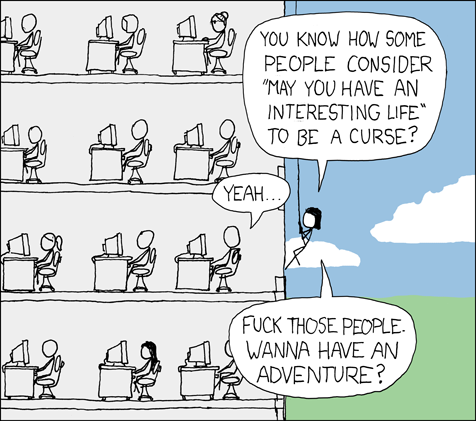 "You're mine now, Harry thought at the walls of Diagon Alley, and all the shops and items, and all the shopkeepers and customers; and all the lands and people of wizarding Britain, and all the wider wizarding world; and the entire greater universe of which Muggle scientists understood so much less than they believed. I, Harry James Potter-Evans-Verres, do now claim this territory in the name of Science.
Lightning and thunder completely failed to flash and boom in the cloudless skies."- Harry Potter and the Methods of Rationality
"Cynicism masquerades as wisdom, but it is the farthest thing from it. Because cynics don't learn anything. Because cynicism is a self-imposed blindness, a rejection of the world because we are afraid it will hurt us or disappoint us."
—Stephen Colbert
"I am not playing by the rules anymore. I will fly around this candy-coated rock and comb the white sands until I find answers. No one can tell me our fate can't be repaired."
— Rose Lalonde, Homestuck
We aren't told the specifics of the awful thing or things that Jeff did. He may have cheated. Or drank. Or maybe he hit her. Perhaps all three. For LaHaye and Jenkins, it really doesn't matter what he did, all that matters is Sharon's duty as a good, godly wife to forgive him and preserve their marriage no matter what.
That's the point of this little vignette and it's hardly unique to L&J.; This message -- the Gospel According to Tammy Wynette -- is taught in evangelical congregations across the country. It's a pernicious, dangerous and potentially even deadly little lesson about wifely duty.
As I write this, some poor Christian woman is talking to her pastor or her priest. When she walked into his office she was scared -- it's been getting worse and she feels she and her children are in real danger.
"Be like Sharon," the reverend man of the cloth is telling her. "God hates divorce." He will tell her that her desire to leave her abusive husband is an affront to "the sanctity of marriage." He will not tell her, because it will not occur to him, that her husband's violence constitutes a far greater violation of that sacred union.
She will leave the office still afraid, but her fear will be mixed with guilt and shame.
L&J; didn't invent this -- it's just a part of the culture of their target audience, such a large part that I'm certain I'm not just reading too much into this little tangent about Jeff and Sharon. That evangelical subculture, like any culture, has positive traits as well as negative ones. Here -- as ever throughout the World's Worst Books -- L&J; reinforce the bad while ignoring the good.
Have I mentioned that I think these books are evil?
-Fred Clark on Left Behind
WS: When I was a kid, and I feel like probably a lot of kids are this way – in the forming period of your life, when you become who you are and create your personal…whatever – I remember feeling like a lot of the things I experienced weren't actually real. I have specific memories of things I saw or hallucinated or dreamed that I thought were real, and they make up a big part of my memory from that time. There's this real sense of another world that was hiding behind everything else, everything that was normal. I believe that that other world is still around, it's just so hard to…access and discover it. You have to be really attuned to it. I wanted this record to head towards that unknown region, you know?-Will Sheff
I'm sorry but I don't want to be an Emperor, that's not my business. I don't want to rule or conquer anyone. I should like to help everyone if possible, Jew, gentile, black man, white. We all want to help one another, human beings are like that. We all want to live by each other's happiness, not by each other's misery. We don't want to hate and despise one another. In this world there is room for everyone and the earth is rich and can provide for everyone.
The way of life can be free and beautiful. But we have lost the way.
Greed has poisoned men's souls, has barricaded the world with hate;
has goose-stepped us into misery and bloodshed.
We have developed speed but we have shut ourselves in:
machinery that gives abundance has left us in want.
Our knowledge has made us cynical,
our cleverness hard and unkind.
We think too much and feel too little:
More than machinery we need humanity;
More than cleverness we need kindness and gentleness.
Without these qualities, life will be violent and all will be lost.
The aeroplane and the radio have brought us closer together. The very nature of these inventions cries out for the goodness in men, cries out for universal brotherhood for the unity of us all. Even now my voice is reaching millions throughout the world, millions of despairing men, women and little children, victims of a system that makes men torture and imprison innocent people. To those who can hear me I say "Do not despair".
The misery that is now upon us is but the passing of greed, the bitterness of men who fear the way of human progress: the hate of men will pass and dictators die and the power they took from the people, will return to the people and so long as men die [now] liberty will never perish. . .
Soldiers: don't give yourselves to brutes, men who despise you and enslave you, who regiment your lives, tell you what to do, what to think and what to feel, who drill you, diet you, treat you as cattle, as cannon fodder.
Don't give yourselves to these unnatural men, machine men, with machine minds and machine hearts. You are not machines. You are not cattle. You are men. You have the love of humanity in your hearts. You don't hate, only the unloved hate. Only the unloved and the unnatural. Soldiers: don't fight for slavery, fight for liberty.
In the seventeenth chapter of Saint Luke it is written:
"The kingdom of God is within man"
Not one man, nor a group of men, but in all men; in you, the people.
You the people have the power, the power to create machines, the power to create happiness. You the people have the power to make life free and beautiful, to make this life a wonderful adventure. Then in the name of democracy let's use that power, let us all unite. Let us fight for a new world, a decent world that will give men a chance to work, that will give you the future and old age and security. By the promise of these things, brutes have risen to power, but they lie. They do not fulfil their promise, they never will. Dictators free themselves but they enslave the people. Now let us fight to fulfil that promise. Let us fight to free the world, to do away with national barriers, do away with greed, with hate and intolerance. Let us fight for a world of reason, a world where science and progress will lead to all men's happiness.
Soldiers! In the name of democracy, let us all unite!
. . .
Look up! Look up! The clouds are lifting, the sun is breaking through. We are coming out of the darkness into the light. We are coming into a new world. A kind new world where men will rise above their hate and brutality.
The soul of man has been given wings, and at last he is beginning to fly. He is flying into the rainbow, into the light of hope, into the future, that glorious future that belongs to you, to me and to all of us. Look up. Look up.-Charlie Chaplin, The Great Dictator
- - - You could be the most important person in the world, just as anyone could be, and the only thing holding you back is the fact that you're convinced you already are. You're not. If you'd recognize that then you could change for the better, but as you are you're trapped in prison of self aggrandizing mediocrity. You've twisted yourself into a ball of meaningless arrogance and spite. You're nothing more than a petulant child who is so convinced he's already grown up that he never bothered to learn what growing up actually means.
-chris the cynic's reinterpretation of Bella
Favorite Heroes
Carl Sagan
Jon Stewart
Eliezer Yudkowsky
Adrian Hong
Johannes Kepler
Harriet Tubman
Democritus
George Washington
Fred Clark
Stanislav Petrov
Areas of Interest
doctorwhofan~Tatae~BN-4's activity, per category
info
doctorwhofan~Tatae~BN-4

Female

Chicago, IL, US

2009/07/03 04:06:25

5 hours ago

17

Single

Not Sure

Libra

Expressing Myself

High School (Current)

Student

Student

$0 - $25k

No

No

Atheist

Undecided

Progressive

Slim/Slender

5 feet 4 inches
photos & videos