rejoicing that love is free!
likes & interests
About Me
TO EVERY ONE WHO IS READING THIS PAGE WHO IS COOL WITH ME!
Welcome to my profile page! Kick back - unwind and feel free to examine my answers on questions to get to know where I am coming from -OR- press play on the player widget to hear my VOICE on hip-hop tracks that I was blessed to have the oppurtunity to spit lyrics on beats from various artists from soundclick.com that I collaborated with in 2008. If you like reading my responces to questions - or listening to my tracks - stop back thru as often as you like. Leave me a profile comment and I'll post it after I approve it b-cuz it's nothing personal - but i got some haters that like to mess with me.
visit me at
http://www.soundclick.com/ban...
Here is my political personality - click on the link to see where you stand.
My Political Views
I am a center-right social libertarian
Right: 2.58, Libertarian: 5.6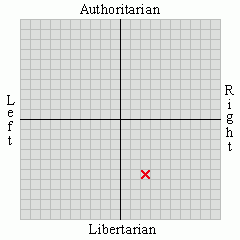 Political Spectrum Quiz
My Foreign Policy Views
Score: -4.09

Political Spectrum Quiz
My Culture War Stance
Score: -1.36

Political Spectrum Quiz
I'd like to meet
All the people who believe in getting to know someone for themself - rather than allowing rumors or gossip to influence their ideas about someone when they haven't ever spoken to the person - or if they have - they do so with predjudiced influences.

I need a witness - who can testify that Christ wasn't some panzy who went around preaching 'tolerence' - he did no such thing - he preached the forgiveness of sins and LOVE and the celebration of life - and agreeing with one's adversaries while you are in their midst - the only one of his teachings that i continue to fail at.
Activities
I'm a P.I.M.P. 's P.I.M.P. !!!
meaning Preaching Is My Passion so Promo Is My Pleasure!
I Love You Graphic Comments
Interests
Click PLAY to hear my tracks and collabs from SoundClick.com

Favorite Books
Tha Gospel - Tha Dictionary
Areas of Interest
emmamess ~ In My Conscience I Trust ~`'s activity, per category
info
emmamess ~ In My Conscience I Trust ~`

Female

WI, US

2008/11/24 17:08:07

2012/10/09 01:24:04

September 04

In a relationship

Straight

Virgo

Expressing Myself

Some College

Yes

Yes

Christian

Proud Parent

Libertarian

Athletic

5 feet 3 inches
photos & videos