Would Former UN Ambassador John Bolton Make a Good Vice President?
John Bolton made a shocking announcement this week about his bid for the 2012 election: John Bolton announced on Greta Van Susteren's show that he will not run for President of the United States of America because he knows he could not win. Shocker! Nah, that didn't really shock anyone.
I have great respect for John Bolton. And I respect his decision not to run for president. However, I think he would make a great vice presidential candidate.
John Bolton has a distinguished public career. Bolton served as America's Ambassador to the United Nations from 2005 to 2006. Bolton also served as Under Secretary for Arms Control and International Security, Assistant Secretary of State for International Organization Affairs, US State Department and Justice Department. Bolton has degrees from Yale University and Yale Law School. Bolton also served in the private sector as Senior Vice President for Public Policy Research at the American Enterprise Institute.
John Bolton adds foreign policy, diplomacy and experience to any Republican presidential ticket that far surpasses that of Obama/Biden.
John Bolton also has strong Conservative values that help shape a limited federal government on domestic issues.
Warning: The Following John Bolton video may help cure insomnia.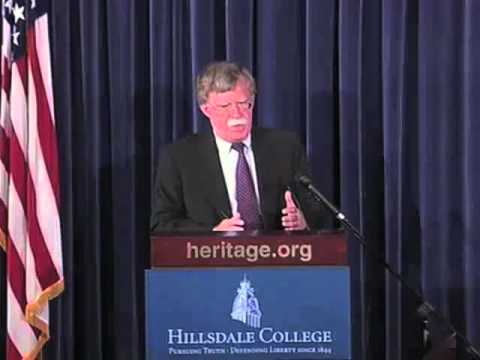 Pro-Obama Democrats can weigh in on this public opinion poll even if they don't want John Bolton since they don't want any GOP ticket. Please judge the candidate as a candidate that helps/hurts the ticket.
Add a comment above