Why do so many religious paintings and carvings portray spaceships and aliens
Here we have a painting which was created by Aert De Gelder in 1710, it is titled "The Baptism of Christ". This painting is currently on display at the Fitzwilliam Museum in Cambridge.
Pay particular attention to the flying saucer shaped object which seems to be casting rays of light upon Jesus Christ and John the Baptist.
Why did the artist add such a feature to his painting? Why do we see objects which appear to by UFOs in these old religious paintings?
Here is another very interesting religious painting which seems to show an alien spacecraft. It is entitled "The Madonna with Saint Giovannino".
This Madonna was painted sometime during the 1400s. The artist's name is not known, but the painting has been credited to the Lippi school.
At first glance you will probably notice a strange shape in the sky above the Madonna's left shoulder. If you were to see the original, full size painting you would see the object clearly.
Looking at the enlargement of that area you can see that there is some sort of flying craft in the sky. You can even see that there is a man and his dog standing there who seem to be looking up at the craft.
Here is a painting that is titled "The Crucifixion". This fresco was created in the year 1350 and is currently displayed over the altar of the Visoki Decani Monestary in Kosovo. In this painting you will notice two very strange elements in the upper right and left corners. What could they be?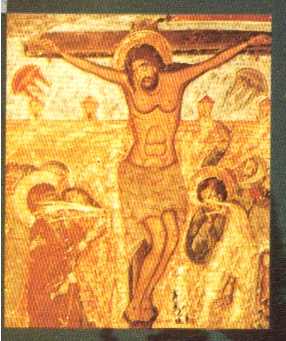 Here we have a rock painting from ancient Australia. The figures in the painting are known as 'Vondjina' a god of creation. Notice the large eyes and the classic alien looking head as well as the thing which covers their heads. Was this a depiction of how the artist understood the gods, or aliens, to look?
Add a comment above