Who Was Funnier at the White House Correspondents' Dinner: Obama or Jimmy Kimmel?
Jimmy Kimmel was supposed to be the
White House Correspondents' Dinner
's headlining comedian, but he had some unlikely competition in the President. Obama's speech was peppered with timely jokes, including a fake campaign ad poking fun at the media dogfight surrounding the candidates'
canine
companions, and a clever off-stage closer where he pretended not to know his microphone was still on and asked why he was "opening for Jimmy Kimmel and telling knock-knock jokes to Kim Kardashian."
Kimmel also took shots at Kim Kardashian, but his best material was political. He went after Romney ("I don't think of Etch-a-Sketch. I think of Twister: One foot on red, one on blue and both hands on green"), Ron Paul ("Paul looks like the guy who gets unhooded at the end of every 'Scooby Doo' episode") and of course, Obama ("Remember when the country rallied around you in the hopes of a better tomorrow? That was hilarious. That was your best one yet.") Who do you think stole the show?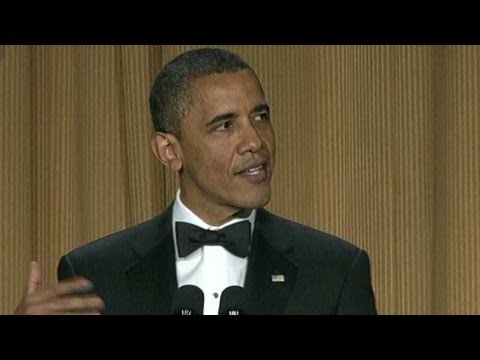 Add a comment above