Who do you serve Michelle?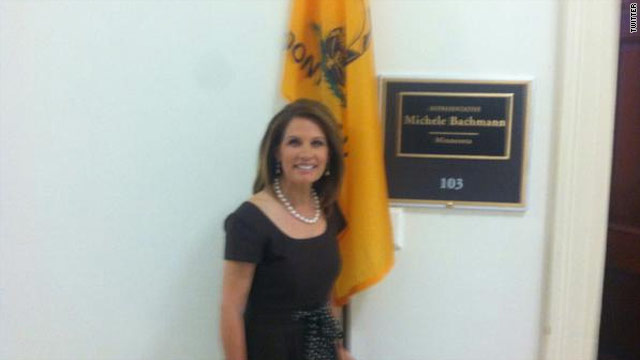 Minnesota Rep. Michele Bachmann, posed outside her House office with the Tea Party flag. The flag stands in the spot traditionally reserved for state and U.S. flags. EVERY member of Congress, except Bachmann, flies either their States' flag or the U.S. flag, or both.
MICHELLE BACHMANN - WHO DO YOU SERVE!?
This country is divided 50/50 politically. Neither party has had an overwhelming or co
nvincing win in decades, so why do 50% of our representatives conduct their business without COMPROMISE and without putting ALL of the people first, and not just the ones who voted for them?
John Boehner had a message for President Obama and the Democrats in October, 2010: "Don't expect the Republicans to play nice." They took over the House in the elections in November. "This is not a time for compromise, and I can tell you that we will not compromise on our principles," Boehner said.
As for Obama's own agenda, Boehner promised, "We're going to do everything -- and I mean everything we can do -- to kill it, stop it, slow it down, whatever we can."
They do NOT represent a majority of the country, but they conduct business as if they do! That is about the ONLY thing Congress has managed to achieve in almost 4 years - no compromises were made. We must do something to stop the tyranny and to stop the growth of the oligarchy in power.
https://www.facebook.com/occupymarinesonline
Read More: http://politicalticker.blogs.cnn.com/2012/06/11/co...
Add a comment above