While Hitler Had Only Goebbels, Obama Has the Entire American Mainstream Media - Propaganda is Alive and Well in the USA
How Our "Free Press" Has Become
a Propaganda Machine


A look at any of the magazine covers currently on the news stands should convince any fair-minded individual, Democrat or Republican, liberal or conservative, that propaganda is alive and well in the United States of America.
Here's Newsweek, a publication that has so devalued itself by its blatant bias [it was actually sold for $1 last year, less than 1/4th of the price of a single issue] accusing the Republican candidate for the presidency, a self-made multi-millionaire, of being a "Wimp!" Just how is it that an "insecure" individual, a "wimp," was able to make highly successful investment decisions involving $10s of millions of his own and other people's money?

In the other cover, Time magazine attempts to tie Barrack Obama to the lasting popularity of Ronald Reagan, a man whom most would think of as Obama's polar opposite! For example, when Ronald Reagan took over from Jimmy Carter's "stagflation," the economy was in a shambles, with not only high unemployment but sky-high inflation, in double-digits, and interest rates over 20% so no-one could buy or sell their home or buy a new automobile. Reagan did the exact opposite of Obama - he cut taxes and regulations and the economy thrived. By the time the 1984 election came around, Reagan won every single state except Mondale's home state of Minnesota and the District of Columbia -- quite a contrast with Barack Obama, but you wouldn't know it from Time magazine.

The same thing goes on with the major television news broadcasts - they seldom report on bad news about the Obama administration (when is the last time any of the networks covered Fast & Furious, or the fact that the Attorney General of the United States has been held to be in contempt of congress with some Democrats joining in on the vote!)? When is the last time you heard them delve into the facts behind the DOE loan to Solyndra, or the fact that over 80% of the DOE "green energy loans" went to major Obama/Democrat Party supporters and bundlers? When is the last time you heard a reporter on ABC, CBS, NBC, MSNBC or CNN ask why it was that the DOE subordinated its interest in the loan to Solyndra so that the principals at Solyndra, the Obama/Democratic party supporters, would be paid first out of the proceeds of the bankruptcy?

A couple of weeks ago we had the specter of Andrea Mitchell on MSNBC ridiculing Mitt Romney as being "out of touch" after they showed the beginning 30 seconds, and the very end, of a Mitt Romney speech. Romney was expressing wonder at the automation in a restaurant called Wawa, describing the touchpad method they used in ordering. MSNBC edited the entire heart of that segment of the speech, perhaps two minutes, where he was comparing the efficiency of private enterprise such as Wawa to the inefficiency of the federal government, showing only the beginning and the end in an attempt to portray Romney as "out of touch."

Bill O'Reilly cut Ms. Mitchell some slack and blamed her producers, not her -- but when the topic came up she refused to apologize. What she did is de rigeur among the leftist American "journalists" of the day.

What else would you expect when the most prestigious school of journalism is at that far-left citadel of indoctrination, Columbia University, Barack Hussein Obama's alma mater? Columbia is that bastion of "free speech" where they roll out the red carpet for tyrants such as Mahmoud Ahmadinejad and attempt to prevent invited conservatives from speaking at all with a barrage of pies in the face.

What's going on?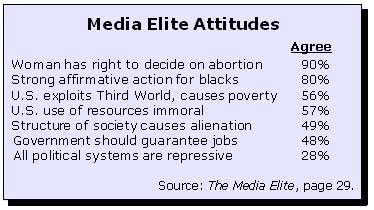 The fact is, the "media elite" lean inexorably to the left, and they make no attempt to hide their biases. Bernie Goldberg explains that it is because all of the people they associate with hold the same views as they do, so they don't even realize how biased they are. However, I believe there is more to it than that. Percentage-wise, journalists are more than twice as likely as members of the general public to self-identify as liberal. In fact, in polls among the general public, self-identified conservatives greatly outnumber self-identified liberals (in every state except Massachusetts!).

The latest bipartisan Battleground Poll, conducted by George Washington University in collaboration with Democrat and Republican polling organizations, reveals a pattern that is identical to the previous twenty-one polls over the last ten years. In the latest poll, 58% of Americans describe themselves as "very conservative" or "somewhat conservative," while only 37"% of American describe themselves as "very liberal" or "somewhat liberal." The "moderate" or "don't know" remain very small as in past polls, at 2% each.

So the problem we face in a nation where conservatives are in the majority, by a whopping 21 percentage points, is that we have a corps of journalists who are bound and determined to push their left-wing values, just as the professors at our colleges and universities continue to "profess" failed left-wing ideology.

I have mentioned to a number of individuals here on Soda Head a very brief conversation I had with the columnist Robert Novak at a book signing after a speech Mr. Novak had given. I asked him, "Whatever happened to journalistic integrity?" His response, "I doubt it ever existed!" Looking at the mess that is "journalism" today, it is certain that he was right - there certainly is no such thing as journalistic integrity in this day and age!