WATCH > Video of Five-Year-Old Swimming With Sharks Goes Viral: Were Her Parents Being Reckless?
When they returned from their vacation in the Bahamas, David and Elena Barnes decided to share a home video of their family snorkeling with
sharks
on YouTube. What was meant to be viewed primarily by friends and relatives quickly
went viral
, provoking massive amounts of controversy. In the beginning of the 9-minute clip, Power Boat Adventures employees are seen feeding nurse, reef, and lemon sharks. Later in the video, David, Elena, and their five-year-old daughter Anaia are seen swimming with them.
As the video piled up hits, the Internet began chiming in. Many criticized the parents for putting their daughter in danger, while others supported their actions. Eventually, the couple disabled commenting on the video and left a message defending their parenting skills. They explained that these varieties of
sharks
are rarely aggressive and that the company in the Bahamas has been operating for twenty years without incident.
They also appeared on "Good Morning America" to defend themselves. "Life is too short to be boring," said Elena. "There's just always risk assessments in life every day," added David. "I'm more concerned that they don't put seatbelts in school buses."
So, what do you think SodaHeads? Were David and Elena Barnes being reckless?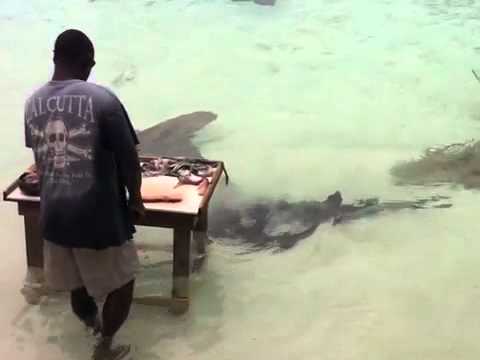 Read More: http://abcnews.go.com/blogs/lifestyle/2012/07/pare...
Add a comment above