Update on illegal immigration!
it appears that Utah and Texas politicians recognize a true opportunity when they see it. In both states, "illegal immigration" is fighting words. Playing on the ignorance of the electorate, the media continues to ignore the fact that neither the US Senate, nor the US House have provided any real money for enforcement of our borders.
If they did, our current Executive Branch wouldn't let them anyway.
So, we get to watch tough talk and tough laws made by tough looking politicians that are saying whatever is necessary to keep us asleep. Its the typical illuminati two-step. One step forward and then one step back. The fact that we end up in the same place, is all that matters to these Satanic Psychopaths that systematically subvert any sense of national identity and the right to make a living wage off of one's efforts.
In San Francisco today, the mayor has banned city workers from going to Arizona. I guess that only applies to the drunk ones that can't find their way home after work. Its currently OK to end up in a drunken stupor in Oregon, or even New York State, but avoid Arizona at all costs!
For those of you San Francisco workers that have pressing business in Arizona. I recommend the following:
1. Walk across the Mexican Border using common Spanish swear words. I am almost certain that no one will ever find out about your visit back in San Francisco. You will also have the added bonus of applying for free "illegal alien"-welfare benefits when you do finally get back home!
2. Hide in the trunk of Al Sharpton's car. Unless, of course, you are a Black African Mexican American, in which case you can walk into Arizona with the Rev. Al's "Million Black Mexican March". Don't let it bother you if you are counted a hundred or more times. Or whatever it takes to get to a "million". With computer animation, the Rev. Al can build whole armies of protestors for the camera that look just like you!
3. Quit your job in San Francisco, develop a foreign accent, pretend you are an illegal alien and take a new job as a skilled laborer. Have your family move to Mexico so you can send your paycheck home and then never pay a dime in taxes.
Is America a great country or what! You can love it AND leave it thanks to our very friendly border policy. Its great to know that our airports are stopping evil terrorists from blowing up their tennis shoes and underwear. Yet, no-one seems to be employing full-body scanners or other demeaning techniques, designed to make law-abiding citizens feel like criminals, along the Rio-Grande. Heaven help us all when Al CIA'duh teaches its people how to swim!
Meanwhile, we can all sit back and ponder the fact that we are now political prisoners in our own Republic. Don't think of them as illegal aliens. Think of them as your replacements. Much cheaper, and easier to dispose of.
Oh yeah. One last thing...
"Welcome to Wal-Mart".
http://moneyteachers.org/Arizona2.htm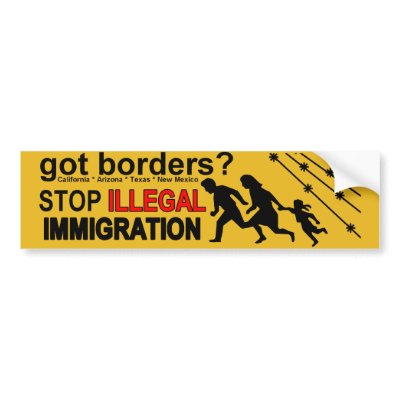 Add a comment above
More polls by irish -liberty or death!