TV icon sex-abuse scandal rocks the BBC
Say it ain'so. That bastion of liberal bias (as well as rampant anti-Americanism) covered up one of that country's most prolific pedophiles while the villan continued his abuse for decades? Looks like they'll have to keep their collective yap shut about the Catholic church and the boy scouts for a while.
TV icon sex-abuse scandal rocks the BBC




London (CNN) -- Before he died last year, Jimmy Savile was viewed as a kind of UK equivalent to American TV icon Dick Clark, gaining fame by bringing music to generations of teens. Savile was knighted by Queen Elizabeth II.




He now stands accused as a predatory sex offender.




The shocking allegations have Britain reeling. Countless viewers who grew up watching Savile on TV's "Top of the Pops" and his children's program "Jim'll Fix It" are now questioning their trust in a social institution: the British Broadcasting Corporation.




It's the worst crisis at the BBC in 50 years, says a top correspondent, and the scandal has prompted a wider examination into an alleged culture of sexism stretching back decades within Britain's widely respected public broadcaster.




The scandal has also gripped the British media, with many questioning who knew what and when about the alleged abuse of mostly teenage girls and whether there was any attempt at a coverup.




Police say they have identified more than 200 potential victims, with accusations spanning several decades, and are investigating other suspects in connection with alleged abuse.




Savile died in October 2011 at age 84, soon after being treated in a hospital for pneumonia.




Savile's favored target was apparently girls in their mid-teens in what one officer, Cmdr. Peter Spindler, said was "alleged abuse on an unprecedented scale."





The BBC, on whose premises some of the sexual assaults occurred, has found itself in the dock of public opinion seeking to explain how his behavior went undetected for decades.





The national public broadcaster has set up two independent inquiries, and Director General George Entwistle was called before a panel of lawmakers Tuesday to defend its handling of the scandal -- including why the broadcaster decided to drop an investigation into the star last year.




"There is no question that what Jimmy Savile did and the way the BBC behaved in the years -- the culture and practices of the BBC seems to allow Jimmy Savile to do what he did -- will raise questions of trust for us and reputation for us," Entwistle said.




"This is a gravely serious matter, and one cannot look back at it with anything other than horror, frankly, that his activities went on as long as they did undetected."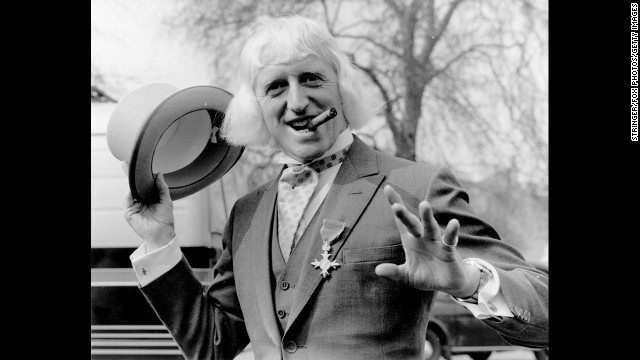 Photos: The life of Jimmy Savile




Entwistle pointed out that the BBC was not alone in failing to uncover Savile's behavior, with no newspaper exposé published in his lifetime.




This is the worst crisis ... in my nearly 50 years at the BBC.

BBC correspondent John Simpson




And he drew a parallel with a furor that has recently gripped the United States, where retired Penn State University football coach Jerry Sandusky was convicted of molesting numerous children.




"Mr. Savile has prosecuted his activities, his disgusting activities, in a matter that was very successfully and skilfully concealed, and experts in pedophile behavior have pointed out that's often the case," Entwistle said.




"In the case of the United States, of Jerry Sandusky ... these people build very long-range plans to put them in contact with their targets. These things are institutionally, it seems, very difficult to deal with."

More at CNN
http://www.cnn.com/2012/10/23/world/europe/uk-savile-bbc-scan...