Tracking polls Likely VOTERs is not the same as tracking polls.. that fill most Clear politics Remember polls are a snap shot in time
There are always 3 or 4 people here who will dispute the polls.. telling you no it is this it is that.. Polls that track with LIKELY voters are always MUCH closer to the reality of how the elections will turn out are much closer.
So a few days out and we have two of the most accurate polls showing Romney got his expected bounce from the RNC convention. while the other polls from Real Clear Politics still show things like people who are not likely to leave their homes and not vote still favor Obama.. (wondering how many of these people are living in their parents basements.. how many are on welfare and how many are collecting from the Federal government for things like food stamps and unemployment insurnace that has been extended from 13 weeks to 99 weeks)
From Rasmussen
Sunday, September 02, 2012
The Rasmussen Reports daily Presidential Tracking Poll for Sunday shows Mitt Romney attracting support from 48% of voters nationwide, while President Obama earns 44% of the vote. Three percent (3%) prefer some other candidate, and five percent (5%) are undecided.
Just prior to this past week's Republican National Convention, Romney trailed the president by two. Today's four-point advantage confirms that the GOP hopeful has received the expected convention bounce. See daily tracking history. Romney also has gained ground in the swing state tracking results updated daily for subscribers at 10:00 a.m. Eastern.
Matchup results are updated daily at 9:30 a.m. Eastern (sign up for free daily e-mail update). Platinum Members can see demographic details from the tracking poll and additional information updated on a daily basis.
During August, the number of Republicans in the country reached the highest level ever recorded by Rasmussen Reports. In each of the recent election cycles, the victorious party has gained in net partisan identification over the course of the election year.
What America Thinks, a nationally syndicated TV show hosted by Scott Rasmussen, will debut next Saturday on more than 50 television stations across the country. Find stations in your area.
If you'd like Scott Rasmussen to speak to your organization, meeting or conference, please contact Premiere Speakers.
(Presidential Job Approval Data Below)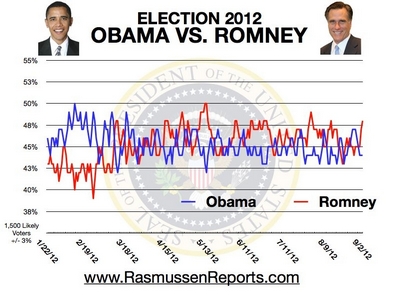 A president's job approval rating is one of the best indicators for assessing his chances of reelection. Typically, the president's job approval rating on Election Day will be close to the share of the vote he receives. Currently, 48% of voters say they at least somewhat approve of the president's job performance. Fifty-one percent (51%) at least somewhat disapprove of the job Obama is doing (see trends).
Forty-eight percent (48%) trust Romney more than Obama on the election's top issue, the economy. Forty-four percent (44%) trust the president more. The good news for Romney is that he still has the edge on this issue. The good news for Obama is that Romney's advantage has been shrinking over the last few months.
=============================================================
From Gallup
http://www.gallup.com/poll/150743/Obama-Romney.aspx
From real clear
http://realclearpolitics.com/epolls/latest_polls/