THIS IS WHAT IT LOOKS LIKE WHEN BOILING WATER IS THROWN INTO -41 DEGREE AIR (HINT: IT'S PRETTY COOL)
Whatever possessed this fellow to throw a pot full of boiling water into the air outside in negative 41 degrees Celsius, we can't say. What we can tell you is the instant column of ice crystals that form — the sound of them freezing included — is fascinating.
Others have found the experiment mesmerizing as well. Since being posted on Lifehacker TV late last week, it has more than 1.4 million views. Boiling water thrown into the air quickly freezes into tiny ice crystals.According to an article posted on University of California Riverside's physics page, hot water can freeze faster than cold water thanks to the "Mpemba effect." Author Monwhea Jeng theorized that one reason warm water freezes more quickly than cold is that the "lack of dissolved gas may change the ability of the water to conduct heat, or change the amount of heat needed to freeze a unit mass of water."
The English version of the original video might only have about 1,600 views, but since we don't speak Russian, it's worth posting that one: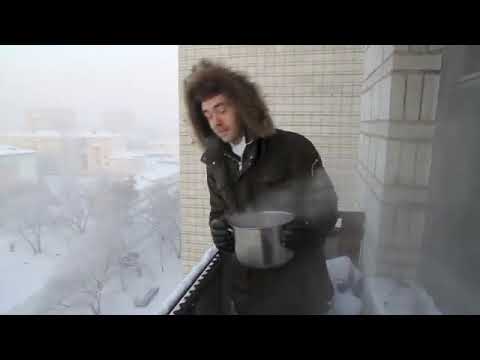 Read More: http://www.theblaze.com/stories/this-is-what-it-lo...
More polls by doofiegirl BTO-t- BCRA-F ~PWCM~