The Liberals have definitely lost it! This makes me sick!
Remember that video I posted the other day where that six year old boy named 10 reasons not to vote for Obama? Our sweet liberal friends have gone mad!
Liberals Call for Killing of 6 year old Conservative! By Jay Taylor, Vice President of Political Strategy – Liberty Alliance, LLC
Patriot Update recently posted a video on YouTube entitled, "6-Year-Old Gives 10 Reasons NOT to Vote for Obama!", which has caused liberals to go on the warpath. With over 350,000 views and climbing, the venomous and hate-filled comments from the left are intolerable. Liberal around the country are accusing the parents of "brainwashing" and "exploiting" their child. (Somehow a bunch of elementary school children singing praises to Obama doesn't count as "brainwashing or exploitation.") Ironically, the left couldn't care less if you abort your child. Teaching them conservative values, however, is tantamount to child abuse!
This should serve as wake up call to all conservatives. Patriot Update is calling conservatives to stand together and defend our beliefs against this liberal onslaught. Currently, there are more negative comments from liberals than there are positive comments from conservatives. We're asking you give the video a "thumbs up" and express your opinion in the comments section of the various web sites that are discussing the video. We must unite and support our conservative values and freedom of speech.
This is what is causing the hate!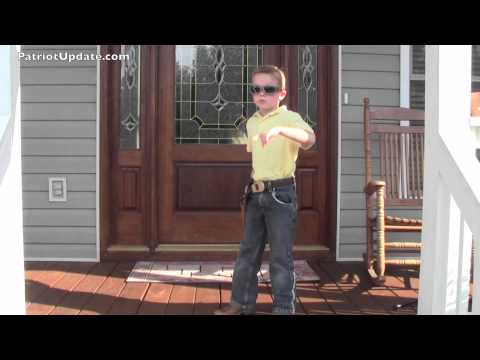 Here are a few of the stories that are out there about the video:
http://news.yahoo.com/blogs/trending-now/video-6-old-bashing-...
<– Yahoo News is asking whether you support this or not. Please express your opinion!
http://content.usatoday.com/communities/theoval/post/2012/08/...
http://www.dailymail.co.uk/news/article-2181738/Anti-Obama-vi...
http://www.huffingtonpost.com/2012/07/30/six-year-old-tea-par...
http://www.globalpost.com/dispatches/globalpost-blogs/weird-w...
http://www.digitaljournal.com/article/329890

http://www.inquisitr.com/289166/six-year-old-instructs-voters...
More and more stories are popping up all the time. And even copycat and response videos are appearing on YouTube. Americans, patriots, These are some of the worst things I have ever read! A six year old little boy under attack for a video! To me, it proves what I have suspected all along! Liberals are sick!!!!!!!!!!!
Read More: http://patriotupdate.com/27180/left-spews-hateful-...
More polls by doofiegirl BTO-t- BCRA-F ~PWCM~