Tabloid: Michelle Obama and Jill Biden Feuding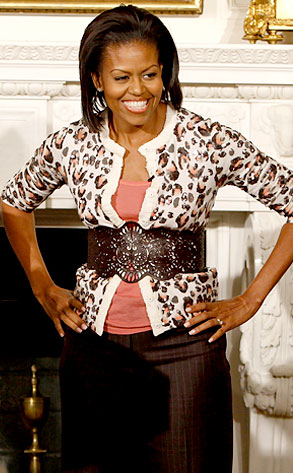 MICHELLE OBAMA has had enough of JILL BIDEN's lack of R-E-S-P-E-C-T!
The claws are out in the White House as First Lady Michelle Obama feuds with Vice President Joe Biden's wife Jill, sources say.
"Michelle is furious at Jill for what she sees as her increasing behind-the-scenes lack of respect toward her," a political source in the nation's capital told The ENQUIRER.
"To Michelle, it's insulting that Jill and Joe are always so casual around America's first family.
You mean to say that Mrs. Biden will not bow down to our queen??? Really?? Who cares what you think Mrs. O, we the people are going to remove you and your king from your throne.....I have NO respect for you. You are a racist radical that could care less about the people you are supposed to represent. Your "let them eat cake" attitude is sickening and we are sick of it. Why don't you take a trip and not return??? We the People, would love that! I thought something was wrong, because you never see Michelle anywhere with Jill Biden. I think Mrs. Biden is a very classy, professional lady, even though I don't agree with her politics, she always takes pride in her appearance, and she's very beautiful. I like the way Jill represents our nation, more than Michelle. Michele Obama is a bigot. She has no respect for white America but she expects Biden's wife to yield to her. Mrs. Bigot wants Mrs. Biden put in her place.
Read more: http://www.nationalenquirer.com/michelle_obama_jil...
About Me
The Latest From SodaHead
News
Government shutdown or not, there's a new $100 bill in town -- and apparently, people love it!

If Congress doesn't agree on how the U.S. will pay its bills by October 1st, the federal government will shut down. But how concerned is the average American? Not very.
Politics
Ever since President Obama's re-election back in November, the media hasn't stopped reporting about the ruffled course of the Republican party. So who's the future face of the GOP? Find out how the public voted.

New Jersey Governor Chris Christie has been at the center of media coverage for a while now. But more recently, the buzz has been about his proclaimed political party -- and whether or not he should change it.