Suspected Bank Robbers Throw Cash from SUV During Police Chase: Robin Hoods or Hoodlums?
Los Angeles has many claims to fame, including Hollywood, beaches and celebrities. We also have the notoriety of bank robberies and car chases caught on camera. Bank robbers stole thousands of dollars from a Bank of America in in northern LA county before leading LA County Sheriff on a pursuit to South LA. Before getting caught, the robbers threw handfuls of cash out the windows. Crowds swarmed to the streets to scoop up the cash.
Captain Mike Parker, the LA Sheriff's Public Information Officer, said, "I can't imagine they did this for the good of the community." Residents disagreed. "It's our neighborhood stimulus package!" resident Diane Dorsey told the Los Angeles Times.
"A lot of people came out their houses, they saw this on TV, they saw that money was being thrown," Police Department spokesman Cmdr. Andrew Smith told KNBC-TV. "I think one of the folks told me that they thought there was more money in the vehicle and maybe they were hoping to get a little bit of that," Smith said.
Watch the pursuit and cash in the video from ABC News: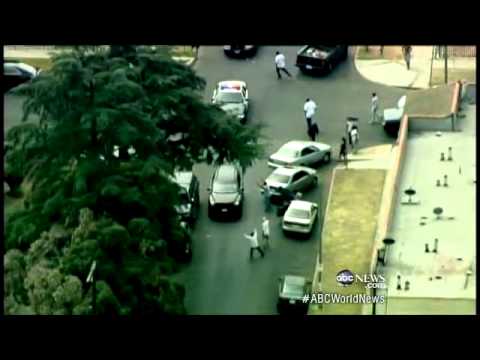 FOXNEWS.COM reports:

Suspected bank robbers fleeing deputies hurl cash from a speeding SUV before being caught.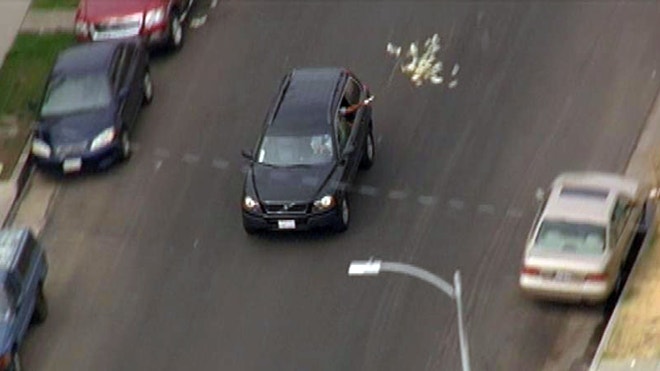 Read More: http://www.foxnews.com/us/2012/09/13/suspected-ban...
Add a comment above