SodaHead Brief: Are Americans Afraid Of Muhammad?
The U.S. is a country that holds free speech as one of its ideals. We are supposed to protect our opponents' right to criticize that which we might spend a lifetime in defending. But that seems to stop when it comes to the Muslim prophet Muhammad.
From the nearly complete media censorship in the U.S. of Muhammad cartoons a few years ago that ignited violence throughout Europe to the latest censorship by Comedy Central of a South Park episode that had Muhammad in a bear suit, we grow faint at disturbing Islamic sensibilities.
Fortunately, others are pushing the boundaries in free speech, though they too are under assault. Lars Vilks, a Swedish artist who angered Muslims by depicting the Prophet Muhammad as a dog, was assaulted while giving a university lecture about the limits of free speech and artistic freedom. In the video below, you can hear people shouting Allahu Akbar as others go after Vilks.
Of course, there is a U.S. connection. Vilks was the target of a murder plot involving Colleen LaRose, an American woman who dubbed herself "Jihad Jane," and who now faces life in prison.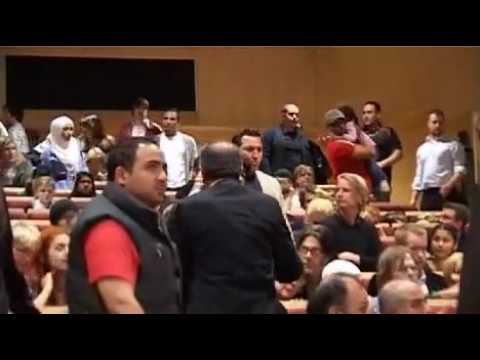 Read More: http://pajamasmedia.com/blog/what-did-you-say-abou...
Add a comment above
More polls by Edward Barrera