Should We Tax Countries Where Our Troops Are Stationed?
Leave it to The Donald to come up with a novel new way of making money. Though he's yet to officially declare his candidacy for the 2012 presidential election, he's already got some ideas to help our struggling economy: for instance, let's tax other countries!
Trump maintains that the hundreds of countries around the world that benefit from the presence of United States Armed Forces personnel should be paying us for the protection we provide. Trump would also tax China because they're "taking all our jobs" and "have no respect for our leadership."
Trump spoke to MSNBC's Chris Jansing:
"What I would be doing is, I'd be taking in hundreds of billions of dollars from other countries. As an example, we protect South Korea. Why aren't they paying us?
"We have thousands of troops in European countries. Thousands. Tens of thousands of troops. If we're protecting countries why aren't they paying for it?"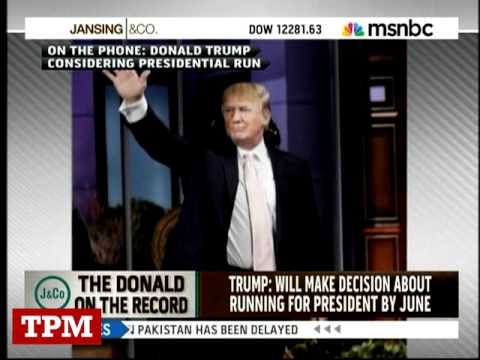 Read More: http://tpmdc.talkingpointsmemo.com/2011/02/donald-...
Add a comment above