Should ISAF step up it's attacks across the border in Pakistan?
Jimbo
2011/12/05 13:59:39
Nato plans push in eastern Afghanistan to quell Pakistan-based insurgents
News
World news
Afghanistan




Nato plans push in eastern Afghanistan to quell Pakistan-based insurgents
Exclusive: Isaf aims to reduce threat to Kabul by insurgent groups and has not ruled out cross-border raids into Pakistan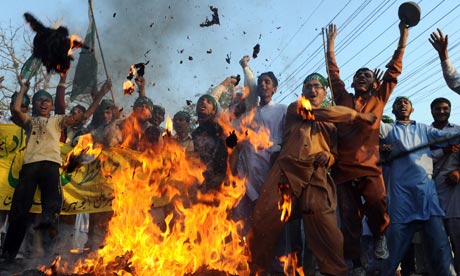 Pakistanis burn an effigy of Barack Obama
in Lahore: resentment of Nato after the death of 24 soldiers last week
has plunged co-operation between the allies into doubt. Photograph: Arif
Ali/AFP/Getty Images
Nato commanders are planning a substantial offensive in eastern Afghanistan aimed at insurgent groups based in Pakistan,
involving an escalation of aerial attacks on insurgent sanctuaries, and
have not ruled out cross-border raids with ground troops.
The aim
of the offensive over the next two years is to reduce the threat
represented by Pakistan-based groups loyal to insurgent leaders like the
Haqqani clan, Mullah Nazir and Hafiz Gul Bahadur. Nato hopes to reduce
the level of attacks in the eastern provinces clustered around Kabul to
the point where they could be contained by Afghan security forces after
transition in 2014.
The move is likely to add to the already tense
atmosphere following the recent border post attack by Nato helicopters
that killed 24 Pakistani soldiers. On Thursday, Pakistan's army chief,
General Ashfaq Kayani, ordered his troops to return fire if they came under attack again by its ally.
While
drawing down forces in Helmand and Kandahar, the US will step up its
presence in eastern provinces bordering Pakistan, bringing the
long-festering issue of insurgent sanctuaries in the Pakistani tribal
areas to a head. The message being given to the Pakistani military is that if it cannot or will not eliminate the havens, US forces will attempt the job themselves.
http://www.guardian.co.uk/world/2011/dec/02/nato-offensive-ea...
Add a comment above