Should Fox News Hackers Be Prosecuted for Threatening President Obama?
Whose fault is it when someone
hacks your Twitter account
and posts false information about the president? That's the dilemma Fox News faced on July 4 when its @foxnewspolitics site was apparently hacked and someone posted a message suggesting that
President Obama had been killed
.
The series of posts began with the message, "@BarackObama has just passed. The President is dead. A sad 4th of July, indeed. President Obama is dead." That was followed by several posts that seemed to be offering specific details of the alleged shooting.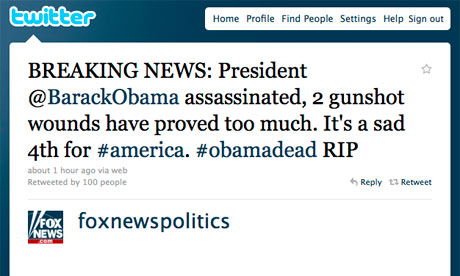 The increased activity on the site and the fact that its icon had been changed from the Fox News Politics logo to a new one with the message, ""H4CK3D BY TH3 5CR1PT K1DD3S," seemed to confirm that the fake news story was indeed a hack attack. Fox News released a
statement on Monday confirming the hack
and apologizing for any "distress the false tweets may have created" and promising an investigation into their origin.
Later in the day, the Secret Service said it is investigating the incident, which appears to have been pulled off by a group called the Script Kiddies. Threatening the president is a class D felony and any such threat typically includes a visit from the Secret Service. It can lead to five years in prison and a $250,000 fine. In the first years of his presidency, Obama reportedly received more than four times as many threats as predecessor George W. Bush, who received around 3,000 a year.
While the hackers did not, technically, threaten the president, their actions might certainly have created some panic and confusion.
So, do you think the Fox News hackers should be prosecuted for their fake Obama attack?
Add a comment above