Sheriff Joe offers evidence in Florida
The case of Voeltz v. Obama is simple. Mike Voeltz is a
registered Democrat and lives in Florida. He says that the Democratic
Party cheated him of his vote by having on the ballot the name of a
candidate who may not run. Specifically, Voeltz says that Barack Obama
may not run for President because he is not a natural born citizen.
Judge Terry Lewis in Leon County, Florida, scheduled a hearing for Monday, June 18, 2012, at 9:00 a.m. Voeltz asked Larry Klayman, of Judicial Watch
fame, to plead his case. Klayman sent in a brief saying in detail what a
natural born citizen is, and is not. The Constitution (Article II,
Section 1, paragraph 5) says that only a natural born citizen may even run for President. Klayman cited a case (Minor v. Happersett, 1875) that is the only case
that defines a natural born citizen in any detail. That case describes a
natural born citizen as a person born in the country to two citizen parents. That is the only place in the opinion where that phrase "natural born citizen" shows up.
Klayman said further that the Framers used the phrase natural born citizen for a reason:
The framers were not stupid. They understood that a
president with divided loyalties could present a security and other
risks for our nation.
The White House lawyers say that anyone born in-country is a natural born citizen, wherever the parents were born. But while Klayman cited a case to back him up, the White House legal team did not. So Judge Lewis ordered the White House to back up their idea of what a natural born citizen can be. He also ordered them to show original documents to prove that Obama is a natural born citizen.
Sheriff Joe comes to testify
Alvin
T. Onaka, the Hawaii registrar, seems to be whimsical: he turned the
capital "A" of his signature into a "smiley face." Note also that he
misspells "THE" as "TXE" on what should be a rubber stamp. Now Sheriff
Joe Arpaio says that someone pasted this stamp in, and that gives him
probable cause to suspect forgery. Photo: CNAV
Early this morning, WND reported that Sheriff Joe Arpaio of Maricopa County, Arizona, swore
to his role in investigating Obama eligibility in his State. The leader
of his Cold Case Posse, former New Jersey detective Mike Zullo, swore to his own role, as did WND reporter Jerome Corsi. Arpaio and Corsi both appeared before their notaries yesterday; Mike Zullo saw a notary the day before.
"Sheriff Joe" says that the Obama long-form birth certificate is not
a copy of a paper document. Instead, says the sheriff, someone built it
on a computer. Worse, someone copied a picture of the "registrar's
stamp" from somewhere else and pasted it in. (CNAV has already shown that the file is full of mistakes. Among other things, that "registrar's stamp" spells the word THE as TXE.) That is why Arpaio found "probable cause" that the White House file is a forgery.
Mike Zullo went further. He said that Hawaiian officials have told
different stories over the last five years on whether Barack Obama even has a birth certificate.
Klayman also introduced a copy of Jerome Corsi's book, Where's the Real Birth Certificate? as evidence. Corsi needed to swear in writing that his book was accurate.
In other news, Hawaii officials still treat the Obama eligibility question as if it were radioactive. Ask yourself why should they, if there's nothing left to dispute?
And now the question for all of you: is this great? A yawner? Or what?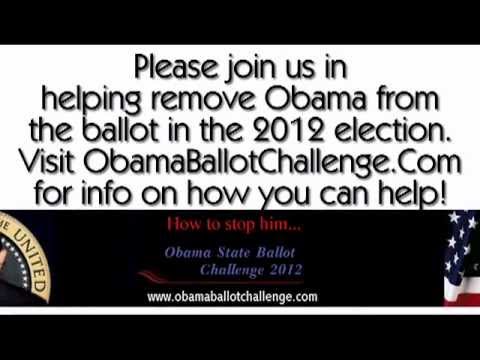 Read More: http://www.conservativenewsandviews.com/2012/06/13...
Add a comment above