Ron Paul delegates revolt. Win or lose?
Most of those who turned out to vote in Republican primaries, voted
for Mitt Romney. So as most people understood the rules, Mitt Romney
would win most of the delegates to the Republican National Convention.
In theory, each State's rules
bind
delegates to vote for a
particular candidate on the first ballot. After that first ballot, any
delegate may vote as he or she wishes.
But Ron Paul's supporters knew better. State conventions choose actual delegates by vote of whoever shows up. So Ron Paul loyalists would show up at State conventions and vote for their friends as delegates.
According to a new lawsuit, Republican national officials wouldn't stand for that. Neither would Mitt Romney's people.
CNAV reported earlier
when a Republican official threatened the Nevada State chairman: Choose
Romney loyalists, or lose all your votes. The Nevada State convention
chose Ron Paul delegates anyway. But the threats did not stop there.
Plaintiffs allege that in almost every state in the
United States Defendants engaged in a scheme to intimidate and harass
Delegates who were supporting a Candidate that Defendants did not
approve of. This harassment included the use of violence, intimidating
demands that Delegates sign affidavits under penalty of perjury with the
threat of criminal prosecution for perjury as well as financial
penalties and fines if the Delegate fails to vote as instructed by
Defendants rather than vote the Delegate's conscience as mandated by the
US Statutes and US Supreme Court Decisions cited.
That "Candidate" is, of course, Ron Paul. The "violence" includes fisticuffs at some State conventions.
Courthouse News Service first reported on Wednesday when 123 delegates sued the RNC. Yesterday, 40 more delegates added their names to the suit. Drew Zahn at WND picked up the story also.
In addition to the fisticuffs and the affidavits, the suit also
mentions episodes in which State Republican officers changed the rules
at the last minute. Some States in fact have two sets of delegates,
after frustrated Ron Paul supporters gathered outside the meeting halls
to choose their own delegates.
Richard Gilbert, of Gilbert and Marlowe, represents the delegates. He
told Courthouse News Service that some Republican officials were acting
like gangsters.
Gangsters or no, Gilbert has some relevant federal law on his side:
11 CFR IOO.2(e). It says that a Party caucus or convention is an election if it nominates candidates for federal office.
42 USC 1971. It says
that anyone who intimidates someone to get him to vote for or against a
candidate for President, is civilly liable. It also says that federal
district courts have jurisdiction in such cases.
Gilbert also cited Republican Party Rule 11. That rule forbids the national Party to help any candidate until the national convention nominates that candidate. Then there's Rule 38, that says that the national Party does not recognize "binding" of delegates.
The delegates want the Court to:
Say officially that no rule can bind a delegate, and any delegate may vote as he pleases, on any ballot,
Order that the RNC tell every delegate that in writing,
Order all State conventions to keep all records of votes and rule changes, and
Wherever necessary, order hand recounts or even that State parties re-convene to choose delegates.
WND's Zahn suggested that if the Court finds for the plaintiffs, it will unbind all
delegates. That could prompt ambitious people to sway the delegates,
either at the convention or before they go to it. Sarah Palin is one
such person. At least one activist has told CNAV that he would like to see the Republican Party nominate Sarah Palin as a "dark horse" (or, to be correct, dark mare) candidate.
What say you all? Will they win or lose?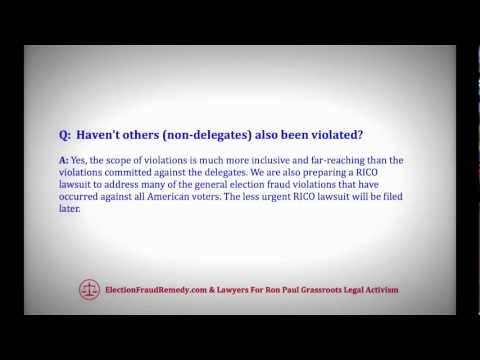 Read More: http://www.conservativenewsandviews.com/2012/06/16...
Add a comment above