Romney distances himself from Ted Nugent, denying he supports the rocker. Good move or Bad move?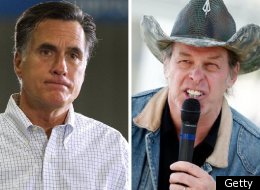 Mitt Romney's campaign on Friday rejected
an earlier claim from surrogate and rocker Ted Nugent that Nugent had
received the Romney campaign's "support" in the wake of his inflammatory
tirade against President Barack Obama and Democrats last month.
At a National Rifle Association convention in St. Louis in April,
Nugent said that he would be "dead or in jail by this time next year" if
Obama is re-elected. He later went into a long-winded analogy
about needing to "chop [Democrats'] heads off in November." The Secret
Service took notice of his remarks, and as is customary in such
situations, paid the entertainer a visit, which the musician has
maintained was professional and cordial.
In an interview with CBS News that aired on Friday,
Nugent claimed that the Romney campaign had "expressed support"
following his remarks. He went on to describe what he perceived as an
indirect approval of his rhetoric.
Read More: http://www.huffingtonpost.com/2012/05/04/mitt-romn...
Add a comment above
More polls by Assassin~ Badass Buzz Guru