Rave if you think Leftists who worship Che Guevara have become the American Taliban by trying to take over politics and force ALL Americans to live by their RULES
http://letterstoadyingdream.wordpress.com/2008/12/20/the-butc...
"To send men to the firing squad, judicial proof is unnecessary. These procedures are an archaic bourgeois detail. This is a revolution! And a revolutionary must become a cold killing machine motivated by pure hate." – Che Guevara
I see no difference in a person who idolizes Mao Zedong, Joseph Stalin, Adolf Hitler, Pol Pot or Che Guevara.
Wait, why would Che be on that list? Well because he was a totalitarian mass murdering scum bag that's why you twit. Granted he didn't get a chance to kill as many people as the others but it's not like he wouldn't have if he could. He didn't get the nickname "The Butcher of La Cabaña" for nothing. La Cabaña being Castro's main political prison in case you didn't know.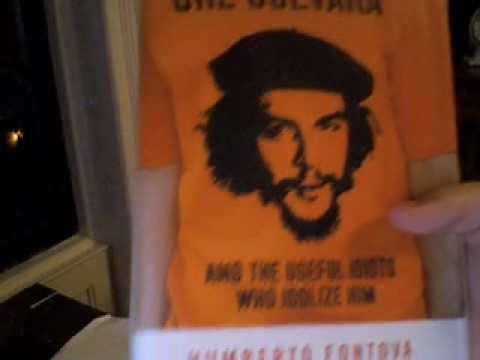 Che Guevara - Story Of A Butcher!
I wonder how
many of the half-baked leftists and assorted numbskulls who wear Che Guevara
sweat shirts actually know anything at all about this murderous lowlife from
Rent-A-Terrorist?
He
spread a marxist gospel of blood-shedding across the world and was also prepared
to get his own hands dirty.
That 'cool dude' worn on millions of chests over years
was a minister in Castro's government in Cuba but his first job in the regime
was to look after a brutal prison where he organised systematic executions of
those who had dared to oppose Castro or even the ones who had indulged in
'thought crimes'.
http://christianityisnotleftwing.blogspot.com/2012/06/che-gue...

Read More: http://christianityisnotleftwing.blogspot.com/2012...