Qaddafi Killed: Pictures of Gaddafi's Body
SLIDESHOW: Qaddafi Dead Pictures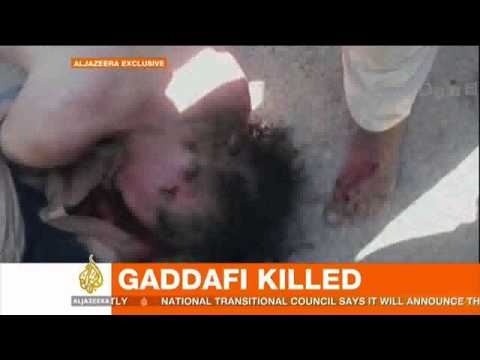 1 of 9
Gaddafi Dead
last seconds of moammar gaddafi dying on video mobile cell phone
Qaddafi Killed: Pictures of Gaddafi's Body
Can you spot the real picture of Moammar Qaddafi's dead body? Will NATO release the pictures of the dead Libya leader? I assembled some of the dead body photos and will add more as I find them.
UPDATE: I added the latest pics -- real ones confirmed of Gaddafi dying and the video ... warning graphic video of Gaddafi dying and bloody captured on a mobile cell phone.
UPDATES that the first photo is the most likely real gaddafi dead body photo -- the other photos are fake.
Here's an easier question - can you spell Muammar Qaddafi's name? Moammar Qaddafi? Muammar Gaddafi? Moammar Qaddafi?
here are several Reuters headlines of the dead body photos
(Reuters) - Former Libyan leader Muammar Gaddafi died of wounds suffered on Thursday as fighters battling to complete an eight-month-old uprising against his rule overran his hometown Sirte, Libya's interim rulers said.
"He (Gaddafi) was also hit in his head," National Transitional Council official Abdel Majid Mlegta told Reuters. "There was a lot of firing against his group and he died."
(Reuters) - Al Jazeera Television broadcast pictures of the body of a man it identified as that of fallen Libyan leader Muammar Gaddafi's defense minister, Abu Bakr Younus.
The television footage showed a bearded man with a bullet hole just below his neck.


(Reuters) - Television networks around the world broadcast an apparent photograph of former Libyan leader Muammar Gaddafi after transitional government officials reported that he had been killed in the capture of his hometown Sirte.
An official with Libya's National Transitional Council later confirmed that the photo was that of Gaddafi.
The photo, apparently taken on a mobile phone, showed a pale, bloodied and dead-eyed man closely resembling Gadddafi, with dark frizzy hair and similar facial features.
It was not clear if the man was dead or wounded. He appeared to be bandaged and had a blank expression. He had a stream of blood from the side of his mouth and was wearing a bloodstained, dark-colored shirt.
Former Libyan leader Col. Muammar Gaddafi has been captured and killed in his hometown of Sirte, according to some reports.