President Obama goes to Canada
U.S.-Canada relations suffered during George W. Bush's Presidency and Barack Obama has chosen to make his first trip abroad to the U.S.' northern neighbor to try ease things out. Obama and Canadian Prime Minister Stephen Harper discussed the economy, the fight on global warming, and Afghanistan. Obama also clarified that the "buy American" clause in his stimulus plan would not result in protectionism. There are a lot of tough issues between the two countries, but the two leaders took small steps first. They avoided touchier subjects like the war on terror.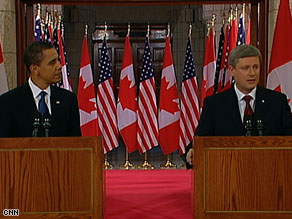 About Me
The Latest From SodaHead
News
Government shutdown or not, there's a new $100 bill in town -- and apparently, people love it!

If Congress doesn't agree on how the U.S. will pay its bills by October 1st, the federal government will shut down. But how concerned is the average American? Not very.
Politics
Ever since President Obama's re-election back in November, the media hasn't stopped reporting about the ruffled course of the Republican party. So who's the future face of the GOP? Find out how the public voted.

New Jersey Governor Chris Christie has been at the center of media coverage for a while now. But more recently, the buzz has been about his proclaimed political party -- and whether or not he should change it.