Porn Studio to Build Luxurious Post-Apocalyptic Bunker: Legit or Laughable?
How's everyone doing with their 2012 apocalypse prep?
In case you weren't aware, according to the Mayans -- well, according to the pseudo-scientists who interpreted the Mayan calendar -- we've got just over a year before the world ends.
Pink Visual, a Los Angeles
porn studio
, is going all out. They've provided media sources with the schematic for a proposed
post-apolcalyptic shelter
, which it's planning to build in preparation for the Mayan
doomsday
.
And then, we presume, turn it into some kind of bar or nightclub when it all turns out to be complete nonsense.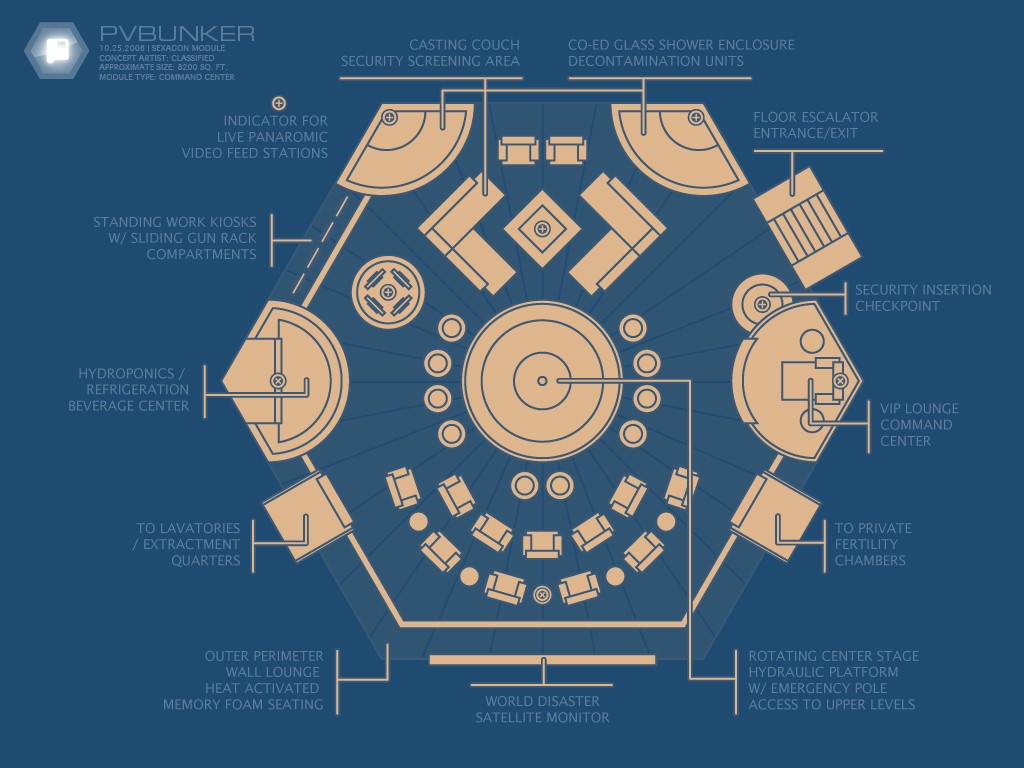 As you can see, the bunker will be equipped with a central "world disaster satellite monitor," a "VIP lounge command center," a "co-ed glass shower" (for decontamination, of course), and a "rotating center stage hydraulic platform w/ emergency pole."
Oops, "emergency pole access to upper levels." Our bad.
They've also got room set aside for two casting couches. You know, in case any aspiring actresses happen by after the world ends.
PV spokesman Quentin Boyer explained, "We're not building this thing just to eke out a few more months of a deprived, downscaled existence. Our goal is nothing less than to survive the apocalypse to come in comfort and luxury..."
Wait for it...
"...Whether that catastrophe takes the form of fireballs flung Earthward by an all-seeing deity," Boyer continued, "extended torrential rainfall, Biblical rapture, an earthquake-driven mega-tsunami, radioactive flesh-eating zombies, or some combination of the above."
Flesh-eating zombie apocalypse? Sounds kinky.
Add a comment above