Pelosi, Boxer, Finstien- please, please consider humans above minnows
U.S. Senate to California Farmers: Drop Dead
Demonstrating
once again the moonbat priorities of the Democratic Senate majority,
the Senate has voted to screw over hundreds of thousands of farmers and
endanger our national food supply for the sake of a two-inch fish that
probably isn't endangered anyway.
Because of the
ruling of Moonbat Judge Oliver Wanger, millions of gallons of
freshwater that could be growing crops and providing livelihoods to
hundreds of thousands of people are washing uselessly into the sea.
Farmers are facing bankruptcy and tens of thousands are out of work.
California's dingbat senators Dianne Feinstein and Babs "Ma'am"
Boxer stood by and did nothing to correct this insanity. It took a
Republican from South Carolina, Jim DeMint, to try and rescue
California's farmers by proposing an amendment to restore water to the
farmers in the San Joaquin valley. Guess what? Senate
Demoncrats... including both dingbat senators from California... voted
it down. And Speaker of the House Nancy Pelosi has interfered to
keep the water turned off several times before.
Update: Senior
Dingbat Dianne Feinstein compares supplying Farmers with water to "Pearl
Harbor."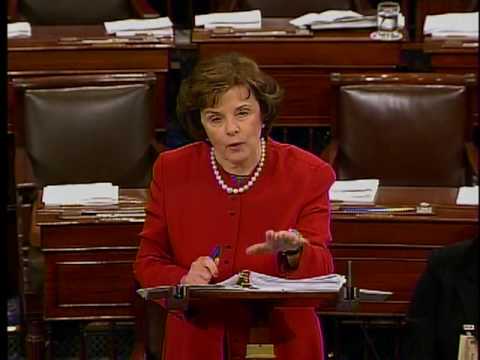 Source: Moonbattery
The question needs to be WHY?? Why is
our own government shutting off the water to the most fertile areas in
California if not all of America?
This is what they do in
countries like Venezuela… Iran… or the old Soviet Union, countries run
by Obama's friends!!! Putting the Delta Smelt before people? Creating
food shortages so we are more dependent on foreign supplies to push
their global agenda or New World Order? Creating an emergency to impose
even more control, cut more freedoms and grab more power?
---------
Feds shut off water to California farms in controversial effort to
help threatened species
By NewsWax | Aug
12, 2009
A farming town in California
claims that it may disappear due to the United States federal
government shutting off water pumps, though the government states the
actions are necessary to save several marine species.
In July
2009, action by the Federal Bureau of Reclamation to protect threatened
fish stopped irrigation pumping to parts of the California Central
Valley causing canals leading into Huron, California and the surrounding
areas and the farms that rely on them to lose their primary irrigation
source. Unemployment has reached 40% in some areas as the farms have
dried up.
California Governor Arnold Schwarzenegger stated the
action is putting the fish "above the needs of millions of
Californians".
Highlighting the city's plight, Huron Police
Chief Frank Steenport stated, "A year from now, [Huron] may not be
here."
In an interview on Tuesday, comedian Paul Rodriguez, the
mother of whom owns a farm in the area, criticized the actions of the
government and called for President Barack Obama to review the decision.
"This used to be an almond orchard. Now all that is left is firewood."
Laura King Moon, assistant general manager of the State Water
Contractors, a nonprofit association of 27 public agencies from across
California that purchase water from the government under contract, said
"these cuts are crippling on our people and businesses — especially in
the Central Valley where farmers are being forced to fallow their land
and workers are being laid off. Rather than piecemeal restrictions, we
need to balance the needs of the environment and the needs of people
with a collective plan for the Delta."
The National Marine Fisheries Service, an agency within the
National Oceanic and Atmospheric Administration, states the water
pumping inside central California threatens several marine species. In
the Huron area, the delta smelt is specifically targeted.
In
defense of the actions, Rod McInnis, the southwest regional director for
NOAA's Fisheries Service stated, "What is at stake here is not just the
survival of species but the health of entire ecosystems and the
economies that depend on them. We are ready to work with our federal and
state partners, farmers and residents to find solutions that benefit
the economy, environment and Central Valley families."
Delta
Smelt
Delta smelt, Hypomesus transpacificus, are
slender-bodied smelts, about 5 to 7 cm long, of the Osmeridae family.
They have a steely blue sheen on the sides and seem almost translucent.
Smelts live together in schools and feed on zooplankton (small fishes
and invertebrates). One female may lay from 1,400 to 1,800 eggs. Mature
unfertilized eggs are about 1 mm.
Habitat
Delta
smelt are currently endemic to the Sacramento Delta, California, where
it is distributed from the Suisun Bay upstream through the Delta in
Contra Costa, Sacramento, San Joaquin,Solano and Yolo counties. The
delta smelt is a pelagic (live in the open water column away from the
bottom) and euryhaline species (tolerant of a wide salinity range). They
have been collected from estuarine waters up to 14 ppt (parts per
thousand) salinity.
Life cycle
Most
delta smelt live one year and die after their first spawning
(semelparous). Delta smelt spawning occurs in spring in river channels
and tidally influenced backwater sloughs upstream of the mixing zone
(saltwater-freshwater interface). The Sacramento and San Joaquin rivers
then transport the delta smelt larvae downstream to the mixing zone,
normally located in the Suisun Bay. Young delta smelt then feed and grow
in the mixing zone before starting their upstream spawning migration in
late fall or early winter.
Delta smelt are preyed upon by
larger fish, especially striped bass and large-mouth bass which are
invasive species in the Sacramento Delta.[1]
Delta smelt used to
be a common fish in the Sacramento - San Joaquin rivers estuary. The
population is much smaller than historically and the species was listed
in 1993 as threatened under the California Endangered Species Act (CESA)
and Federal Endangered Species Act (FESA) (Federal Register 58:12863;
March 5, 1993). Critical habitat was listed for delta smelt on December
19, 1994 (Federal Register 59:65256). In 2008, the California Fish and
Game Commission moved to uplift delta smelt to endangered under CESA.


Court protection
On August 31, 2007, California
Federal Judge Oliver Wanger of Federal District Court protected the
rare declining fish delta smelt by severely curtailing human use water
deliveries at San Joaquin-Sacramento River delta from December to June.
[2] It should be noted that these are the pumps at the Banks Pumping
Plant that send water to Central and Southern California for
agricultural and residential use. As a result of this ruling, large
portions of the heavily-agricultural western San Joaquin Valley have
been denied water allocations used for farmland irrigation. This, in
conjunction with the persistent drought affecting the region, has caused
large amounts of farmland to become fallowed.
http://images.google.com/images?q=tbn:64PStPKnaNqiSM::www.cal...
Source: mensnewsdaily.com
When Khadafi says Obama should
remain president forever, they are 'teargassing' protesters in
Pittsburgh outside the G20 and not reporting it until story appears in
British press,Hugo Chavez openly invites Obama to join the Dictator's
Club in his UN speech, and Obama has filled the White House with czars,
cabinet members and even a few approved positions with radicals who
believe it is okay to nudge the system, control the masses and are
filled with ideas like minnows are more important than people… it is
past time to take notice!!
"When you control the food supply…
you control everything!"…Remember who said that??
The Obama
Administration and the radicals in Washington are consistently testing
the American People: the TARP and Stimulus swindles, the Patriot Act,
Net Neutrality, the Hate Crimes Bill Stuck in with another Bill, the
House passing Cap and Trade, no longer securing our borders, taking
away our rights... one by one, ludicrous gun laws, even Fed Income Tax
(there is nothing in the Constitution that allows Federal Income Tax or
Federal Healthcare). If we let go, allow it, or don't remove the
officials responsible... we lose - they win!
Call the United
States Capitol switchboard today... everyday at (202)
224-3121




Thanks for calling the
Congressional switchboard. Keep up the pressure:

"NO on Cap and Trade"

!!! , NO on another

Stimulus Bill

,

NO

to the never
ending parade of

"Power Grab Bills"

.

1-202-224-3121
1-202-225-3121
(202)
225-0100 - Speaker of the House Pelosi
"No" on Cap and Trade and "No" on Amnesty!!! And Keep up the good fight! Keep up
the Pressure on both the House and Senate! These are 2-fights the
American People cannot afford to lose!!!
Background:
The Central Valley of
California, after having been attacked by radical environmental law that
aims to put animal life over the lives of humans, has now been
abandoned by our federal government. This prosperous region
that produces over 14% (25% according to some estimates) of the
nation's food supply and as much as 99% of certain products like
pistachios, cannery tomatoes and almonds, is being dried up not by
drought or natural causes, but by our own government.
Thanks to Congress and
the federal court's misuse of the federal Endangered Species Act (ESA)
and two subsequent biological opinions, the vast majority of water that
normally flows to California's West-Side Central Valley farmers has been
shut off during the growing season in order to protect a two-inch bait-fish called the Delta Smelt, and a handful of other marine species.
To make matters worse, in 2010 through the implementation of the
San Joaquin River Settlement, and the betrayal by environmental groups
and the government, water that normally flows to farms and cities on the
East-Side of the Central Valley will be diverted into the Delta and
ultimately into the ocean. All this will be done in an
attempt to restore a long-lost salmon run, which experts say will not
reestablish.
Now, rather than
seeing fertile farmland on the West-Side of the Central Valley, we are
left with hundreds of miles, and over 500,000 acres, of dry ground,
creating a second American Dust Bowl, only this time it is our own
government that has caused it. In an already down economy,
our government has caused unemployment in certain cities in this region
to reach a staggering 40%, putting over 40,000 employable people out of
work. Farmers are loosing their land, their homes, their
life's work, and their dreams of a better life for their children.
All the while, the President, and politicians like Nancy Pelosi,
George Miller, Dianne Feinstein, and even our own Jim Costa, Dennis
Cardoza, and George Radanovich, sit back and allow it to happen. This
is unacceptable.
Americans need to ask
themselves whether they are willing to settle for foreign food, like
they have settled for foreign oil. We have already seen
this government – that claims to care so much about the people –
hand out cans of carrots shipped in from China to the farmers whose
produce is lying dead on American farms. That is an
outrage! What happened to the America that we grew up in,
where we were proud of our country and proud of the fruits of our labor?
How has radical environmentalism been given this much
power? And where is the government whose sole purpose is to
protect the American people?

Our
Vision:
In June 2009, the Central
Valley Tea Party teamed up with Water for All and then Families
Protecting the Valley to help spread information regarding the
water issues in the central valley to those attending the July 4th
Freedom Rally Tea Party at the Tulare International Agri-Center. Our
original vision was to take our farmers message first to the entire
state of California and then to the nation. On August 28th we met with
Tea Party Patriots from across the state in Sacramento, along with other
leaders from some of California's most productive industries - that
have also been singled out for destruction - and let our voices be
heard. Then on September 12th of this year our message went national to
the Tea Party Patriots 912 rally in DC. With over one-million protesters in the streets, it was the largest protest in our nation's
history, and the perfect venue to spread the message of our governments
devastating environmental policies. Not long afterward, Sean Hannity
came out to the Central Valley and ran a follow-up story to the series
he had fittingly titled "The Valley Hope Forgot", helping spread the
message even farther. Since that time the response from Tea Party
Patriots and others from across the country has been overwhelming.


Our
Objective:
Thanks to the hard work of volunteers from
several different groups (Water for All, Families Protecting the Valley,
the Central Valley Tea Party, Tea Party Patriots from across the
nation, local Valley farmers, and countless supporters from across the
state and nation, we have decided to start an action/donation campaign
to support our Valley farmers and their families. Our aim with this
campaign is to unite hardworking, freedom-loving Americans from across
the country to stand up and demand that Congress and the Administration
fix the water crisis that they have created in the Central Valley of
California.

Solution Part
1:
The solution involves
passing two bills:
One to suspend
the biological opinions that are destroying the
West-Side
Another to
abolish the San Joaquin River Settlement, thus
preventing the looming devastation on the East-Side.
To keep this kind of
radical environmental regulation from spreading any further across the
country, we also recommend that supporters demand that the ESA be
amended to take into consideration the impact on human life that such
far-reaching legislation can have.
Who
to Call:
First,
call your own Congressional Representatives, both in the House (see www.house.gov for
contact information) and in the Senate (see www.senate.gov for
contact information). Then call the following:
· President
Barack Obama (202-456-1111)
· Secretary
of the Interior Ken Salazar (202-208-3100)
· Judge
Oliver W. Wanger [the federal judge who decided this case]
(559-499-5600)
· Speaker
of the House Nancy Pelosi (202-225-4965 /
415-556-4862)
· Bay
Area Representative George Miller (202-225-2095 /
925-602-1880)
· Senator
Dianne Feinstein (202-224-3841 / 415-393-0707)
· (Supposed)
Representatives Jim Costa (202-225-3341 /
559-495-1620)
· (Supposed)
Representatives Dennis Cardoza (202-225-6131 /
209-946-0361)
· (Supposed)
Representatives George Radanovich (202-225-4540 /
559-449-2490)
· (Supposed)
Representatives Kevin McCarthy (202-225-2915 /
661-327-3611)
Demand
that these politicians join Congressman Devin Nunes, Senator Jim
Demint, and the rest of the American people in supporting the farmers in
the Central Valley over fish in the Delta.
About Me
The Latest From SodaHead
News
She may run the world, but today she's on bed rest. Doctors advised Queen Bee to cancel her performance Tuesday evening in Antwerp.

An American Airlines flight from L.A. to New York made an emergency landing on Thursday... when a female passenger refused to stop singing Whitney Houston. Um, what?
Politics
Ever since President Obama's re-election back in November, the media hasn't stopped reporting about the ruffled course of the Republican party. So who's the future face of the GOP? Find out how the public voted.

New Jersey Governor Chris Christie has been at the center of media coverage for a while now. But more recently, the buzz has been about his proclaimed political party -- and whether or not he should change it.