OWS Instills Fear and Loathing in the Protectors of the 1%
Hanna
2011/12/11 15:32:59
http://www.politicususa.com/en/ows-instills-fear-loathing-1pe...
Just in case you thought it wasn't working or that everyone protecting the 1% were sociopaths, the message is sinking through to some. The micro-expressions of the "insiders" at Eric Cantor's December 6th fundraising event as it was being protested by OWS tell a different story than Republicans' glib attempts at contemptuous dismissal. Shifting eyes, covered faces, and backs turned on cameras telegraph fear, loathing, contempt, impotent rage and finally, at long last, some shame.
Eric Cantor has already demonstrated his cowardice by canceling an income inequality speech at the University of Pennsylvania's Wharton Business School, when he realized that the public would be allowed and that various groups including Occupy Philadelphia were going to be allowed on campus (gasp!Share the hallowed air with The Eric Cantor?).
The protectors of the 1% can't face the condemnation of the protesters and the public, so they hide. But the people working for them don't have that luxury.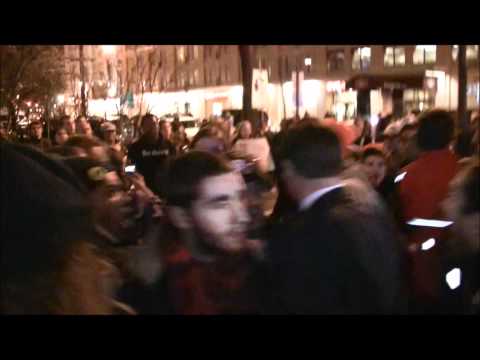 There is actually a science behind micro-expressions, as dramatized in the TV series "Lie to Me." Dr. Paul Ekman (upon whom the character of Dr. Lightman was based) explains: "When people deliberately try to conceal their emotions (or unconsciously repress their emotions), a very brief–1/15 to 1/25 of a second– facial expression often occurs, invisible to nearly everyone who has not trained with METT: the micro-expression training tool."
It's safe to say that the expressions caught below are not of happiness or surprise. The seven basic micro-expressions are disgust, anger, fear, sadness, happiness, surprise, and contempt. None of the emotions caught below are positive; they are all micro-expressions that the individual is trying to hide from view. For that reason, they suggest that these folks are feeling uncomfortable emotions when faced with the Occupy protesters.