Occupy Wall Street Movement Is a Year Old: Did it Change Anything?
It must get tiring camping out in front of the Stock Exchange and complaining that there are no work opportunities, because the crowds have gone home -- hopefully to a place to live and a job. The campers did have a point though.
The banks caused a huge crisis by repackaging crappy defaulting loans and selling them back to us as mortgage-backed securities and "derivative" investment products. That's a nice magic trick...then once it all blew up, the the politicians used tax payer money (otherwise known as TARP funds) and bailed the bankers out, so they could still get their bonuses. Maybe the bankers who were paying big money to the election campaigns (on both sides) were cashing in their influence? Either way, the whole thing sinks. So maybe we should be able to regulate the financial services industry a bit better so that banks can't defraud America. Isn't that the government's job?
How did the industry ever get deregulated in the first place? Well, the whole cause of this mess can be traced back to when Bill Clinton signed the The Gramm–Leach–Bliley Act, also known as the Financial Services Modernization Act into law in 1999, repealing part of the Glass–Steagall Act of 1933, removing barriers in the market among banking companies, securities companies and insurance companies that prohibited any one institution from acting as any combination of an investment bank, a commercial bank, and an insurance company. Voila, the fox was now guarding the hen house, and guess what happened?
So the government causes the problem by letting banks self-regulate their businesses. The Occupy Wall Streeters started with a good high level complaint, but then the cause spiraled into a sloppy self, indulgent mess that became an attraction for petty criminals and anyone looking to cause trouble. Did the movement change anything or was it all just noise?

CNN.COM reports:

Police encircled Lower Manhattan's Zuccotti Park on Sunday as protesters geared up to observe the one-year anniversary of Occupy Wall Street.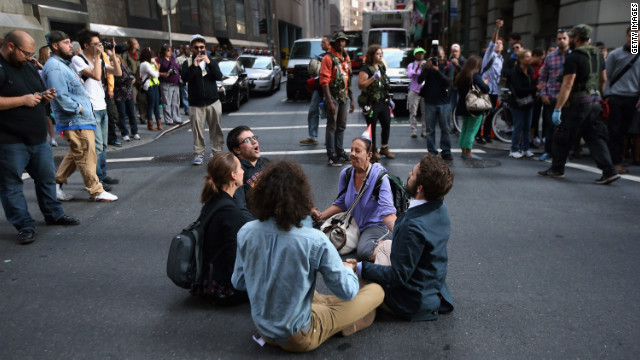 Read More: http://www.cnn.com/2012/09/16/us/ny-occupy-anniver...
Add a comment above