Obama's Performance Record... My Evaluation of President Obama
Let's examine President Barack Obama's performance record to date by stating a few facts about the President prior to his becoming President. We all know that Barack Obama is biracial and we all know that his preacher, Jeremiah Wright, is a racist who Obama viewed as a father figure. What most do not know is that on most issues where race is involved, Obama actually has sided with white people most often to the point that he was regarded as a race traitor by most black Americans prior to being President. The first time I had ever heard of Obama was during the Jena 6 issue where Jessie Jackson was trying to stir up racial unrest in a case where six young black teenagers who were convicted of beating a white teenager where Obama took the side of the white student leading Jackson to attack him as half white and a race traitor. In fact, Obama had a reputation for taking what many felt were the tough stands to make on issues and often took the right side albeit he also took many controversial stands which Republicans like to address.
His upbringing was a bit chaotic to say the least considering his mother was somewhat radical, who wouldn't be if they were a woman given the name Stanley. But she was a radical leftwinger by all accounts and she was drawn to men of the Muslim faith which her son would be heavily influenced by. That does not mean he is a Muslim nor a radical leftwinger... but to say he does not have these influences when there's a mountain of evidence to point out that his mothers influences on him made a lasting impact is just as wrong for his followers to assume as they have been doing. Because of this, it led him to become involved in things like becoming a community organizer where he apparently was involved with Bill Ayers of the 1960's radical leftwing terror group called the Weathermen. While many on the political right try to make something more nefarious out of this, his supporters try to brush it aside when it's quite obvious you don't sit with someone like this over time without knowing who they are since everyone around Obama at the time would have known who Ayers was. The problem here is guilt by association which was actually strengthened by denials from Obama, his support team and supporters in general because Ayers was too well known for Obama not to have been told who he was working with. Where Reverend Wright is concerned, it is very possible Obama simply chose to ignore Wrights extreme views because Liberals and black civil rights leaders have since the 1960's promoted the flawed belief that blacks can't be racists. But this view has been changing and when it came to a forefront during the 2008 election process, Obama was dumbfounded how to respond considering everyone was attacking Wright as a racist including many on the political left. He handled the matter poorly and for anyone else, it would have cost him the election... but that didn't happen in this case.
Barack Obama has a long list of accomplishments in his past and he has a list of academic accomplishments to his credit... however, the poor state of American education does not allow for us to judge someone by the degrees they possess or claims of academic accomplishments anymore. In every facet of life from business leaders to your local doctor, we are finding a huge problem where graduates from our institutions of higher learning are actually "unqualified" for the jobs they possess. American industry has made billions of dollars by hiring young people straight out of college... it has also lost untold billions for the same reason as their initial success almost always becomes a state of rapid collapse as many of these college graduates lack practical experience and their success lay in marketing skills allowing them to better get around the rules until those rules catch up to them. A con man often has a long list of academic credentials which they use as part of their deceptions and even those we think we can trust it turns out when we actually examine their credentials, they may have attended college and gotten degrees... but not for the reasons we were led to believe. We have paid a terrible price as a society for putting our trust in degrees as many of our doctors today are little more than snake oil salesmen which education and degrees were supposed to eliminate in our society so we could trust the medical profession. Thus, most political leader make their academic records open to the public even if there may be some humiliating elements... Barack Obama has chosen to conceal most of his records instead raising suspicions which is the natural course such actions take.
Barack Obama's past reads like a conman as his mother was a political extremist, his father was already married when he married Baracks mother, Barack traveled the world influenced heavily by his mothers beliefs, his academic records are sketchy, his life experiences have him surrounded by questionable people and much in his life has been a contradiction. Some might point out that his grandmother provided a stabilizing influence upon Barack but when you examine the lies he told to get the money he needed to enter college... the signs of an opportunist were there very early on even before he entered politics. Some say he is a Muslim... chances are, he is not but lived that life early on because of his mothers influence. The reason I say this is because when you read about Obama's early life to the present, there has always been an element of instability in his life where he doesn't seem to truly commit to anything but instead, exploits the opportunities provided to him. Thus, his mothers traveling made being Muslim necessary to survive and then in the US, being a Christian was more important so that's what he became. Reverend Wright allowed Obama to root himself firmly in the black community here which he had never really been a part of which gave him what some call "street cred" to win support from the black community.
There is a pattern to Obama's political career as he has always spoken like a Liberal, but largely votes like a Conservative. Only when you check his voting record does this become apparent. The reason is that as a Senator, it gives him the leftwing vote almost automatically and it rallies the Republicans against him... but to gain the Conservative Democrat vote requires giving them results which in turn benefits the Republicans being they are mostly Conservative.
As a US Senator, Obama's reputation as a traitor continued as he never supported the Democrats even once against Bush except through lip service. On actual votes, Obama voted with Bush every time when he was not voting present
http://www.democraticunderground.com/discuss/duboard.php?az=v...
as illustrated here with this topic about Obama's voting record posted by his Democrat opposition prior to becoming President. This is key to understanding the blind support Obama has now because prior to winning the Democratic nomination, he had strong opposition from the Democrats. The most evident opposition emerged when questions about his birth certificate emerged as this issue was not brought up by the Republicans... it was brought up by the Democrats themselves as an opposition issue which survived to haunt Obama as Republicans and his unwavering Democrat opposition continued using it against him even after he became President.
After Becoming President
Obama's first revealing act as President was trying to close Gitmo with an Executive Order. If he were truly a Constitutional Scholar and his academic credentials were as great as it had been claimed, he would know that the Executive Order is not a dictate and he could have foreseen his own party turning against him like it did. Then, recently, he again used an Executive Order on this matter restoring the military trials and once again, betrayed the political left who have always assumed he was one of them sharing their views because they listen to what he says... and they see the opposition from his Republican and Conservative opposition. This in turn would lead them to attack not just the Conservative Republicans, but their own Conservative Democrat party members splitting the Democratic Party against itself which worked in favor of the Republicans who did not have the power to stop the Democrats from doing anything they wanted using cloture to bypass filibusters... at least until the death of Ted Kennedy brought about a special election Democrats knew would preserve their power but instead, gave the seat to Republicans which was the first sign Americans were turning against the Obama Administration.
Then came his support for Iran trying to restore relations and undo the growing hostilities Bush had instituted. Only, Obama had actually supported Bush on these matters causing harm to relations with Iran when Obama was a US Senator. On this matter, Obama revealed supreme ignorance any high school student studying politics could see would result in disaster. There was an election coming up in Iran in June of 2009 just six months after Obama became President over the US. Obama is not a diplomat meaning he should have waited and used the time to before the Iranian elections to prepare himself... instead, he actually invited the then Iranian President to the US to celebrate Independence Day in July showing his belief the Iranian elections were already decided. When the Iranian elections went wrong, Obama was again forced into a no way out position as he was with Jeremiah Wright and again, he responded the same way with indecision and stammering when he addressed the matter. So why did he make such a poor leadership decision as to immediately enter diplomatic relations with Iran when the best course of action would have been to wait?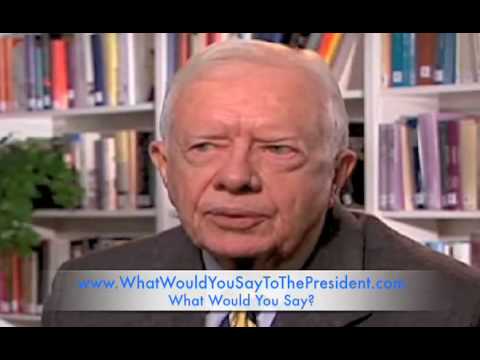 The answer is very clear as Jimmy Carter advised him to jump into the Peace Process knowing Obama was ill prepared to do this and knowing about the upcoming elections. He also advised Obama to ignore unemployment issues and the economy which dominated his first year in office because he took this advice. In fact, Obama took advice from Carter during his first two years as president even when Carter came out claiming opposition to Obama was based in racism which even Obama himself disputed by criticizing Carters comments. Too late, he learned like Clinton and even Carter did that you cannot base your support on the political left as they are a political minority of divided loyalties and where support is largely based in convincing people they are victims. In Carters case, he split his own party against itself just as Obama has and until Obama, Carter was regarded as the least experienced President since Ulysses Grant... hardly the person you should accept advice from. However, Carter also had a blind support base from the left attacking the right within their own political party and who even attacked others in the political left when Ted Kennedy turned against Carter much as James Carville and other leftwing Democrats did over the Gulf Oil crisis.
Clinton learned from his mistakes after the 1994 elections put the Republicans back in power and it seems like Obama's trying to take a page from Clintons book but again, his indecision and lack of leadership ability is proving his downfall. His entire Presidency has been marked by such indecision and when he does take a stand on any issue... it is never firm nor does it seem to be educated as he always seems like he's going with the motions saying what he thinks needs to be said but always on shaky ground where he becomes indecisive so no one really knows where he stands on any issue and he cannot create a firm support base like Clinton did gaining support from the political left and right but clearly shifting to the political right when they gained the majority... he understood the simple notion that to get things done, the majority rules and he's head of that majority regardless what form it takes. Obama's not grasping this concept because the 2008 elections polarised the political left shifting them to the extreme left like what happened in the 1992 elections with Clinton. He needs their support because he will not win over the Republicans and he has lost most of the Independents with his support among Moderates diminishing as well. Clinton actually did the impossible in winning over some of the Republican vote to win re election. There's no chance of that with Obama and the issue is his race... not because Republicans won't support a black person or are racists, but because his supporters have made almost everything Obama does about the color of his skin to a point they have destroyed the race card.
Where his supporters desperately try to show he's an effective leader is by literally dissecting a few positive things he's achieved into a hundred or more achievements. However, when you examine his achievements... they're always tainted by greater failures. He passes health care reform and yet, he tosses the "public option" leading most leftwing Democrats to attack him claiming without it his healthcare plan will fail... and thus, unless he restored it, they could not support him or his plan. Well, he didn't restore it and his supporters continued to support Obamacare anyhow for the promise of universal healthcare... a plan they themselves said cannot work under any circumstance without the public option!! Early in the debate, Obama stunned the political left when it was revealed he had made a secret deal with Big Pharma exempting them from his plan in exchange for $80 billion in rebates... less that 2% of healthcare costs that inflict upon us and which they will get back by simply increasing the costs of healthcare pharmaceuticals by an additional $80 billion above what they would increase prices by anyhow. It was an ignorant deal made by an ignorant man who broke his campaign promise about no secret deals and proved willing to give Big Pharma everything they wanted... giving them control over him and the healthcare process where the only way to pass healthcare reform was to do it without allowing anyone to read it including the President himself. His deal with Big Pharma had one other consequence as Big Pharma is the number one reason healthcare costs so much in America so that by exempting them means universal healthcare CANNOT WORK because it requires heavy price controls. Not only that, his secret deal led Obama to break another promise he made... to allow Canadian pharmaceutical companies to sell in US markets.
Breaking campaign promises is nothing new... all Presidents do it as all Presidents are essentially liars by trade. But the problem here isn't Obama... the problem are the supporters who blindly support and enable him to do this when their support for him was entirely based on his promises for change. Jimmy Carter also promised change and had that same type of blind support regardless of the mistakes, lies and broken promises he made.
Examine how Obama built his entire career promising to repeal or remove the worst provisions of the Patriot Act. Yet, as a US Senator, he actually supported Bush claiming he had gotten promises to remove some of the provisions which Liberals attacked him over because they elected him to do more than this and expected him to support the Democrats against Bush on this issue. Then, as President, he proves himself once more by stabbing Democrats in the back actually taking the lead to preserve the three most hated provisions of the Patriot Act with no prompting from the political right... this was his decision alone to do and his supporters took this in stride yet again beyond all belief, reason, logic and common sense!
Then there was the Nobel Peace Prize which any man of substance of character or integrity would have rejected in consideration that he was overseeing the worlds greatest ongoing war, was escalating the war and then turned the US military against Iran sending missiles to an island in the Indian Ocean aimed at Iran... hardly the mark of a man of peace. True, he did give up the money but as many pointed out, his ego refused to allow him to not accept the Nobel Peace Prize... the same ego Liberals and people like Jessi Jackson had attacked him for his entire political career before he became President. What a difference being President seems to make in this situation as people criticizing Obama were shouted down even if those people were Liberals revealing there is a schism even on the political left where Obama is concerned and all it needs is a voice with a face to split the left against Obama with one side trying to undo the damage he's done and rebuild... the other side remaining loyal guaranteeing Republican victories in future elections because the political left will remain divided for years to come. More and more on the political left are waking up where Obama is concerned and because there is no voice from the left to support against Obama, we are instead seeing black voters, womens rights activists, hispanics and even gays switching parties either becoming Republicans or Independents as the only options they have to voice their opposition to this President. This is also why we see these groups joining the Tea Party and openly challenging Obama in blogs, on television and even writing books against him.
Then, we have the Gulf Oil Crisis last year which followed revelations that Obama had, yet again, broken his campaign promise making a secret deal with the oil companies. In this case, he did so by telling the states they had to accept the deal creating bipartisan support against Obama by Democrats and Republicans with a growing criticism across the country when the Deepwater Horizon explosion took place. This revealed just how far Obama's supporters would go to support him and be blind to truths they would never have allowed any other President in US history to get away with. Other oil companies offered to send in their equipment to scoop the oil off the surface so no chemicals would be needed to break up the oil... Obama refused to allow it. Foreign oil companies and nations offered their help having more experience than we do with these matters... Obama told them no. Obama then gives absolute power to BP over this matter giving them control over local state and federal authorities... to block the media, to create a no fly area over the area and even to confiscate any camera's or video to destroy evidence. They then dumped tons of Corexit 9500 into the Gulf breaking up part of it sending over 40 million gallons of oil into the atmosphere and the bulk of it to the bottom of the Gulf where the food chain begins. Most environmentalists went along with this and even applauded the Presidents efforts while the media largely turned a blind eye even when people like James Carville began screaming out against the Presidents lack of effective leadership. Then came revelations about Obama receiving more lobby money from BP than any single recipient in history and that while Republicans receive more lobby money from the oil companies... the Democrats receive more lobby money from BP.
The question here in regard to Obama's performance is where does he stand on the issues. His actions and views are so confusing that many call him a Centrist trying to explain them. But a Centrist has a very strong personality and self assurance. To succeed, they try to pull both sides together and unlike Moderates who tend to be moderate in their disposition, Centrists are outspoken and often forceful in theirs. But Obama is uncertain about where he stands on any issue, he often seems out of the loop and indecisive. Rather than being a Centrist, it seems he's trapped in a position where he ran for the Presidency not expecting to win but increasing his own credibility on the national scene. Then he won and his response was total astonishment which was an odd reaction. To be successful, Obama had always told Liberals what they wanted to hear and gave Conservative Democrats results... Republicans were always the enemy.
Even as a US Senator, Obama was attacking Republicans openly but behind the scenes, he was voting with them and most Republicans in Washington DC actually like Obama because of his help when he was a US Senator... something his supporters also choose to ignore when it is an openly known truth. But as President, Obama must gain the support of Republicans and badmouthing Republicans turns the support base of Republican leaders against him. Even though Republican leaders like Obama, to win re election they knew they had to oppose him because the political left and people like Keith Olbermann enraged the rightwing voting base.
Again, President Obama did not cause this... Presidents make mistakes and can have bad judgment, but when your loudest base of support does nothing but applaud you and make excuses for everything you do wrong... you kind of develop a feeling of being Superman because your supporters love you for defeating the badguys, even if you destroyed the entire city to do it.
Obama's performance record is off the chart... but through the floor not through the roof. His behavior and actions as President have been condemned by Republicans and his Conservative opposition which seems to reinforce his support base that he's being successful... but only at angering the opposition which for those who have shifted to the extreme left is exactly what they want. The problem is that this has been self destructive. Many Democrats lost elections even before Novembers elections because of the growing voices against Obama and the focus of the political left on Obama even at the expense of the entire Democratic Party. They focused that anger on their Conservative Democrat opposition helping remove some of them from power but then, the Liberal Democrats lost to their Republican opposition who pulled the votes of Conservative Democrats to them who refused to vote for Obama supporters.
Having won a decisive victory in 2008... Democrats in 2010 suffered a resounding defeat and almost all of it was brought about by Obama's support base and the intimidation factor where anyone opposing Obama was accused of racism and hate.
In the end, Obama has made a lot of mistakes and poor decisions. He seems confused, indecisive and at times... truly dumbfounded by events taking place. He has been attacked even by Democrats for his dependency on teleprompters as if he can't even put together a cohesive thought without them. He depends too heavily on advice from people like Jimmy Carter that has had negative influences on his political leadership and when you criticize him for his choices in Czars, all his supporters can do is point out that Bush and Reagan did the same thing... and that does not excuse the fact that Obama's choices are bad, it just says that to his supporters he's doing the same thing as Republican Presidents which supposedly they voted for Obama because he promised not to be like that.
Obama has not only hurt himself, he has divided his party against itself and blinded the entire Democratic Party to their priorities. They have sacrificed everything they believe in to support Obama when he has broken his promises, supported the opposition even without them asking, betrayed his support base several times, caused conflict where he promised to bring resolution and so turned the voting base against him that many Democrats refused to accept his support at election time because he became the kiss of death to several Democrat leaders leading up to the November elections.
By the time 2012 gets here, we will not be discussing Obama being re elected anymore, we'll be talking about who will defeat him. In order for him to be re elected, he must do what Bill Clinton did and he would almost be better suited to remove Joseph Biden as Vice President and choose someone more dynamic to replace him who could pump new blood into his Administration. Doing something like that would be unexpected but that's exactly why it's such a good idea allowing Obama a chance to totally reinvent the direction his Administration has been moving in.
The Obama Administration deserves a failing grade not because the opposition determines it... but because his own support base has determined it. Being blind to what Obama has done has made them blind to the consequences for doing that. Being deaf to the voices speaking out against him has proven them deaf as they refuse to hear what they need to hear about this Administration... that being the truth. They refuse to speak because those who would fear being attacked the way they see others who speak against Obama being attacked.
If you support Obama... that support is unconditional as if you deviate to criticize him, and you don't go back to blindly supporting him almost immediately, you will be treated no different than the enemy.
Everything Democrats claim Republicans have done to Obama... they actually did to a higher degree to Bush. Even now with the upheavals we see in Wisconsin, Democrats are acting worse than they claim Republicans acted during the healthcare debate doing more damage, making more death threats and causing even greater civil unrest crying out for blood and violence. And where is Obama during all of this... well, he actually helped inflame all of this with his support for the unions and Scott Walker did nothing that Obama himself didn't do when he passed Obamacare. You cannot help but view Democrats across the US as hypocrites condemning Scott Walker and the Republicans when they had praised Obama doing the same things with Obamacare.
That's what Obama has done for America... we are more divided than we were before he became President, we are regarded even more poorly by the world than we were under Bush with many of our allies regarding Obama as a fool and we are economically worse off. Obama's supporters are as blind as they said Bush's supporters were and by supporting a Bush Democrat, they're actually supporting someone who helped Bush do everything that he did... and who is still pursuing many of Bush's policies meaning that the Liberals who support Obama are actually supporting Bush so when they attack Bushs supporters, that's probably the only way they'll ever attack Obama without even knowing they're doing it.
That's my evaluation... long but it's not a rightwing attack on Obama, if anything... its a question how can the political left support this man and for all their boastful behavior... how can they not see the damage he's done to their political party, or better yet the damage they have done to it through their blind support of this man who has conned his way to the most important seat of power in the free world and revealed he has no leadership ability to deserve it.
He still has about a year and a half left to prove me wrong... he's already had two years to prove me right even though for the first half year I supported him after giving him my vote.